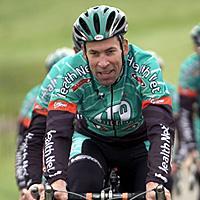 John Lieswyn
Photo: © Rob Karman
The John Lieswyn Diary
John Lieswyn is one of Cyclingnews' most popular and sometimes controversial diarists. John started road racing in Florida in 1985. After college graduation in 1990, he raced three seasons for the US National team in Germany, France and Italy, turning professional in 1993 for Coors Light. In 1995 he returned to Europe, scoring numerous top ten results and winning the Delemont (Switzerland) mountain stage of the Regio Tour. After taking a hiatus in 1996, he focused on the US domestic scene with over 40 major wins. In the pre and post season (US) he competes in South America, Australia and New Zealand, notably taking three stage wins in the Herald-Sun Tour (Australia), and overall victory at the Southland Tour (NZ) and Tour de Beauce (Canada). He has written for Cyclingnews.com since 1999 and continues this season with Team Health Net presented by Maxxis.
Literally, a tough break...
Making friends
Photo ©: Caroline Yang
Well folks, the verdict is in. Due to late diagnosis, I'm already partway into the healing process for a broken pelvis. 17 days ago (on June 10th), I was riding the crest of a powerful wave of good form built during the team's Arkansas camp and sustained through USPRO week. I felt finally rid of the giardia stomach bug and over the strong antibiotics. While in the leader's jersey at the Nature Valley Grand Prix, I was taken down in a huge crash with four laps to go of the twilight Minneapolis Downtown Criterium. I'm pretty susceptible to adductor muscle pulls from crashes, so I chalked up the sharp pain when sitting on the seat to just a particularly severe tear. Over the final two stages I piled down ibuprofen just to be able to race. With my overall high form I was able to retake the lead and the overall win on the final stage, something that with hindsight is either psycho, tough, or both.
I was traveling on a triangle ticket. It doesn't matter what the emergency, the airlines have no mercy nowadays. The days of paying a simple change fee are over. So it was off to the notoriously hilly terrain and marginal weather of the UCI Tour de Beauce in Quebec. Early in the first stage I muttered to myself that fighting through this much pain was crazy. Eventual overall winner Nathan O'Neill (Navigators) saw my difficulty and related how it sounded a lot like a broken pelvis, an injury he'd sustained seven years ago. With the absence of road rash and otherwise reasonable health, I didn't want to consider his warning. Minimal road rash is the first major warning sign: it means that in the process of decelerating from 55 km/h to zero, the body didn't slide. Sliding (and resultant bloody road rash) is good, "boof - DOWN!" is not.
Looking strong at Nature Valley
Photo ©: Matthew Moses

The long and short of it is, I took a typically male attitude and didn't want to see a doctor about what seemed to me like a muscle injury. Besides, I hate dropping out of bike races! I wrote in detail about the first four or five stages in my last entry. The time trial was a real indicator that I wasn't going to be ready to challenge Baldwin at Nationals. I felt pretty strong on the bike, but something wasn't right...for about 3km of the TT I had to dial back the jets big time to let the pain (in what I thought was my adductor origin point) subside a little. With hindsight it's apparent that my body was working overtime to stabilize the pelvic fracture, and many compensating muscle groups were now beginning to spasm in protest. While I could just hold on to my fourth place overall, I couldn't produce the seated power necessary to challenge for the lead.
My first ride back was a 30-minute low-rpm spin around the Asheville Velodrome with my housemate Joe Coddington, on Thursday 23rd June. No go. Friday I called to schedule diagnostic tests. By Monday, ever-helpful fellow cyclist Dr. Jim McMillan gave me the bad news. Argh...my final season hamstrung again. I busted my ass this season, but didn't mean for that to be literal!
I want to start racing again as soon as I can sit on the seat pain-free, but there is no telling when that will be. Cascade is four weeks from the injury, Vancouver five weeks, Altoona 6.5 weeks. Superweek Wisconsin may be the best way to get back into racing, since it isn't a traditional stage race and I can pick and choose the courses. DD and I will be driving to Iowa so we can access some important papers at the storage unit, and from there I can make a last minute call on which races to do without worrying about high airline prices.
Thanks for all your support, friends and readers, and until later then!
John
Photography
For a thumbnail gallery of these images, click here
Images by Caroline Yang/www.carolineyang.com
Images by Matthew Moses/www.moses-images.com
Email John at jlieswyn@cyclingnews.com