Recently on Cyclingnews.com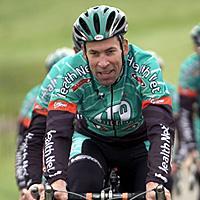 John Lieswyn
Photo: © Rob Karman
The John Lieswyn Diary
John Lieswyn is one of Cyclingnews' most popular and sometimes controversial diarists. John started road racing in Florida in 1985. After college graduation in 1990, he raced three seasons for the US National team in Germany, France and Italy, turning professional in 1993 for Coors Light. In 1995 he returned to Europe, scoring numerous top ten results and winning the Delemont (Switzerland) mountain stage of the Regio Tour. After taking a hiatus in 1996, he focused on the US domestic scene with over 40 major wins. In the pre and post season (US) he competes in South America, Australia and New Zealand, notably taking three stage wins in the Herald-Sun Tour (Australia), and overall victory at the Southland Tour (NZ) and Tour de Beauce (Canada). He has written for Cyclingnews.com since 1999 and continues this season with Team Health Net presented by Maxxis.
Tour de Beauce 2005
"Some heels, weend, and more heels"
John Lieswyn in the stage 4a TT
Photo ©: Rob Jones

The trip from Minnesota to Quebec took 16 hours, door to door. I think driving may have been just as fast! Three planes, four airports, two luggage belts, customs and immigration officials, two car transfers. Hours sitting on the tarmac in fully loaded planes, waiting for the thunderstorms to lift. I've left numerous "notes to self" regarding flying through Chicago in summer, but somehow these reminders never make it to the travel agents.
The weather forecast puts further gloom (literally) into the upcoming week. As if the rough pavement and incessant hills of Quebec aren't hard enough, it is predicted to rain every day. This'll easily bring my rain percentage in 2005 road races over two-thirds. It was summer before we arrived and next Tuesday it'll be 80F and sunny, but the Tour de Beauce will have perhaps a record amount of rainfall to add to the epic reputation of this hard man's race.
As the most recent winner in attendance the honor of bib #1 goes to me. Canadian National TT Champion Svein Tuft (Symmetrics) and Australian TT Champion Nathan O'Neill (Navigators) must be considered the favorites, as the time trial stage has taken on even greater significance with the removal of the climbing stage to Mont Megantic.
Stage 1 - June 14: Saint-Georges - Saint-Georges, 169 km
For the first 15 minutes I'm seriously considering banging a U turn back to the hotel as I really can't sit on the seat. I'm not sure whether it is a bruised peritoneum, torn hamstring or groin. I'm happy the race begins slowly, and it's really an issue of mind over body at this point. For the next three hours, I sag climb every hill and barely hang on during every jam session. My teammates are carrying the load well, and Sayers must have covered fifteen attacks before the ONE attack I follow happens to be the winning move. Navs have three, the Poles have two, and Cyclingnews has two. Tuft and I are sole representatives of our teams in this rather unwieldy thirteen man split. Navigators drives it over two minutes lead, but with me sitting on they aren't keen to completely eliminate their own team leader O'Neill from contention. With my leg the way it is, we're not keen on having this be the GC move of the week either, and Health Net is the main driving force in the peloton.
I feel pretty strong, warmed up, and with lots of ibuprofen in me the leg becomes less of a limiting factor. Navs and MBK launch attack after attack, but I've got them all covered. Soon I switch to attacking or bridging, and twice I get away with just one Nav. In one case I think we might have it, but the TV helicopter draws in for a close-up and the rotor wash literally blows the two of us to a crawl.
A fine misting rain falls as does our lead on the peloton. Farmland gives way to a smattering of houses, and then we're into St. Georges. A 75kph straight descent brings us to the 1km banner, and there is a 90 degree left just after it. I'm not taking any chances with the wet roads, but my caution is nearly wasted as the rider ahead of me skips his chain off the chainwheel and narrowly misses bringing both of us down. OK, that's it, one crash per week is enough for me. Off the gas and spectate the sprint.
Stage 2 - June 15: Lac-Etchemin - Lac-Etchemin, 180 km
In the descriptive words of Charles Dionne here in 2002), there is "some heels, weend, some more heels…" Add to that stinging cold rain and one stretch of gusting near gale force wind, and we've got epic racing again.
The peloton blew to smithereens at about 70km to go in stage two, as Cyclingnews and Polish riders smacked it over a KOM and straight into a fierce crosswind. I was caught out, suffering two-thirds of the way back in the group. All of us were fighting just to stay on the road. I can't believe there aren't awesome pics of this on the website, since guys were literally at 45 degree angles to the pavement just to go straight ahead. I saw Dionne and another guy get blown into the ditch and was just counting my lucky stars when I ran into the same gust and also got blown from the extreme right side of the road straight over into the left ditch. Clipped back in, I was now merging with what was essentially the fifth echelon. Nobody could effectively draft, because staying too close to any other rider was a recipe for disaster. Maybe the super pros in the first echelon could do it, but I wasn't going to ride that close to another dude on deep dish carbons.
Luckily for me, Justin flatted out of the tadpole tail of the first echelon and had only gotten going again as I passed. As the race turned right into a wind tunnel strength headwind, the third through sixth echelons formed one uber-group of thirty odd riders. Only Justin and I were consistently pulling, and it was tremendously frustrating. We threw it in the ditch to make use of the remaining crosswind, hoping to force some cooperation. All we got was angry shouts from behind, but no help, even when we moved to the right again. Nobody really thought that we'd ever see the front of the bike race again, and the time splits of nearly 2 minutes to the front reinforced the "grupetto" mentality.
Just in the nick of time, a huge 4km climb materialized out of the fog. Despite the headwind, which should make the work of the foremost rider much tougher, Justin railed it from thirty all the way down to five riders. It was everything I had to hold on. At least three times I opened my mouth to shout Justin's name (the universal signal for "slow down a smidgeon") but each time I shut up again, thinking that any time we lost to the second group now was time we'd have to make up later. By himself, Justin managed to take 45 seconds out of the leaders! Man this guy can climb. As Sayers' second group linked up to the leaders on the descent, the impetus went out of the front group while Justin and I were very, very motivated. At one church/village hilltop the last car in the caravan was just two seconds ahead of us, and Justin yelled at me to go alone. I gave it everything, the feeling going out of my hands and arms as all blood was sent to the legs. The nature of a caravan is bumper to bumper slow on hills, often slower than the group being followed, but then 100 kph plus on the descents. I just couldn't get the draft and elected to wait for Justin again. Now I was sure we'd get back, together, as long as Navigators seemed unwilling to force the pace with 25 riders sitting on them ahead. I tore at my miniature jersey pocket with numb, soggy gloved hands, trying to get the radio out so I could press the talk button and tell Jeff that Justin and I were just off the caravan (my microphone was waterlogged and ineffective). I just couldn't get the radio out of the plastic bag and angrily let it dangle by the taped-in cord for now. We got no help at all from the two Symmetrics riders and one Navigator who were with us until we were within 30 seconds of the caravan. Once there, it was just a brief respite before attacks began and the group was blown to bits again. I didn't have time to eat or drink, and my body would pay the price in the finale.
The final schtick was a 500m wall of a hill at 5km to go. The 15 of us who were left swayed and grunted to get over it. I went over like 11th, and the last four never got back on. A Quebecois rider, Wohlberg and myself were no more than two bike lengths off Svein's little group, but all of us knew that with a bit of hard work we'd all rejoin the obviously stalling front six guys. I had Mike Jones up there, he's been on fire all day, and I was hoping to get up there and help take some pressure off him. For the umpteenth time today I groveled back on. Wohlberg and I utilized our momentum to try a sneak attack but it wasn't backed up by any real reserve strength, and then we were into the last kilometer. Round the bend we were met with a crazy flagman waving one green flag right and one green flag left. Now I know that officially, all riders are supposed to know the course. But I'd love to see the official rules writers try to survive five hours in these abominable conditions and still have the presence of mind to second-guess a course marshall. Jones followed Svein right (off course) while six guys who had been hanging on the back of the group went left (correct). I nearly came to an indecisive stop in front of the flagman. How about this? One flag with a bicycle on it, one flag with a car on it? Is that too complicated? All of us got same time in a utilization of good judgment on the part of the commissaire.
The Quebecois rider who helped me rejoin the front in the finale won the confused stage finish, and I could see the frustration on Jones' face as what could have been a huge result for our big unit team player slipped away.
Stage 3 - June 16: St-Joseph - St-Joseph, 180 km
I let out an overjoyed whoop and yell as word came out that due to wet pick-a-plank bridges and extensive road construction exacerbated by heavy rains, we would be driving the first 40km of today's stage. With my hamstring gradually improving but far from normal, I feel like any extra rest will only speed my return to full power. The non-firing muscles are causing other imbalances and overcompensation in addition to sharp knee pain, but I'm not about to quit. Ice, anti-inflammatories, stretching, and Debbie's expert massage plus motivation are keeping me going. I hate quitting races, and I'm hoping that the essentially powerful fitness underlying my current state will allow me a real chance on the weekend.
On the other hand, quitting early could give me more time to rest for TT nationals, which is Tuesday at altitude and 100 degree heat in Salt Lake City. Who was the brainiac at USAC that scheduled the very first day of Nationals for the elite time trial, knowing that one of only two UCI sanctioned stage races was ending just 36 hours before the TT? I really don't understand why our national governing body continues to commit such grave errors affecting the depth of field at events and careers of athletes.
Anyway, I'm just going to plan on doing Salt Lake after five planes and 18 hours of travel Monday, and maybe just maybe I'll pull something out. If I didn't at least try despite these challenges, I'd always wonder 'what if'.
So I hung on through another wet and cold stage three. The field has been reduced from over 100 to 70 in the first two days. The roads are the same as ever, but with the heavy rains many parallel grooves and potholes are obscured by standing water. The road is so rough that equipment suffers. At one point during a particularly difficult gutter jam, the seatpost of the rider in front of me goes "CRACK!" and explodes. He's left trying to sit on a stump of a post, bits of carbon and aluminum shards clattering onto the pavement behind us. Our Ritchey WCS parts are known for being able to survive the roads of the Tour de Beauce, so no worries for us!
Doug Ollenrenshaw got away with the Irish National champ David O'Loughlin (Navs) in the finale. He's hurting about it now, but his breakmate just stayed away for the stage win while Doug was swept up at 200m to go. Hard luck.
Stage 4a - June 17: St-Jean-de-la-Lande, ITT, 27 km
I've got an excellent record here; long and hilly TTs definitely suit me. Four French-Canadian size (mini) cups of coffee, four ibuprofen, and one Red Bull get me ready to go to work today! I'm Svein Tuft's minute man… that's a good thing cause there are two turnarounds so I can get checks on one of the top men in the race. For about 3km in the middle of the race the hamstring pain becomes sharp enough that I have to throttle back, costing me a good 10 seconds a kilometer or so. A few farms provide enough wind shelter for me to break the aero position and stretch the offending leg, and the sharp pain subsides enough to get back to work. It turns out to be a decent effort for sixth place on the stage. Good enough to move me up into fourth, and I won't contemplate any other parallel universe outcomes here.
O'Neill fairly predictably ripped a ridiculously fast time, but Svein was just good enough that with the gains from Stage 1 he's now in the jersey. Cool. I like Svein, he's modest and friendly. The revelation of the day was 20 year old Christian Meier. I last wrote about him in my Tour of Tobago report a year ago, and he's definitely got an incredible motor in him. For only 20, he's managed to match my time for the day and snare fifth place on the stage. Look for him in the future!
Till tomorrow,
John
Email John at jlieswyn@cyclingnews.com