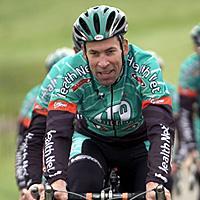 John Lieswyn
Photo: © Rob Karman
The John Lieswyn Diary
John Lieswyn is one of Cyclingnews' most popular and sometimes controversial diarists. John started road racing in Florida in 1985. After college graduation in 1990, he raced three seasons for the US National team in Germany, France and Italy, turning professional in 1993 for Coors Light. In 1995 he returned to Europe, scoring numerous top ten results and winning the Delemont (Switzerland) mountain stage of the Regio Tour. After taking a hiatus in 1996, he focused on the US domestic scene with over 40 major wins. In the pre and post season (US) he competes in South America, Australia and New Zealand, notably taking three stage wins in the Herald-Sun Tour (Australia), and overall victory at the Southland Tour (NZ) and Tour de Beauce (Canada). He has written for Cyclingnews.com since 1999 and continues this season with Team Health Net presented by Maxxis.
Nature Valley Grand Prix - NE/NRC Minnesota, USA, June 8-12, 2005
Stage 4 - June 11: Red Wing Road Race, 101/94 miles
Epic!
Red Wing Road Race, 163km with six hilly finishing circuits 7km each. The course includes two dirt road sections, many rolling hills, strong winds and occasional rain.
EPIC! Now THIS is bike racing. Unfortunately for me, I spent most of the day groveling and hanging on. Receiving pain rather than dishing it out.
We began quite slowly today. Perhaps everyone had seen the wind on the drive in, or tired legs needed warming up. I was glad for it. Riding with a groin pull and touchy knee meant that I couldn't find a comfortable position on the saddle. Hard accelerations are out of the question. At 30km we're over the first KOM (I'm wearing the climber jersey but contesting it today isn't possible when I don't know if I can even finish the stage) and headed towards a right turn into a strong crosswind. Gord and I have got ourselves in position at the head of the field, while Tyler and Greg chance getting a flat to charge up the gravel shoulder. Jelly Belly is also ready for a jam session. Within twenty minutes we've broken the field into 8 echelons, with just a dozen in front. Milne, Baldwin (Navs), Menzies and a teammate (AB/E), Brice Jones, Matty Rice, Mariano, Dave McCook, Patey (Jelly Belly), Jonathan Page (Colavita) and four of us Health Net pb Maxxis guys. High powered split! We go out to 1:40 lead before Milne stops pulling. A Jelly Belly guy flats, they quit pulling… the JB is back on and Greg absolutely rivets us all over a small climb. McCook and Rice go OTB (out the back)…there's a lot of arguing and gapping off of each other between Navs and us…and we're losing our hard earned gap rapidly. A period of rain coincides with the second sprint. Milne pumps me again and widens his lead by another 3 seconds. Teams McGuire Realty and Webcor Builders are hard at work in the second group welding the race back together.
Over the dirt roads now, and Greg has hit the wall. He's bonking (out of fuel) and I'm close to it as well. The groups are constantly reshuffling…not much is said as we all focus on figuratively holding the wheel of the guy ahead. A Penn Cycles local team mountain biker ringer, whose name I have forgotten but deserves mention, absolutely drills it over a 1500m dirt section and singlehandedly brings the group I'm struggling to hold on to in contact with a split I'd missed.
For the middle hour of the race I wonder how much damage I'm doing to my body; it's screaming at me and I'm really unable to hold the wheel in front. I call into my radio for ibuprofen anti-inflammatories, and our soigneur Debbie crushes 400mg into a bottle for me. Hope this works. The bottle goes down with a nasty taste. That feed zone precedes the finishing circuits by just a few km… good! Gord has gone up the road with powerhouses Menzies and Pate. Now I really have a reason to "sit" (not assist in pulling at the front).
Onto the circuits and Milne is running out of guys to control the race. Attacks from Brian Jensen, Aaron Olsen (Colavita), and Jonathan Page (Colavita) blow the remaining Navigator workers off the front, and the men in red pull away from us quickly. Milne tries to recruit me to help, since Page will overtake my 2nd on GC before threatening Milne's yellow jersey. I suggest Milne try attacking as the best defense. And he does, in a perfectly timed, powerful surge. As the one who suggested it, I'm well placed to follow. Nobody else can or will respond, and we're clear! Milne closes half the thirty second lead to Page, and I finish it off. We've now got 5 riders clear and 3 laps of the residential circuit to go.
It's great to go from total suffering just to hold a wheel on flat ground to feeling like a factor again. The muscles are still all out of balance but I can now manage the pain and with each successive lap I'm closer to getting a bottle of liquids at the finish. All five of us are totally dry, and there is no feed zone on this circuit. Each time past the finish line I'm looking jealously at the bottles an illegal feeder is handing up to a competing team, but I'm not so bad off as to risk a penalty.
Last lap. In the break Pate has attacked and established a ten bike length lead over Menzies and a further couple lengths to Fraser. It was definitely possible that the three could have rejoined one another, but the issue was settled for Pate definitively as a car following a lapped group decides to stop right in front of the Jelly Belly powerhouse on a descent. Gord said Pate was fully sideways and unclipped from his pedal, executing a full emergency evasive maneuver. After that Pate tried unsuccessfully to go solo on the last hill. Game over, chalk up another race win for The Gord.
I'm not interested in the minor placings but with the strange timekeeping we're experiencing here I ride 90 percent in the sprint. Page has jumped us but doesn't get clear; Jensen comes around to take 4th on the stage. He's so excited that he pumps a fist in the air…it would be silly for a pro rider but I'm happy for Jensen. It's a big result for him!
Young Milne has done a great job containing me today. He's kept the leader's jersey on one of the most epic race days of the year. Tomorrow I have one more chance to take it back… I'm hoping my injuries heal up enough to get some real power down on one of my favorite tough-man criterium courses of the year. If Milne can stay with me, he truly deserves the overall win. Until tomorrow, then!
Your hotheaded diarist,
John
Email John at jlieswyn@cyclingnews.com