Recently on Cyclingnews.com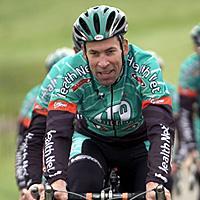 John Lieswyn
Photo: © Rob Karman
The John Lieswyn Diary
John Lieswyn is one of Cyclingnews' most popular and sometimes controversial diarists. John started road racing in Florida in 1985. After college graduation in 1990, he raced three seasons for the US National team in Germany, France and Italy, turning professional in 1993 for Coors Light. In 1995 he returned to Europe, scoring numerous top ten results and winning the Delemont (Switzerland) mountain stage of the Regio Tour. After taking a hiatus in 1996, he focused on the US domestic scene with over 40 major wins. In the pre and post season (US) he competes in South America, Australia and New Zealand, notably taking three stage wins in the Herald-Sun Tour (Australia), and overall victory at the Southland Tour (NZ) and Tour de Beauce (Canada). He has written for Cyclingnews.com since 1999 and continues this season with Team Health Net presented by Maxxis.
Nature Valley Grand Prix - NE/NRC Minnesota, USA, June 8-12, 2005
In and out of the leader jersey
Stage 2 - June 9: Mankato Road Race, 91/86 miles
Beautiful course. We only had Tyler in a group of 17 that went away halfway through, and the dispirited remaining peloton seemed to give up. As the gap exceeded 2 minutes, I marked a flurry of attacks. Race leader Chris Baldwin (Navigators) chased me down repeatedly. At one point I heard over my radio that I was just dragging ten guys when I attacked hard up a 200m hill, but I didn't care. It was time to make a split happen. While that group didn't succeed, the very next one did. I was away with 8 others, and only one Navigator and one Colavita were with me. AB/E and Jelly Belly have missed the bridging group. I was patient, and tried never to punch it through for my pulls on the front. With six hard finishing circuits I knew there was plenty of time to get back into the bike race. As it turned out, with Tyler Farrar sitting on the back of the break and sprinting for time bonuses, the front group became disjointed enough for my group to join up well before the circuits.
On the circuits I attacked the 3rd, 4th, and 6th ascents of the 1km long 39x23 (hard) hill. The 3rd lap attack formed a group of six including Brice Jones, Caleb Manion (both Jelly Belly) Shawn Milne (Nav) Erik Saunders, Tyler and myself. The falling light did nothing to dampen the enthusiasm of Mankato residents, who have turned out in force all along the S/F stretch and in the hundreds on the hill. We began passing clumps of riders from the field, some of whom were "paper-boy" switch back climbing the hill, receiving pushes from the fans just to maintain forward momentum. I attacked again, this time initially drawing only Manion. On the "aero-tuck" 80kph descent Milne bridged up to make it three riders. Milne was just happy to be there after his hard chase, and I gave him a break (easy ascent) on the 5th lap. In Friday's criterium I would come to regret this decision.
6th ascent I waited until the hill steepened before attacking full gas. Milne was dropped immediately and Manion not long after. Over the top I saw I had twenty bike-lengths on Manion and envisioned going solo for the last half lap. The OLN channel camera motorbike pulled alongside, and the silver official COM car pulled in behind me. On to the descent, another quick check to see that Manion not only hasn't given up, he's closed a few bike lengths. I've no breath and no time to shout at the COM car that he's got no business being behind me. It's not Manion's fault at all, just good bike riding, but the COM car is giving him 2%, then 10%, then a major draft as we plummet down the descent. Manion slingshots around the car and he's on to me. We've still got 20 seconds on Milne but all of that evaporates as Manion and I play cat and mouse, creeping through the final 2km at less than 35kph. Milne shoots by, I jump on, and Manion has to figure on trying to come from behind. It's a simple sprint for me, one I take handily with bikelengths to spare. It's nice to win, a small consolation for my team sacrifices of the past week in Pennsylvania.
Stage 3 - June 10: Minneapolis Downtown Classic criterium, 60/40 minutes
It seems like we are dodging a bullet here. Forecasts of heavy thunderstorms haven't materialized and the roads are dry, despite near 100% humidity. There is a boisterous and thick crowd on a couple of stretches; wherever the impersonal glass skyscrapers and their attendant landscraper parking garages haven't replaced human-scale buildings with ground floor eateries. These few remaining real buildings with cafes, bars and restaurants are packed, and the sidewalk tables are prime viewing locations.
Off the start line Gord and I mark moves until Tyler and Greg have slowly worked their way up the stretched thin line of riders all the way to the front. We're saving 3rd overall Tyler to cover dangerous moves in the finale tonight, as well as to go for the stage win. Gord and Greg ride a steady tempo and all attackers are brought back as we head into 4 laps (or is it 3?) to go. Hassles with lap counting and some other details of officiating style were eventually resolved so I won't go into them here. It took a while for official results to become available, as some of you may have noticed, while issues with scoring and timing got sorted out.
One najor debacle for Health Net presented by Maxxis was preventable, though, had USA Cycling adopted the UCI rules on mishaps in the finale. In America, where all stage races except the Lance-designed Tour de Georgia have criteriums, we need a rule that keeps GC contenders from having to contest sprinter finishes. I propose that in criteriums, instead of the UCI 3km exclusion, we should have the exclusion apply once the officials remove the safety net of the free lap for crashes and mechanicals.
Jelly Belly had just overpowered Greg and Gord. Tyler and I jumped on the back of their train as we headed into turn 1 at 55kph. Next thing I know, Jelly Belly riders are sliding out. Tyler has nowhere to go and is also going down. My memory is slow motion on this; it all happens in less than a second but I swore to myself as it happened. C'mon, John, pull back, left, arghh! Down I go too, and I leave the bike behind and slam my right heel into the pavement. Result- I can't put weight on the right foot. Like a pogo stick, I'm launched and do a back flip. Slam, my helmet bounces off the pavement and I skid backwards until I hit the metal barriers. Result- neat little scrapes the size of silver dollars, boom, boom, boom, right up my vertebrae. Somewhere in the process of leaving the bike I've pulled the left groin and banged the right knee. Stunned, it takes a couple of long seconds to realize where I am and what is going on. I bounce up and run back to the growing pile of bikes and bodies. It's the San Dimas Stage Race all over again, I'm thinking. I'm reaching for my bike and pleading with it simultaneously, please, please, please come out of the pile when I pull on you! It hears me and slides free instantly. As I throw my left leg over I know something is wrong with the leg but adrenaline is pumping now. Spin! Chain off. Shift, pedal, c'mon c'mon c'mon, chain engages! I hoof it hard to get up to speed. Good boys! Both Greg and Gord are waiting and we start to chase on to the back of the lucky ones who have missed the crash. Three turns later BANG Gord's rear tire blows and he goes sliding across the road on his back in front of me. Braking softly, I squeeze between a still sliding Fraser and the rapidly dwindling real estate on the road between him and the barriers. Oh dumb luck. (unbeknownst to Gord, accident avoidance had put so much torque on the tire that the bead of the tire had come unseated, and it was only a matter of time until it blew) Greg has heard this new crash and waited again as I re-accelerate. We eventually make it back to the main peloton, but there isn't enough time to chase down the break with the opportunistic remaining Jelly Bellys who didn't crash and Milne.
Milne wins and takes the jersey.
In post race media interviews, I was really angry about losing the jersey after all the work Greg and Gord did for me and felt the victim of poor sportsmanship when Pate and Milne attacked after I crashed. I've calmed down now. As Milne says, less drama and more bike racing.
So was I fired up after that or what? Yeah, this is "just" the Nature Valley Grand Prix. There aren't any Pro-Tour big-time Euros here, but it's a great bike race with tough courses, polished organization, decent prize money, points, crowds, and TV coverage. And if my groin and knee will allow it, I'll be on a mission in the final two stages. Here's hoping that my next entry will be from Quebec and not convalescence in Asheville.
Thanks for reading,
John
Email John at jlieswyn@cyclingnews.com