Recently on Cyclingnews.com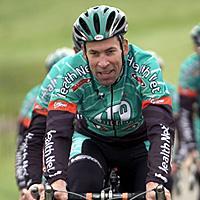 John Lieswyn
Photo: © Rob Karman
The John Lieswyn Diary
John Lieswyn is one of Cyclingnews' most popular and sometimes controversial diarists. John started road racing in Florida in 1985. After college graduation in 1990, he raced three seasons for the US National team in Germany, France and Italy, turning professional in 1993 for Coors Light. In 1995 he returned to Europe, scoring numerous top ten results and winning the Delemont (Switzerland) mountain stage of the Regio Tour. After taking a hiatus in 1996, he focused on the US domestic scene with over 40 major wins. In the pre and post season (US) he competes in South America, Australia and New Zealand, notably taking three stage wins in the Herald-Sun Tour (Australia), and overall victory at the Southland Tour (NZ) and Tour de Beauce (Canada). He has written for Cyclingnews.com since 1999 and continues this season with Team Health Net presented by Maxxis.
June 8, 2005: Wachovia USPRO Championship
Missing the break at Philly
So, what happened at Philly? John Lieswyn, the guy who never seems to miss the break (thanks for rubbing it in, Frank Scioscia!), misses a move of fifty riders? Huh?
Lap one. First time up the wall, relaxing a bit, long day on the bike and we have four riders assigned to cover the early move. We expect the early move will be 8-20 riders, as per usual. The first indication that something is different today was having to dodge dozens of riders on the wall. Either a bunch of these guys are completely out of their league or everyone has adopted the (not so secret) sag climbing technique. After the fall from the wall it is quite a ways down Kelly Drive before we are informed that a group of 34 has slipped away. It sounds too many to miss, but when you sag from 30th to 60th on the hill, and someone has opened a massive gap 20 guys ahead of you, it isn't possible to see 30 riders going away. Unless you have a neck like a giraffe (like say, Chris Wherry?)
Chris and I have missed it and we each take a big pull through the S/F area to bring it all back together. Many people in the bunch are a bit flabbergasted; what is going on today. It should have been predictable; the organizers have reduced the team sizes from 10 to 9 and allowed in a few extra teams. We have about 200 riders here, and the disparity in ability is going to be the crucial factor on the next time up the wall…
Going through Manayunk Chris and I were side by side and looking for a clear path. He took the left at the base of the climb and found clear road, while I got stuck in traffic. I had a bad feeling about this situation but on looking over and catching sight of both Julich and Rodriguez sagging, I figured that is at least two major euro teams that will chase any oversize groups that get away. I figured wrong, while Horner made the huge split and sent his teammates to work HARD right away.
So for the majority of the race I could do little but wait (our team was very well represented in the front, so it wasn't my lot to do any chasing). Lap after lap up the wall I absorbed the raucous crowd cheering and the bands rocking, the sights and sounds of one of the greatest bike races in the world. Helicopters bleated overhead, two-story tall big screen TV's showing images from another race minutes ahead of us. The whole while I knew that the best chance of winning Philly, of defeating the two time champ Fred Rodriguez, was the move being executed by Wherry, Ivan, Mike and Mike.
I'm done now. There are other big money races like San Francisco, Charlotte, Altoona, Chicago, etc. There are still two national championships up for grabs. I will fight with every synapse and sinew to win through the second half of 2005. However, this week was IT for me. A slow realization has crept over me the last couple days. Despite a long career at a relatively high level, I've had near 10 chances at USPRO week and for one reason or another I've never been able to climb the top step of the podium. For some riders, there are important turning points like the Olympic Trials wins of Jason McCartney and Tony Cruz, Dionne's twin victories at San Francisco, Greg's Lancaster sprint win, Vogels and Wherry's solo of the final 3km at Philly. I was right there for so many of those wins, either directly contributing or honestly directly losing to the winner in each case. Close only counts in horseshoes and hand grenades, someone once told me. So if there is only one thing that my younger athlete readers learn from me, it is this: there will come a day when there is no tomorrow, so make it happen today!
Thanks for reading,
John
Email John at jlieswyn@cyclingnews.com