Recently on Cyclingnews.com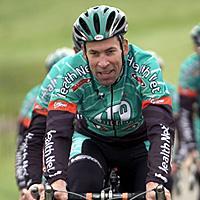 John Lieswyn
Photo: © Rob Karman
The John Lieswyn Diary
John Lieswyn is one of Cyclingnews' most popular and sometimes controversial diarists. John started road racing in Florida in 1985. After college graduation in 1990, he raced three seasons for the US National team in Germany, France and Italy, turning professional in 1993 for Coors Light. In 1995 he returned to Europe, scoring numerous top ten results and winning the Delemont (Switzerland) mountain stage of the Regio Tour. After taking a hiatus in 1996, he focused on the US domestic scene with over 40 major wins. In the pre and post season (US) he competes in South America, Australia and New Zealand, notably taking three stage wins in the Herald-Sun Tour (Australia), and overall victory at the Southland Tour (NZ) and Tour de Beauce (Canada). He has written for Cyclingnews.com since 1999 and continues this season with Team Health Net presented by Maxxis.
Battling in the break at Wachovia Trenton
June 2, 2005
A regular morning. Had breakfast with the Belgian photographers who have been coming to this race week as long as I can remember. Finally got through all my CN email account mail, some of it unread since April … sorry to those readers. I gave a shout to nobody in particular when the magic words popped up on the screen "Account Empty".
2PM. Throw uniform, helmet, shoes and Voet's book "Breaking the Chain" in my race bag and run down to the van. Don't want to be today's recipient of the "last man" award.
3PM. Settle into a folding chair and read another chapter. The book, about doping in cycling, is surprisingly not bumming me out. Yeah, all those who cheated robbed me of results when I was over there. But what can I do … anger does nothing. I'm also reading a book Brice Jones gave me by Kunstler called "The City In Mind". The chapter on Mexico City reminds me of some of my own disjointed writing; I was left thinking that Kunstler never really fleshed out his hypothesis about the collapse of the Mayan civilization having much to do with Mexico City's problems today. But the chapter on Atlanta was well researched, humorous, sad and revealing all at once. It's reinforced for me how Americans have become ingrained with the car culture to the point where it is poisoning our future. Not that America is alone in car-centered development; witness the banning of bicycles from some major Chinese cities, for example.
I hope that if we do end up in New Zealand (we don't have official confirmation yet) that I can bring my passion and enthusiasm for New Urbanism to a country where population pressure is mounting but the roads and development are not yet locked in to the car-only future of America.
I see Chris Horner nearby and question him across the lawn: "where's the McD's burger and fries, ah?" He laughs, comes over and gives Wherry and me props for our work at Lancaster. Puff, puff, my head's getting bigger. Thanks, pal!
4:30PM. We're off. The fig newtons and Peak Bar that I stupidly ate about fifteen minutes ago seem to be sitting right in my throat. Every time I try to get to the whirling vortex that is the front of the bike race I get a reflux reaction. Nice.
Early on I overhear a CSC guy muttering "too many guys for this course". I couldn't agree more. It's nuts. People are divebombing every inside corner, and if you don't do it too then suddenly you are 90 guys back in a single file line, with the slinky effect forcing the pace to over 60kph. Coming into the park one early lap Roger Hammond (Discovery) gives me .002 second warning "on your right" and expects me to somehow push the twenty guys on my left hip out of the way to make room for him. Actually, with a little warning and my weight on the other pedal I COULD have squeezed a bit for him. With little enthusiasm I say "sorry" as he must brake and bunny hop a storm grate. He's irate as he draws up alongside, and I'm getting mad at him now. What, is "sorry" not enough, Mr. Big Shot? I explain had he given me a little more warning perhaps he'd have had better cooperation, and he shouldn't be giving a 20 year veteran so much crap. He shouts back, "typically American, you! Always gotta be right!". He drifts back a place in the bunch and makes a big deal of noting my number plate. "Number 96" he says. I wanted to retort; "you want my license number too, copper?" but decided to give it a rest. Soon enough I'd be arguing with another of his teammates …
Halfway through the bike race I find myself in a 16 man breakaway. Right away I can tell it isn't good for us. The panic must be in my voice as I read off race numbers and odds into my team radio mic. "Two Navs, two Colavita, two CSC, Disco, Saunier, Jelly, two Endeavor … " on and on. Click off the mic. Over my earpiece confusion is reigning between my teammates and Jeff. Hmm, try that again. I repeat the data … nobody answers. Wonderful devices, these damned radios. OK, I'm on my own up here. I'm trying my best to stay out of the rotation … it's not cool to literally impede the progress of working riders. It's such a big group that time after time I have to re-enter the paceline just to close a gap somebody else is leaving. Soon Leif Hoste (Discovery) is flicking his bike at me as he passes, trying to teach me a lesson or something. Yeah, man, you the boss. Julich is getting frustrated with the lack of cooperation and starts attacking … Jeff pulls alongside in the car and is telling me this may not come back today and I'll have to figure out how to win. I mark a couple attacks, but it's getting hairy with two CSCs and two Colavitas. Finally I miss one … and it's due to trying to sit on the back … I didn't even see Julich and McCormack slip away through the corners at the city end of the dogbone course.
All the way down the next straight I'm muttering to myself "come on guys, keep it close, keep it close" but it seems that everyone knows what is coming and they aren't keen to drive the remaining breakaway all the way to the hill just to get jumped. Just 'cause my radio isn't working doesn't mean the other guys' radios are dead too, and as I attack everyone is straight onto me. The rear wheel doesn't seem to want to hook up on the rough pavement and my legs aren't snappy enough … Hoste is leading the charge to get my wheel. Jeff is saying into my ear that all my effort is doing is shelling a couple guys but most of the break is pulling me back, and I can't see Julich over the top of the park hill. Damn … 10 seconds is a small gap to close at an NRC race but here it is turning out to be the Grand Canyon. Leif Hoste gives me a sarcastic thumbs-up as I let off the pedals and return to the back of the group. A kilometer later he's doing it again, getting in my face now, and I'm answering simply "Ride your bike, man, just shut up, leave me alone, and pedal!" Some of the other guys in the break know that my team is chasing from behind and know that I'm only following logical orders, and I hear at least one person berating Leife. He comes up to me, shoulder to shoulder, and I think that if he doesn't back down immediately I might snap and left turn him hard. Thankfully he quits getting in my face.
The attacking has destroyed any rhythm this break had and our three-minute lead over the field melts quickly. I'm in total energy conservation mode, because I know that as soon as we are absorbed there will be much work to do to catch the two leaders. I've already read the race reports on cycling media sites, and it's quite amazing how different the race looked to the reporters than what was actually happening. In fact, it was quite difficult to bring back Julich and McCormack. Make no mistake about it though, they were coming back to us. It was just a matter of time. Had they looked more likely to stay away then we'd have put more men in the chase, it's that simple.
About that chase; yes, team Liquigas did a great job with a couple guys. For a kilometer they had three chasing. Obviously unbeknownst to some reporters, Sayers and I were pulling hard with them, not sitting back. We needed only average about 50-53 kph and we were taking huge chunks of time out now … and they're back. It's a mass sprint into the bottom of the park and Sayers and I have blown … I'm giving it everything to get a good position but at least forty guys have swept by me in the space of twenty seconds. Mostly my eyes are focused on the riders immediately ahead of me, constantly scanning for the telltale signs of an impending crash. A millisecond neck crane and glance to the front shows me that Wherry is taking a massive pull … he goes all the way through the park and part way back towards the city, probably a solid 3km by himself. We're going to be leaving our four sprinters to "freelance" the sprint, but that's the price we have paid today for being outgunned in the break.
Approaching the finish I'm completely out of the placings, and not worried a whit about it. On autopilot, just following the wheel ahead of me and dodging leadout men who have quit pedaling all together, and listening for the magic words. "CSC! No, it's GORRRRD FRASER!" Gord has been happy for the team these last days, but you know that he's been itching for a big result himself and he's turned up the volume for this sprint. It was absolutely no contest … check the pics … he blew by everyone.
Straight to the van. Congratulatory hugs and handshakes all around. There's a gaggle of reporters holding recorders towards me, and I make the observation that had I made it across to Julich and McCormack, that might have been the race right there. It wouldn't have come back without Health Net pb Maxxis chasing. Someone flat out says "yeah, but then McCormack would have won" and I don't bother speculating out loud. Sure, Mark is really fast. You don't get to be national champion without some serious speed. But I've beat him before and I would have pulled with him today, given the chance. It all worked out very well for the team regardless. My own inner drive to win continues to grow. Hoste and Hammond threw some fuel on that fire too … looking forward to Sunday and ready to seize the moment. Should I fail, it's comforting to have such a powerful team to lend every ounce of my remaining energy to.
There is a Keane concert on the riverfront tomorrow evening, but if it rains or I can't find someplace to sit down, I'll have to give it a pass. Most of the next two days will be putting the legs up! Thanks for reading.
Thanks for reading,
John
Email John at jlieswyn@cyclingnews.com