Recently on Cyclingnews.com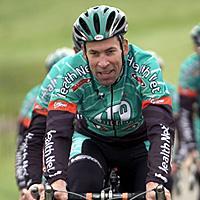 John Lieswyn
Photo: © Rob Karman
The John Lieswyn Diary
John Lieswyn is one of Cyclingnews' most popular and sometimes controversial diarists. John started road racing in Florida in 1985. After college graduation in 1990, he raced three seasons for the US National team in Germany, France and Italy, turning professional in 1993 for Coors Light. In 1995 he returned to Europe, scoring numerous top ten results and winning the Delemont (Switzerland) mountain stage of the Regio Tour. After taking a hiatus in 1996, he focused on the US domestic scene with over 40 major wins. In the pre and post season (US) he competes in South America, Australia and New Zealand, notably taking three stage wins in the Herald-Sun Tour (Australia), and overall victory at the Southland Tour (NZ) and Tour de Beauce (Canada). He has written for Cyclingnews.com since 1999 and continues this season with Team Health Net presented by Maxxis.
Tour de Georgia
Riders in the Storm
After contracting a virulent stomach flu at Redlands and subsequently losing over two kilos, I had felt extremely weak in the week prior to the TdGA. Dawn and I packed up our household and drove the old Benz cross country to Asheville NC and I set about trying to cram some training in before the big race. My first day back on the bike was a brothel; fellow Ashevillian and teammate Justin England was encouraging but I was nearly inconsolable. In just ten days I'd lost my entire reserves and what seemed like ALL my fitness. To go from the strongest form of my career prior to Redlands to feeling like a beginner cyclist was tough to take. Each day I felt just marginally better, but so far from feeling strong and able to compete with six ProTour teams that I called Jeff and suggested that I may not be ready. I decided to go to a regional sixty minute criterium in Aniston, Alabama and test myself just three days in advance of the TdGA.
The Aniston race featured full squads from upstart team Advantage Benefits/Endeavor, powerhouse Colavita/Sutter Home, and Jittery Joes. As the lone representative of Health Net pb Maxxis I could simply ride off the other teams and go for a personal result. No moves to chase and no leadout to perform. Kinda nice once in a while! The crowd was pretty decent, helped by the massive street food festival. Aniston was also host to the 1992 pre-Olympic National Team two week camp that I attended, but I remembered little of the town itself. In warmup I took note of the glaringly politically incorrect road signs in the poor, black section of town: "Project Lane" literally lined with brick project homes from the 70's. It's pretty segregated here even decades after Martin Luther King's movement.
We set off at twilight on the four corner, well lit downtown course. Within twenty minutes a break of 13 riders had gone clear and I found myself in it! I didn't put too much stock in my riding yet, knowing that there is a big difference between a sixty minute regional criterium and the six hour races in the biggest American stage race. Even with a (my fault) loose stem which allowed my handlebars to slip 45 degrees to the right, I managed to finish the race seventh and make some good cash to boot. Yeah!
It was two a.m. by the time I was settled into Holly and Chris's 1880's grand B&B, the Claremont House of Rome, Georgia. I spent half the next day admiring the wonderful architecture and furnishings, and a few hours weakly riding the time trial course that I knew I would soon be "sand bagging". (this is when team riders are instructed to ride at a pace just hard enough to make the time cut, so as to save their strength for their real jobs for the team sprinters or climbers. It applies to me now because due to my illness I won't be a general classification contender. I would guess that two-thirds of the peloton is on sandbag mode in major tour time trials.)
Stage 1 - April 19: Augusta - Macon, 207.4km
Smoked. I had to ride with Justin, two Colavitas, and two Phonaks (a major Pro Tour team which has Robbie Hunter for the sprints and Floyd Landis for their GC man) for about twenty miles to reel in a breakaway. I hung on for three out of four ascents of the tough finishing circuit cobblestone hill, which was far more than I expected. Greg placed fifth for us. It's not the win we nabbed last year, but with Gord still suffering from a similar gastro problem and Ivan a bit under-raced at this point, we were down a bit on power. I got to the van and shakily sank into a chair, from which I was incapable of movement for at least twenty minutes. Oh, man. Zero reserves in my body. This race is going to be tough to finish for me.
Stage 2 - April 20: Fayetteville - Rome, 197.5 km
Much better today. I hung on throughout the even tougher finish circuits in Rome, and wasn't shaking at the finish like yesterday. Greg has earned enough intermediate sprint points plus his fifth yesterday to take leadership in our primary goal: the orange Maxxis sprint jersey. We'll focus on that now. Ivan, Gord, Mike and I are to sacrifice any time trial hopes to conserve for Greg. Scott, Chris and Justin are allowed to go for it in the time trial so as not to totally throw away a possible top ten GC finish after the brutal ascent of Brasstown Bald on Saturday.
Stage 3 - April 21: Rome time trial, 29.9km
I can't stand it. This course is so perfect for me. I consider myself one of the top three time trialists in America (when I'm on) and I can't seem to show up to the TdGA ready to prove it. I rode on autopilot, about 80 percent effort which I figured would get me inside the time cut. Just getting up the up to 19 percent 3 kilometer grade in the middle of the time trial is a max effort, though. After the descent I thought I was "sweet as" until a double wheel slide lasting what seemed like an entire eternal second (very long time to be double sliding on a bicycle without crashing) nearly took me out. I was fully unclipped from the pedals and riding in the gutter, on the curb, when I finally had the bike under control. Later I learned that many riders had crashed in just the same spot, and I felt like taking a bow for the dozens of fans who clapped and yelled "great save!" Our sprinter Hendy beat me by three seconds… he's going to crack me if he keeps this up! (Just kidding… I don't really care where I finish when sandbagging, as long as it's inside the time limit).
Stage 4 - April 22: Dalton to Dahlonega, 214.7km
Riders in the Storm. Thinking of the Doors here.
Before the stage I hung out in the RV, stomach still aching and telling me that digestion isn't normal. I'm trying to think positive thoughts, and a phone call to my wife in which I hear no further bad news about my mother-in-law's hospitalization over a heart condition is at least reassuring. I break down and fix a coffee, which I normally don't do for long stages due to the diuretic effect.
Dalton to Dahlonega is equal to the supposed "queen" stage of Brasstown Bald, if only due to the six KOM's, 218 kilometers and never ending undulating terrain. It would have helped if someone (myself included) had the presence of mind to watch the weather forecast. I wore dark glasses and no undershirt. The latter would make the difference between a great ride and zip, nothing, nada. Right from the start Mike and I were to set tempo and make sure that Greg could go for maximum sprint points. I felt great for the first time since Pomona, and we rode the absolute minimum pace that would keep attackers from getting too antsy. That's about a 43 km/h average. In the sprint, we had a verbal communications failure in the leadout train and nobody told me or Wherry to "pull off left" which could have shut down the Colavita train drawing up alongside our sprinters. Even so, I thought we had it as I finished my last pull with about 700m to go. JJ Haedo again uncorked a great sprint, and while Greg had to close three bike lengths to him and nearly came around, JJ got it and the special $1500 prize for winner takes all.
Unfortunately for us, the first major 7 kilometer climb of the day began immediately after the sprint. I really expected to be in the "grupetto" out the back group from here on out, but somehow it felt like I was dancing on the pedals and suddenly I found myself pulling alongside Justin to set tempo on the front of a very illustrious group. Our plan was to try and keep the bunch together and have Greg chase back on the descent, in time for a crack at the second intermediate sprint. Yellow jersey Floyd Landis' Phonak team and Health Net have common goals today, so Floyd coached Justin and I from behind. Lance's Discovery team continually attacked, but I was surprising myself with a long-missing ability to accelerate easily on the climb. Over the summit I was still on the front, and trying to figure out whether to go back for Greg or pull back the breakaway. I got as close as about five seconds from the break at one point, in a group of three with Ekimov and a CSC rider. These guys already had a man each in the break, and neither man would pull hard only to have the other jump across alone. In a blink of an eye, my opportunity to profit from their stalemate and bridge myself was gone. This break wouldn't be seen again until over 160 kilometers later.
Greg did make it back on, but by the time he did the break was up to 55 seconds and Jeff judged it unlikely that even all of us could bring it back in time for the second sprint, so we sat back and let Phonak do their thing for the next three hours. During this period we went through what goes down as numero uno in my record books for worst storm ever raced through. Early on, the sky darkened so much that somebody joked "turn on the lights!" Soon light hail fell and the temperature dropped twenty degrees in a matter of seconds. I was sitting right on Floyd, with Armstrong just behind me, and I couldn't imagine the carnage behind as the winds howled, lightning crashed all around, and rain pelted down so hard that visibility was literally only a couple bike riders ahead of you. I drifted back for a while as Discovery surrounded Lance right behind Phonak in a protective rolling cocoon. I didn't think that the team car had any more clothes, and since I'd foolishly ditched my rain jacket in the feed zone half an hour earlier (the sky had been clearing, I swear!).
Still feeling very strong, I easily spun a light gear up alongside Floyd for a chat, and to resume my near the head of the pack position. Big mistake. Over the next hour I steadily got colder and colder. With radios instantly fritzed by the rain, I couldn't easily ask Jeff about clothes. I never thought I would look forward to uphills as much as now…their lower speed and required effort would warm me immediately. When my shivering got so bad that I began to worry that it would be me, the guy who took out Armstrong, I finally drifted back to the car to sheepishly beg for a rain jacket. Of course they had one for me, but it was obviously too late. We were nearly at the top of the second major KOM, and suddenly the legs weren't so spry any more. I still passed everyone even as the massive crowd narrowed the available pavement to nearly European col craziness, but the effortlessness of just an hour ago was gone. I'm unsurprised, as having very low energy reserves from the illness is going to be exacerbated by today's horrendous weather.
We descend smoothly for 15 kilometers, and reach the feed zone where I desperately pack in energy gels and bars. It's a Catch-22 because if you don't eat you'll bonk, if you eat then a lot of blood goes to the stomach to service digestion processes instead of to oxygen carrying in the legs. Just after Greg Henderson, who is climbing like a madman (he's outclimbing nearly every other sprinter here, by far) rides alongside me and tells me I am riding well enough to win the stage, I feel the telltale signs of hunger knock. I'm too late, and the next climb is too soon.
I went off the back with Todd Herriot (Colavita), the illustrious stage winner Robert Hunter (Phonak) and last year's Brasstown Bald star Cesar Grajales (now with Navigators). Hunter drove it for most of the remaining 30 kilometers. We even took a couple minutes off for a roadside pee stop on a deserted stretch of the second to last KOM (a luxury that grupettos can sometimes afford when it is obvious we'll easily make the time cut). In the final 30km dozens of people recognized each of us, and I heard my name numerous times shouted in encouragement. It was heartening and embarrassing at the same time, especially after having ridden Armstrong's wheel up this same climb last year at the head of a very select twenty strong group of the world's best riders.
Not this year. I do have much to be thankful for, and I look optimistically to USPRO week for my next major goal. Today showed me that I haven't lost as much fitness as I'd originally thought, and all I need to do is give my GI system time to fully heal and replenish my body's reserves with good stuff. Perhaps I can come out of this not only a few pounds lighter but also leaner and mentally hungrier. I have a lot to prove in this very important year…
Dawn has unofficially been offered a job in New Zealand and given that negotiations and paperwork all go through in the next month, we will become adopted Kiwis soon. Yet another big highly anticipated life change! I'll let you all know when it becomes official. We do intend to maintain our (currently leased) Asheville NC house and perhaps in time become bi-continental dwellers. I do love America and it's hard to be even further from family, but it's going to be a personal statement that at least I'll no longer be subsidizing the American government's dropping bombs all over the place whenever our corporate interests are threatened, while euphemistically calling it all a "war on terror". Flame on.
Tomorrow I really do think I could ride top fifteen on the shorter stage finishing at the top of Brasstown, but while it would be a tremendous personal accomplishment given my recent challenges, it wouldn't be the right thing for the team. It doesn't help the team much to say John was thirteenth, for example, when the primary goal is winning the following day for our top chance Greg Henderson and in so doing fully secure the sprint classification. So I may be "pulling the pin" early, so to conserve energy for leadout duty. Oh well.
Til tomorrow, then!
John
Email John at jlieswyn@cyclingnews.com