The Shimano camp
Photo: © Chris Davidson
Wrenchin' in the USA: The Chris Davidson diary 2005
Chris Davidson is a mechanic for Shimano Multi-Service doing neutral tech support at road and mountain bike races..
Chris' diary entries show us what life is like inside the pits and give an insight into the mind of a mechanic.
Elite women and U23 men TT - World Championships - Spain, September 21, 2005
A great day all round
Amber Neben and Christine Thorburn
Photo ©: Chris Davidson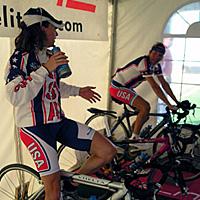 As I sit to write tonight I reflect on how fortunate I am. Today was a triumphant day; athletes performed at their maximum and I was able to contribute a very small part to some success. It was a good team effort, highlighted by some amazing individual results.
Starting at 5:45am with my cell phone alarm, I quickly hit our service course in the host hotel and prepared the last few items for transport. After a quick breakfast we were en route to the course in the dark and cold of the Madrid morning. When the girls first arrived it was so cold that they sat in the tent under blankets. My hands were so cold I had trouble opening tube valves and pumping tires. The plan was for me to follow Amber Neben, our first rider, then quickly switch our spare bikes and follow Christine Thorburn. Kristin Armstrong would be our middle rider and my friend Ken Whelpdale [Gerolsteiner] would follow her in the car.
Warm up went smoothly, then shortly before the start Amber decided she wanted to change her cassette from an 11-23 to an 11-25. No problem, but we were a little pinched for time as her race wheels arrived this morning from her trade team, and I needed to check them out in the bike. A quick change and some helpful oversight from Ken and I was off with the bike to the UCI bike inspection. Amber's bike passes the inspection in the first pass and quickly she is on the start ramp and I am in the car.
Amber had a great ride - from the car behind she looked strong and aggressive the entire time. She nailed the corners and was smooth and conservative with her cadence on the climbs. She set the standard at all the time checks and at the finish she was the leader. It was not until I talked to her in the tent after her warm down that she said to me the bike performed 100%. That made my day.
Kristin Armstrong's bronze medal-winning TT rig
Photo ©: Chris Davidson

No time to rest as I had to take Christine's bike to inspection and get to the follow car. Christine asked me a few questions about her bike before the start; I sensed that she was nervous. I tried not to wavier as I responded. I needed to inspire confidence. I was relieved when Christine smiled a little on the start ramp when I wished her luck and headed to the car - I haven't worked with Christine a great deal yet, so I was still unsure how she reacts to imminent competition.
Once in the car behind Christine, we learned on race radio that Kristin had finished and took the lead from Amber, and we were now number one and two! I couldn't reach DS Jim Miller on the cell phone, but I knew that he'd be happy. Only the last six riders remained to complete the course. Christine finished her ride without any problems and I could now let down a little; no panicked wheel/bike changes for the women, all had gone smoothly.
A few in the final five riders would go faster than our girls, but in the end we stood in with all three in the top eight. Truly amazing.
Steven Cozza (USA U23) complete with Camelbak
Photo ©: Chris Davidson

Later at the hotel Kristin told me that she left it all on the course; she wouldn't change anything about her ride. It's a good feeling for the athlete and the mechanic. After dinner I got another gift - Amber Neben actually smiled. I respect and enjoy working with Amber in part because she is very direct and specific in her feedback about the bike. She is serious about bike racing in many ways and she's very professional. Last week at Toscana she asked me if I was enjoying myself so far, and I didn't respond straight away, I told her that I hadn't considered 'enjoyment' yet on the trip. Amber smiling today made me realise how much I have enjoyed this trip. Thanks Amber.
As an additional bonus today, I stayed after the women's race at the USA tent and U23 mechanic George Noyes asked me to go in the car and follow his two riders: Steven Cozza and Tyler Farrar. George has vast experience working for 7-11, Motorola and Mapei pro teams, so I was flattered when he asked me to be the mechanic in the car. Both riders had great rides in the hottest part of the afternoon, with Farrar starting conservatively and pacing it perfectly to move up from 35th at the first split to 10th at the finish. Watch for him on Saturday in the road race, he has a very fast finish. Cofidis look forward to his arrival next year.
At the end of the day our delegation was happy - success all round with one medal and four top ten finishes. I felt fortunate to be a small part of the show, and I'm indebted to the help and guidance of my peers - Ken Whelpdale and George Noyes - truly great mechanics and coworkers.
Shorts from worlds:
Dr Eric Heiden
Photo ©: Chris Davidson

Today Kristin Armstrong rode a front trispoke I borrowed from Geoff Brown [Discovery Channel]. When I returned it to Geoff at the end of the day, he offered congratulations for Kristin's finish as he looked over the wheel. He noticed that the wheel had a small USA flag decal near the hub and explained to me that this was the way that Discovery Channel identifies Lance's wheels. So he commented that Lance Armstrong won the prologue on this wheel in France, and Kristin Armstrong won a bronze medal in Madrid on the same wheel. Definitely a unique pedigree for one wheel.
Cozza and Farrar both had to do 2 laps of the U-23 course in the heat of the day, so both wore small Camelbak devices integrated into their undershirts in order to ingest fluids during the ride.
Eric Heiden is our team doctor for the trip. Besides his cycling resume, he has a few Olympic medals in another sport. What a legendary guy to have on board, super great to talk with.
Tomorrow Bobby Julich [CSC] will be our only TT rider in the men's elite race. My women will go train on the road for a bit under three hours. We now focus on the road race on Saturday. But only after a glass of champagne tonight at dinner. All together a very enjoyable day. More tomorrow.
Chris Davidson
Photography
For a thumbnail gallery of these images, click here
Images by Chris Davidson