Queen of the galaxy
Photo ©: Shiela Moon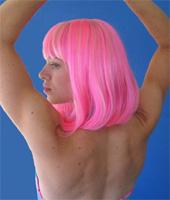 Barbarella: The Barbara Howe diary
Just as Barbarella bumps through the universe, comically oblivious to the dangers and threats being thrust at her, Barbara Howe has had a few misadventures of her own. But with a stable team and strong results in recent years, the 29 year-old Velo Bella rider looks set to navigate her way to the top of the US 'cross tree, where she hopes to be crowned 'Queen of the 'cross Galaxy'.
Follow the fortunes of this free-spirited individual here on Cyclingnews.
December 18, 2005
The big show
Our tent without its skin,
Photo ©: Sabine Dukes

Thursday: Fly to Boston on the early flight. Josh, Simon and I are at the airport eating bagels when Melodie calls an hour before our flight. She slept through her alarm and is just leaving Berkeley. She makes it to the airport with enough time to eat an egg bagel sandwich. Lesson learned from this: Josh and I woke up and got to the airport way too early. After an uneventful flight, we arrive in a gelid Boston and commence the drive to Providence. Our host for the first night lives in a beautiful old house near downtown and even closer to a Whole Foods store. A few bags of groceries and several dollars later we have dinner and build up a few bikes.
Friday: The crazy weekend starts off with a pre-ride in pouring rain. The rain is like icing on the snow and is somehow grippier than the dirt. After a few laps my feet start to get cold and my rain pants are soaking through. Enough is enough, Josh and I get in the van, warm up and change out of our soggy clothes. While changing we notice the temperature drop from 36 to 31 degrees. The rain shifts to sleet, switches to hail and settles into a blustery blinding snowstorm. To make a long story short, the weather was horrific and several races were canceled when tents in the pits blew onto the course.
Dirty Ann.
Photo ©: Sabine Dukes

Down in the large expo/registration/awards tent, racers wandered around in hypothermic daze. Josh noticed on man trying to get his sopping wet clothing off near a heater. The man's hands were frozen and useless so Josh helped him get his shoes and socks off.
Upon noticing small white patches of skin on the man's feet, Josh said: "looks like you have a bit of frostbite on your feet." The man replied: "So that's what that is." Poor guy is going to have some sensitive feet.
California boy Simon, whose first experience with snow was at Gloucester, had bundled up, psyched up, and warmed up to race the 30-34 masters in the storm only to have his race canceled. So we cleaned up, packed up and headed out. The 20-minute drive took closer to two hours, the rental mini-van handled the snow with great aplomb and we didn't slide out or get stuck once!
More from the aftermath.
Photo ©: Sabine Dukes

Saturday: Simon's second chance race and Mel's destruction of her collegiate competitors were earlier than Josh's race and earlier than I wanted to wake up. So they left early for extra time in the snow while Josh and I sat around and worked up some motivation. Simon finished fifth in his masters race but due to the rescheduling had very little time to recover before the elite race. He also lost his elite number and ended up pitting instead of racing. Mel and I left before Josh's race started so we wouldn't spend seven hours standing around in the cold.
My parents are the true heroes of the weekend. They drove up in a snowstorm from Pennsylvannia in their van loaded with cookies, hot chocolate, e-z-ups, and other important race support items. My mother created pink, blue and black streamers for our tent while my Dad brewed hot chocolate to keep us warm. They made it through Friday's storm without getting blown away. My mom acted as tent anchor and bike holder until we took everything apart so it didn't fly off.
They provided pizza for hungry racers and Santa stockings stuffed with goodies for Josh and me. Alex, our manager, was another hero of the weekend. He woke up earlier and stayed up later then anyone else. He was always around ready to clean a bike, take clothes at the start, give clothes back at the finish, and drive someone around in the snow.
Georgia and I riding along
Photo ©: Sabine Dukes

Sunday: Finally, after an eternity in this strange snowy place, race time has arrived. The course has deteriorated throughout the course of the weekend. It is now an amalgamation of snow, ice, mud and deep puddles. My start as always wasn't great but I did manage to avoid being tangled in the first lap crashes. I missed it again this year; somewhere on the starting straight; Katie rode past all of us and took off on the mud, never to be seen again.
Ann and Mo were also ahead of me when I made contact with Rhonda and Melissa. The mud proved to be too much for me; Rhonda and Melissa out handled me and made off with the podium spots. I hit a tree near the pit but was able to get my arms up at the last moment and officially became a tree hugger. On the last lap I tripped over one of the wood steps and took a seat to the head. Georgia and I got to ride around together for a bit, she showed me how to ride a few sections. Armed with that knowledge I was able to maintain a small gap on her and finished sixth. This is a bit of a disappointment as I was hoping to podium, but I didn't get seriously injured and my bikes didn't break either.
After the race some guy tried to talk to me
Photo ©: Sabine Dukes

The best part of nationals is always the aftermath. The race is the formality that comes before the party. For so many racers, it's the end of the season and time to break loose. Velo Bella celebrated with a team dinner including followers, parents, and hosts. Then it was only five blocks to the after-party held in a neat little club.
Upon entering we were greeted by a band wearing tri singlets and putting out serious noise. The party was sponsored by Harpoon brewing and all good cyclists like to make the most of a sponsorship no matter how fleeting.
Monday: The flight that lasted an eternity ended with a few famished bike racers eating in one of their favorite spots in San Francisco. It was good to be home and my whiplash headache was beginning to fade. This week I get to rest and relax before some heavy training to prepare for the world championships in the Netherlands.
My mother brought all sorts of great Christmas cookies for us to eat. She bakes up a storm each year for the family Christmas celebration. Since I've been home only once in the past seven years for Christmas and I've taken it upon myself to share the love and feed everyone around me my favorite cookies. This particular cookie has a very unique flavor and my mother loves to make them because she can turn the heat up in the house to help them rise. These cookies can be touchy to make, if the room isn't warm enough then they don't turn out right.
Anise Cookies
1 3/4 cup sifted flour
1/2 tsp baking powder
3 eggs
1 cup + 2T sugar
1T anise seeds
Beat eggs and sugar for 30 minutes. Add flour and baking powder, beat 3 minutes. Add anise seed and blend quickly. Drop 2tsp blobs onto greased floured cooking sheet. Let set overnight in a warm room. Bake at 325 for 10-12 minutes.
Barb
Photography
For a thumbnail gallery of these images, click here
Images by Sabine Dukes