An interview with Sonia Huguet, May 9, 2004
Aiming huge
Huge win for Huguet at La Flèche Wallonne
Photo: © AFP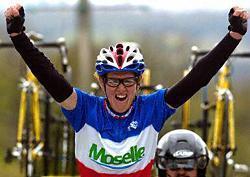 Sonia Huguet's audacious move in the final kilometres of the women's Flèche Wallonne earned the Frenchwoman the biggest victory of her career to date. But the reigning national road champion is aiming huge, and also has the Olympics and World's on her agenda. Fellow compatriot Marion Clignet spoke to her after the Trophée des Grimpeurs, where she finished fifth behind Jeannie Longo.
Cyclingnews: You just won La Flèche Wallonne - a brilliant victory and the first time a French woman has won a World Cup, congratulations!
Sonia Huguet: Thank you, yes that was an amazing day. The team was fantastic and another one of the girls could have won as well, as we had attacked one after the other; it just so happened that mine worked.
CN: You're known in France for your brilliant victory at the national championships [in 2003, Huguet rode to a solo victory in the women's road event with 65km remaining] as well as your aggressive riding style, and now you're being discovered by the international peloton. Tell me, how did you get into cycling?
SH: Well, actually, I really wanted to play tennis. I was 14 at the time and my dad raced regionally and talked me into giving cycling a go. I started racing a few months later as a junior; I was fourteen and a half and I won my first four races! Needless to say, I was hooked. The following year [1991], I took second in French junior nationals, and in 1993, I was selected for the first time on the French national team.
CN: And the rest of your race resumé?
SH: In 1996, I won the French points race championship as well as the national team time trial championship. Then in 1997, I sort of lost motivation... I had just finished high school, and all of the sudden, I spent a lot of time at home with not a whole lot to do. I, uh, put on a whopping 10 kilograms and stopped racing in August. A bit discouraged by it all and searching for something new to do - as well as realizing it was perhaps time I earned my own living - I decided to enter the police academy. I passed the entrance exams and in 1998, I spent the year in the academy. That was also the year I met Sebastien, my husband.
In 1999, I decided to give racing a go again, though I wasn't overly motivated. I didn't really have a particular direction or coach... then in 2001 Sebastien encouraged me to move forward, to really give it my best shot, so I found a coach [Eric le Ny], started training with a proper program, lost weight and came second in the French road nationals, points race, and in the Coupe de France!
In 2002, I won a men's regional road race and really had a great start to the season. It all kind of crumbled though when during the Tour de l'Aude, I caught chicken pox which knocked me out for months. I finally made it back to get second in the points race, third in the pursuit and third overall in the French Cup. Then in 2003 I won the French national road race! It was a really good year for me; I also took second in the French Cup and third in national [road] time trial.
"Did I just win Flèche? My goodness!"
Photo: © AFP
CN: I remember seeing your victory on French television, a miracle in itself because the French TV is a bit timid when it comes to showing women's cycling. They showed your brilliant solo victory and again last week when you won Flèche!
SH: Yeah, that was really nice...
CN: So how did you handle the pressure of wearing the national jersey?
SH: It was a bit stressful actually, because I felt obligated to go everywhere I was asked to do everything. I ended up tiring myself out a bit. Thankfully, I've received tremendous support from Colnago, who made me a beautiful bike, Baliston who sponsor me with sports clothing, and the Conseil General de Moselle who finance my season.
CN: So what about your goals in 2004?
SH: Well, I just won La Flèche Wallonne, took first in the Challenge de l'Est [Eastern Challenge], and I'm currently second overall in the Coupe de France. My main objectives are to keep the French road title and to earn my spot for the Olympics and world championships. After that, I'd like to stop in 2005 to have a baby and continue my work with the police, perhaps in their sports league to keep my foot in the door of the sports community.
CN: Sounds to me like you're on the right track! Best of luck!