An interview with Rory Sutherland, June 19, 2004
Flying High
Flying high at the Tour of Austria
Photo ©: Cor Vos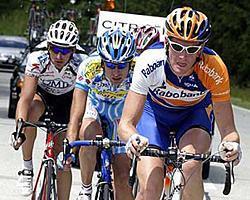 In Part II of this interview, Rory talks about gradually learning the ropes, his best career win to date, admiration for our guys at Team Cyclingnews.com, and his last shot as an Under 23 rider at this year's World Road Championships in Verona.
Click here to go to Part I of this interview.
CN: The next two years, in 2002 and 2003, your results certainly picked up, including two stages and second overall in the Linz-Passau-Budweis Under 23 World Cup in 2002 and then the following year, a win at the Challenge de Hesbaye and perhaps your best result ever in the U23 Tour of Flanders, where you finished second. Did you think your results warranted a pro contract by the end of 2003?
RS: I don't think so. From what I did in the second year [with Rabobank], I probably had a few better results than what I had in the third year, but as a third year, I probably rode a lot more consistently throughout the year. It seems that with the Australians in Europe, if you're going well, you're going really well, and if you're not going well, you're going really bad - and the trick is to find that line in between, which is where I think I've got to now.
But if just look at the results, I don't think it was enough to warrant a step up to the professionals. If you look at the rest of our team as well, the results that came out in my second and third year, I was a long way down the list.
CN: When you decided to sign for Rabo again this year, what goals did you set yourself at the start of the season?
RS: To hopefully have learned enough last year to get a better start in the races that I wanted to this year, especially as my last year as an under-23. The major goal for me was to have a bit of an attack at the [Under 23] World Cup overall, and of course at the end of this year, the World Championships.
CN: Going back to the start of the season, tell us about your ride at the Aussie Nationals and winning the Under 23 crown. How significant is the Australian champion's jersey to you, and how often do you get to wear it, since I imagine there's occasions where you're riding in the same race as Matt Wilson?
RS: Yeah... I only get to wear the jersey in the Under 23 races - I guess it's a bit of a bonus to be able to wear it. Especially being an Australian in a foreign team, every time you start a race with the jersey on, you feel like a real Australian again, and you're noticed for that as well. But I don't get to wear it that much, which is a bit of a shame.
"From what I've seen and what they've been doing this year is pretty fantastic, and it's really nice seeing basically an Australian team in Europe giving it a go... I think it's pretty special for someone to help us do that."
- Sutherland's admiration for our guys on Team Cyclingnews.com
CN: Obviously Matt Hayman who comes from the same town as you and rides for Rabobank's Division I squad has been a great help to you. Over the years, what sort of things has he told you that has helped the most in your career so far?
RS: The last few years, I actually haven't seen Matt too much; the program he rides as a professional and the program I ride are totally different, so basically whenever he was home, I was away.
The way that Matt has helped me the most is in the off-season in Australia, along with Mick Rogers and Warren McDonald, where you really get to spent time with the guys and get a lot of advice from them as well. During the summer, every training ride was with one of these guys, so it's all about listening and trying to pick up as many pointers as you can.
On his way to the Australian U23 road title
Photo ©: Mark Gunter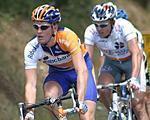 CN: You've had a cracking season so far, with numerous podium places and five wins including your Australian U23 road title. Surely, you must have plenty of confidence and feel ready to secure a spot on Rabobank's Division I team or another Division I team next year?
RS: Yeah... it's still pretty early though. I've done a lot of good things this year, which I'm happy with and I'm sure a lot of other teams would be happy with as well, but with the way our team goes at the moment, basically we're waiting on seeing what's happening with the Pro Tour thing; that kind of dictates what will happen with the team. [Rabobank is one of the 24 teams that has applied for a Pro Tour 'licence' in 2005, where each team will have between 25 and 28 riders-Ed.]
Then again, our Division III team is not really an Under 23 team anymore. We've got a couple of older guys, so there probably also the option to stay another year just to learn, which I think is a pretty important thing. To make the step to the professionals, you've got to make sure it's at the right time; if you make it at the wrong time, you can't really ever come back.
CN: About you most recent win at the Cras Avernas at the end of last month, the odds were certainly stacked against you with five Landbouwkrediet Colnagos in the winning move and just three of your guys including yourself. Can you tell us a bit about how that race unfolded?
RS: That was the week after the Olympias Tour in Holland, and being a nine-day tour, I was pretty hammered, so the motivation and expectation to ride that race was a little less than you really want... but the form was still there.
It was a pretty weird race. Being a 1.5, there weren't so many professional teams there, but the Rabobank Division III team still tried to make a race of it. The [winning] break went pretty early - after 50k, we were gone - and like a lot of races in Belgium, groups come and go away all the time, and I guess a lot of it comes down to luck and putting it down on the line a few times to try and make the right group. I guess it was about 40k from the finish when Geert Van Bondt attacked; if you let a guy from the strongest team get away, there is no really getting him back - or you put yourself in a harder situation, anyway.
CN: So that was the winning move?
RS: Yeah, I guess it was; I was in the ideal race situation, being up the road with one of the Landbouwkrediet guys and his whole team behind [slowing the bunch down]. Actually, I didn't think we were going to stay away, considering how long it was till the end of the race and I wasn't really confident that I could beat him. I didn't actually know that much about him, but I knew he was a older, more experienced professional, and when it comes down to a one-on-one situation at the end, he usually should be able to get the better of you...
CN: Do you think Van Bondt run out of legs in the end - or was he a little too cocky you think?
RS: Van Bondt was pretty confident he could beat me - otherwise he would have got his whole team to chase us down and set the race up for their sprinter. But I think he made the mistake of going too early - he hit out with about 300 metres to go. I'm not much of a sprinter, but if someone's going to do that, it's going to give me a lot better opportunity to get back on the wheel and have a longer sprint. I guess that's what made it my best win of the year, to beat someone in that way, man-on-man.
CN: Now about the guys we sponsor, Team Cyclingnews.com! I imagine you get to race with them a fair bit, so what's your impression of the team so far? Got any pointers for the lads?
RS: [laughs] I don't think they need any pointers; I've known a couple of them for a few years now, and being in Europe where you see other Australians gives you a bit of a boost as well. Plus it gives you someone you can you go and have a chat with before a race.
Those guys... they're a really fantastic bunch of guys. I don't actually race with them too much, but when I do, it's always great to have a chat and catch up on the news from Australia. From what I've seen and what they've been doing this year is also pretty fantastic, and it's really nice seeing basically an Australian team in Europe and giving it a go like those guys are doing. And I think it's pretty special for someone to help us do that.
CN: Are there any riders in the team that you believe could make it to Division I - Phil Thuaux, for example?
RS: I've seen a lot of the races from Phil and I remember seeing him race at the Bank Race [Commonwealth Bank Cycle Classic] when he just started in 2000, and, yeah - the guy's a pretty fantastic bike rider. But like I said, I don't race against them enough to be able to say those kind of things. The season's pretty long, and just because someone's not getting results doesn't mean he's not a good bike rider - everyone has their up and down periods.
Less focus on the TT in Verona
Photo ©: Mark Carter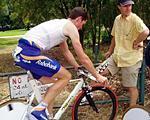 CN: Obviously the Olympic Games spots up for grabs are jam-packed full of Aussie pros, so apart from the World's, what's on the agenda for the remainder of the season?
RS: I'm still looking at the program with the team at the moment. I'm back [in Europe] in mid-July, and in August, we've got quite a few pro races which is excellent to get your condition back and running; when you go back to a amateur race or Under 23 race, when it goes hard, it's five k an hour slower. I'm maybe looking towards the Tour de L'Avenir, but it kind of chops and changes depending on who's sick and how many riders are going well.
CN: Speaking about the World's, will you be targeting the time trial more than the road race?
RS: I've tried to target the time trial the past few years, but I probably have more of a chance in the road race. It's actually a pretty tough decision to make, but in my results in the time trial the past few years, I've had a few bad ones, which I guess you lose a bit of confidence from.
I'm not a pure time triallist; it doesn't mean you can't have a good day, it just means those good days don't come very often. I haven't even spoken to [Australian U23 Team Manager] Brian Stephens yet about what I'd like to do and what's possible.
CN: And what about the future - what sort of rider do you see yourself developing into? Someone for the Classics or a Tour rider, perhaps?
RS: Over the last few years, I think it's changed a fair bit. Every year I stay in Europe, I seem to learn a lot more about myself and what I can do; instead of picking the races which I think I can do well in, I'm choosing races which I'm not the best at and trying to improve in them.
I'm definitely not a climber, but any of the shorter tours - especially those with a time trial in it - I can hold my own, particularly with our team. If you're a good time trialler, I think you can go a long way in those kind of races.
So I guess I'm still searching on that one... but I think if you choose now, you're cutting off a lot of your options - the races that you think may not be for you, you may give a little less in, and that's going to make a pretty big difference in the results you could get. And I think being young, you're always able to surprise yourself about what you actually can do.