An interview with Jessica Phillips, February 28, 2004
Crossing the pond
One of the many US riders made homeless - or at least teamless - by the demise of the Saturn team last year, Jessica Phillips has taken the bold step of moving to Europe for 2004 to race with the German Nürnberger squad. She tells Kristy Scrymgeour what motivated the decision and whether 500 German phrasebooks actually help.
Jessica Phillips
Photo ©: Mikkeli Godfree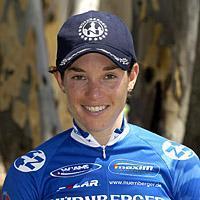 Cyclingnews: What's different about being in European team as compared to what you're used to?
Jessica Phillips: The main thing is the management is really different with Nürnberger There are so many different people involved and they're all men, which is really weird for me. Other than that though it's not that different. Saturn was so professional, so you can't really get much better than the way it was run.
CN: You've recently returned from the team training camp in Mallorca. How was training with the girls for the first time?
JP: Camp with Nürnberger was set up a little different to what I expected. It was really all about riding. We had to do a few photo shoots but that was it. They had planned the rides so well and had them all mapped out, so we never really had to think about that at all. The other thing was that the team was really unified. We rode together every day. No one ever went off to train alone. We all ate together and it was a good team atmosphere. I'm really happy with the team feel actually. Everybody ate every meal at training camp and it was a healthy attitude. Nobody was starving themselves.
CN: How are you going with picking up the language?
JP: I'm trying to learn German. I have about 500 'learn German' books, but its all new to me. Even on the bike after five hours of listening to German, I still don't seem to learn anything. Most of the girls speak English too, so its easy to fall back to what I know. I really wish I could speak it though, because now I have trouble speaking to any of the management, or the sponsors. I'd really like to tell the sponsors how much I appreciate what they do for us.
Ina [Teutenberg] has been a big help to me in making this transition to a German team. She helped me with my decision and also with my seven-page contract in German (laughs).
After winning the nationals in 2002
Photo ©: Mark Zalewski

On the attack at Gila
Photo ©: Tour of the Gila

Time trialling
Photo ©: Bill Parsons

CN: So you'll be spending most of the year living in Europe. Where will you stay?
JP: Petra found me a place in Leipzig, living with a male cyclist. His name is Steffen Radochla and he rides for Illes Balears - Banesto. I've already been to Leipzig and I like it there. I've met a lot of Petra's friends, which was good because I know people there now.
CN: How do you think you will enjoy living in Germany?
JP: I think because I know it's just for one year, I will be fine. I never went abroad for college so this will be my stint living away. I'm also not fussy with food, so I'll cope in that department. I know I'm going to miss America but mostly I'm really excited.
CN: What exactly will you miss about America?
JP: I'll miss bagels (laughs) and I'll miss my new home in Missoula, my dog and of course my boyfriend Ryan. I think I'll miss American racing too. I'm a bit scared at the moment - intimidated I guess because I haven't raced in Europe much.
CN: Do you know your schedule for the year yet?
JP: No I really don't know what races I'll do exactly, but I know Australia is my first race this year. We'll be there for three and a half weeks so it will be a good time for team bonding. I know people get scared of racing in Australia because the Aussie's are not fit this early in the year, but I think it's a nice place to do our first race, I really like it there.
CN: What do you like the best about Australia?
JP:I love Sydney the best, even though I've never been there [laughs]. Actually I'm looking forward to seeing some of the major cities. Previously I have only been to the Tour de Snowy where all we got to see was the middle of nowhere.
CN: I think you're right on track there. Sydney is the best place in Australia, but moving onů.What are your personal goals for the year with this team?
JP: I want to prove to the team that I can be one of the top riders so that they will feel comfortable taking me to the big races. I'll also look forward to coming back to the States and racing Philly and the Olympic trials in June. Of course June is a big goal for me, but I mostly just want to make going to Europe a really good experience. I'd like to really learn and enjoy the culture and visit places like Prague (since it is so close).
CN: So how do you like the team bike?
We are riding on Fuji bikes, which I really love. It feels light and I love the fact that we could choose any saddle we wanted. I chose the women's fi'zi:k. It just feels really comfortable.
CN: What's your impression of the US women's scene this year?
JP: Well,I know that most of the T-Mobile team won't be racing in the US until Philadelphia. So it's going to be like an absence of a whole team in the early part of the season. My problem with the situation for women in the US at the moment is that we don't really have a National team. In most other countries, riders have to opportunity to race with their National Team overseas at some stage if their trade team is not doing a race. America has a lot of good riders apart from T-Mobile but none of them have the opportunity to prove themselves overseas because the National team is a trade team and race only with people on their roster. That's one reason that I wanted to find a Euro team. Selection to get on teams and for things like worlds are always based on performance in international results, but there are really no teams that have the opportunity to race internationally regularly.
CN: How are you feeling generally about the team and the year ahead?
JP: Overall, I'm really happy with my move to Nürnberger because every year I feel like I have moved up a step and this makes me feel like I'm continuing to do that, like I'm taking my career to the next level again. It's so nice to race with Petra and Judith again too. I'd really love to race with Ina again also because riding with these girls really makes racing fun for me. It's a hard life being on the road all year so it's good to have friends to travel with that are fun to be around. It's really great to have that feeling where you are excited to see your teammates.
CN: Any thoughts about your future in the sport?
JP: I really like cycling and I will continue to do it if the situation is right, however I'm never going to do it if the opportunity is not right for me. I suppose it will depend on my team situation. If it works out that I can continue, that would be great. The good thing is that compared to some other riders, I'm young. So there might be opportunities opening up next year in the US with other riders retiring.