An interview with Jason McCartney, December 29, 2004
Good things come to those who win
Jason McCartney after Olympic Trials
Photo ©: Cyclingnews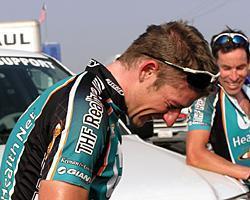 American Jason McCartney turned in a remarkable season last year, winning a stage and riding well at the Tour de Georgia, winning the new Olympic Trials for a ticket to Athens and nearly capturing a win in San Francisco. Because of his consistent performance, Santa Claus decided to bring McCartney a special present this year - a spot on Lance Armstrong's new Discovery Channel Pro Tour team. Cyclingnews' Mark Zalewski caught up with the Coralville, Iowa resident to see how his preparations for the "big show" were going and to reflect on the past season.
Cyclingnews: There are more than a few big changes coming up for you this next year. How are you feeling?
Jason McCartney: A little excited, a little nervous. It's all new so I'm excited for that since I've been doing the same thing for like six years - now I get a chance to try something new.
CN: What do your old friends from the U.S. peloton think of your move?
JM: Everyone on HealthNet was pretty happy. I'm definitely going to miss the convenience of being here - it's pretty easy to live here and race.
CN: What are the first things you are going to do with the team?
JM: The first thing is the team presentation, so that will be the first real thing. Then training camp near Santa Barbara. I went to the one in Austin recently - there were like twelve of us there. It was pretty fun, a lot more low key than I thought it would be. It was a nice introduction to the team - a different level from what I am used to.
CN: What was the highlight of that training camp for you?
JM: We did a lot of fun rides and it was pretty mellow. We did some stream crossings which kind of reminded me of riding around here - it was kinda funny, here I am in Texas doing the same thing I do back home. Everything was super-organized and the level of support in terms of staff is incredible. They really make it easy to focus on what you are going to do. Whereas teams I've ridden on in the past have been great but there's a manager, mechanic and a souinger - and it's pretty tough for three people to do the job of ten.
"I just made a joke that I had been 'waiting my whole life for this opportunity.' But I was just kidding around to take the pressure off."
- Jason McCartney on the leadup to the US Olympic Trials, which he won
CN: What do they have you riding right now and how does it compare to previous bikes you've ridden?
JM: They have me riding a Trek now. It seems nice. The wheels are nice and it's a carbon frame, so I like that. But I've been mainly riding my cross bike around because it is so cold and you can go slower.
CN: What have you been doing since the end of the season up until now?
JM: I took about three weeks off doing stuff around the house - a little traveling and just enjoying my time off. Then I started training again, doing some stuff before that camp in Austin.
Jason McCartney in the break on stage 5 of Tour de Georgia
Photo ©: Jonathan Devich

CN: How much time was there between the end of the season and when you knew the deal was done?
JM: Everything had been working out kinda right after San Francisco - that is when I got the final [word]. It was pretty nice to have it solidified. Usually I am scrambling around in October or November, not knowing what I'm going to do, so it was a nice change for me!
CN: Looking back over last season, to what specifically do you attribute your selection on the Discovery team?
JM: It all started off in Georgia. I did well in the TT and that got me noticed because I had been working the previous days for the team - and even that morning I had ridden on the front for the team. Then I came out and had the best time trial for anybody on the team. The next day we set up the plan for me to win the stage and that worked out. I just kept it going, had a good ride at Philly but we had a plan to work for the sprinters and it worked out pretty good. Then the Olympic Trials and San Francisco put the nail into the woodwork. Riding the way that I did, and the team rode well, and I was almost, almost able to get it. I think it was those things and just riding consistent the whole year.
CN: What goals did you have last year and are there any you did not attain?
Jason McCartney (Health Net) looking pretty pumped at the end of the stage in Georgia
Photo ©: Mark Zalewski/Cyclingnews.com/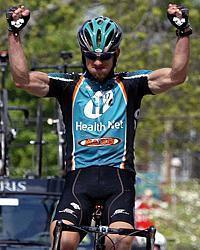 JM: I guess I didn't really start off the year with set goals. Last year was new for me too, it was one of the bigger teams I had been on with fifteen guys. I just wanted to get selected for the races. Then once I did I just wanted to prove to the team that I deserved to be there. From there, me and John were joking on the way to the Olympic Trials - I just made a joke that I had been 'waiting my whole life for this opportunity.' But I was just kidding around to take the pressure off the real situation. So I didn't really set any goals, I just wanted to do my job and do a good job for the team.
CN: Speaking of the Olympic Trials, what was going through your head when you came up to the finish line in first place knowing that you were headed to Athens?
JM: I couldn't believe it! I guess the first time I had even thought I had a chance I was at the top of the steeper climb and somebody said, 'Hey, looks like you are going to Athens,' because from that point on the course you can see way down the course. I hadn't even looked back once so I couldn't really believe it, but I didn't want it to slip into my mind and mess anything up. Once I crossed the line I couldn't believe it, but I was pretty worked from the effort so it took me a minute.
CN: What was Athens like?
JM: That was wild - to see all the athletes in the village. It was a pretty short trip. We were there for four days but we were the first event after the opening ceremonies. I didn't get to hang around a whole lot or see any of the other events. In that regard I would have liked to hang out a little more but the race was just incredible - to line up with all those guys that I read about in magazines all the time. All of a sudden you are racing next to them. It was a great experience, and that is just what I am going to need to take it up to the next level, just constant exposure to racing of that level.
CN: Was that the toughest race you had ever done?
JM: Yeah, that and the World's in Hamilton!
CN: What are your goals, if any, for next year?
JM: I guess it would be the same as on any other team. I feel more that my place is as a worker for the team. I can have good rides on certain days and maybe get to do something for myself, but I think my strength is to help the team and do a really good job for them.
CN: Has the management told you what races you are scheduled for yet and do you know where you will be living?
JM: Not so much yet - I'll probably learn more at the camp. I'll start racing pretty much right after the camp all over. I'll probably get an apartment in Spain. Most likely in Girona, that will be the easiest thing to do. [My family] may come over a little bit in the summer.
Jason McCartney riding in Athens with the US Olympic team in preparation for the road race
Photo ©: Jonathan Devich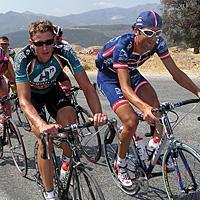 CN: Are you ready to deal with that severe of a transition?
JM: I think I'll have a nice break in the middle of the summer and I've talked to some of the other guys on the team and it sounds like it balanced out - you are home a little more [at one time], three weeks or so, versus going every weekend. So in the long run it may be about the same time at home but in longer stretches.
CN: Are there any plans for you racing in the States next season?
JM: Yeah, some of the bigger stage races - Georgia, Philly Week, San Francisco, Texas Tour - but like I said I'm not sure.
CN: So, you won't be defending your two-in-a-row at the Snake Alley race in Iowa?
JM: [Laughs] Ha, no Snake Alley this year. It's a cool race and it would be neat to see all of the best guys in the country racing it.
CN: You've been racing a while in the U.S. peloton, how do you think things are going for American cycling?
JM: It seems like there are always one or two really well-funded teams and then four or five that are real entry-level. So it seems to stay about the same. There are spikes up and down. It sounds like that with that tour in Texas, and I've heard rumors about a tour in California... I think with events like that and San Francisco, and if we could get a couple more of those big city one-day races, I think those are great for the sport. But it's pretty tough for the sponsors. I think Lance has done incredible things for the sport. You see the LiveStrong bracelets everywhere and everyone knows about cycling now, so that's great.
CN: What would you tell a young person who is getting into the sport? Would you recommend the same path you took or something different?
JM: They just really need to ask themselves if it is really something they want to do. Because it is such a tough sport - there's a ton of travel and not a lot of money in it, so you have to be passionate, otherwise you are wasting your time. I've seen so many people start and stop, start and stop - and then you think maybe if they just gave it one go and went to Belgium or something like that. It could give them a better idea.
CN: What about the showing at the Olympics for the Americans? Do you think there could be a medal in the road race in the future with the talent that is being developed now?
Jason McCartney selected for the 2004 US Olympic Team
Photo ©: Cyclingnews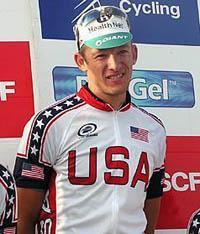 JM: I think some of the things they have in place today that they didn't when I was a young cyclist - like the program they have in Belgium is wonderful. I mean when I went over I just got an apartment from a guy in Gent and rode to the Kermesses - there was nothing in place, it was all loose. They have someone cooking for them and they have bikes... I think that is the best thing going. And then having races like Georgia with the U-23 team is great for a young rider to get noticed. I definitely think there is a future for us in the Olympics, I just think this was a tough year. The heat was terrible and for me I just need to take it up another level.
CN: So what are you going to do different in terms of training in order to reach that next level?
JM: I think mainly the racing. In the U.S. so much of out racing are shorter criteriums and maybe one or two long races. But over in Europe they get to race long races all the time. I think that is the difference. That is what I noticed when I was over there. I was in much better shape because you are always doing it. And there aren't just twenty guys in a race that can win it, there's fifty or sixty.
CN: What about long-term plans for you, both on the bike and after?
JM: It would be great to finish up with Discovery. I see myself riding for maybe five more years. At least give it two years in Europe and see what I can do. And there is the possibility of coming back here and finishing with a team over here. That might be good as far as having a family. But I want it to work out in Europe. There is a significant increase in the amount of seasoned U.S. peloton riders heading over to Europe this season (i.e. Horner, Vogels).
CN: Have you spoken with them at all?
JM: Just Horner at the World's. Yeah, it's gonna make it kind of exciting for racing in America with Horner being gone! But he'll be back a few times, [Suanier-Duval] came over last year for the big races.
"I've never seen anything in America and I've never raced enough in Europe to see anything, so as far as I know they are doing a good job of cleaning everything up."
- Jason McCartney on performance enhancing drug use within the peloton
CN: What about after this bike-racing thing is over and done with, what will you do then?
JM: I don't know, I've just tried to focus on this now and then slowly try to form some ideas about what I'm going to do afterwards. I think it's a great sport for meeting people and opening your eyes to other possibilities. Whether in the cycling industry or just something you saw or someone you met. That is the nice thing about cycling.
CN: Performance enhancing drug use is a huge story right now and you are headed over to the epicenter of the scandal. Are you nervous about riding in that environment?
JM: I think that I am going over at the best time, as far as testing and things getting cleaned up. At least that is what you read in articles. I've never seen anything in America and I've never raced enough in Europe to see anything, so as far as I know they are doing a good job of cleaning everything up. And that is great for me so that I can just go over there and do a good job.
CN: Does the fact that such a prominent American being involved in performance enhancing drugs hurt American cycling?
JM: It is weird how it is all blown up in the media before there has been any sort of trial, so it's tough to really have a judgement until everything is laid out on the table. I think it is negative publicity, but I think it shouldn't be there until the sanction is given to the rider. He should have a fair trial.
CN: What are you going to miss most about living here in America?
JM: I have such a great support system here with my family and people to motorpace me - I have three guys that motorpace me so that I don't burn anyone out! There are a few riders around here that I ride with, but that might be the nice thing about Spain is that there will be so many more people to ride with. It could be easier to train.
With that Jason returned to the riding in the below-freezing temperature of eastern Iowa. However, the American will soon be winging his way across the Atlantic to take up residence along side many other Americans and to ride for one of the top teams in cycling. But be sure to look for him in Georgia and Philadelphia this season!