Recently on Cyclingnews.com
An interview with Gunn Rita Dahle, October 19, 2004
The victory junkie and the 24-hour coach
Gunn Rita Dahle
Age: 31
Born: February 10, 1973, Norway
Marital status: Boyfriend Kenneth FlesjŚ
Nicknames: Catwoman
Height: 5' 8" / 1.73 m
Weight: 141 lb / 64 kg
Turned professional: 1997

Palmares
2004
1st, World Cup Madrid, Spain
1st, World Cup Houffalize, Belgium
1st, World Cup Fort William, Scotland
1st, World Cup Mt-Sainte-Anne, Canada
1st, World Cup Calgary, Canada
1st, World Cup Calgary, Canada
1st, European Championships, Walbrzych, Poland
1st, Olympic MTB, Athens, Greece
1st, World championships
2003
1st, World Cup, St Wendel, Germany
1st, World Cup, Fort William, Scotland
1st, World Cup, Mont-Sainte-Anne, Canada
1st, World Cup, Grouse Mountain, Canada
1st, World Cup, Kaprun, Austria
1st, European MTB Championships
2002
1st, World MTB championships
1st, European Championships
1st, Post Swiss cup race
1st, Birkebeiner Marathon race
1st, Norwegian Cup race
7th, World Cup Les Gets, France
8th, World Cup Madrid, Spain
8th, World Cup Houffalize, Belgium
15th, World Cup Mont St. Anne, Canada
UCI MTB Rankings: 3 - 898 points
2001
Norwegian Champion
Nordic Champion
1st, Birkebeiner (Marathon race)
1st, Farrisrunden (Marathon race)
1st, Norwegian Cup race Oslo
1st, Norwegian Cup race Drammen
2nd, World Cup race, Time trail (Switzerland)
4th, World Cup, Switzerland
3rd, Norwegian Championships Time trail (road)
UCI MTB Ranking: 65 - 212 points
2000
10th, World Cup, Napa USA
6th Norwegian Championship (road)
1999
1st, World Cup, Canmore, Alberta, Canada
1st, Birkebeiner, Marathon race, Norway
1st, UCI race, Elverum, Norway
1st, Post Sviss Cup race
1st, Norvegian Cup race
Norwegian Champion
2nd, World Cup Overall
2nd, World Cup xc, Napa CA, USA
2nd, World Cup, Houffalize, Belgium
2nd, World Cup, Plymouth, Great britain
3rd, World Cup, Sydney, Australia
3rd, World Cup, Madrid, Spain
3rd, World Cup, St, Wendel. Germany
4th, World Cup, Snow Summit, CA, USA
UCI MTB Ranking: 1
Road:
1st, Norwegian Cup race
2nd, World Cup, New Zealand
6th, World Cup, Canberra, Australia
2nd, overall Thuringen Rundfart, Germany
2nd, overall Tour Feminin de Bretagne, France
10th overall La Grande Boucle, France
8th overall UCI road rankings
1998
1st, World Cup, Bromont, Quebec, Canada
1st, World Cup, St. Wendel, Germany
Norwegian Champion
Nordic Champion
1st, Norwegian Cup race, Follo
1st, Norwegain Cup race, Bśrum
1st, Birkebeiner, Marathon race
2nd, World Championship XC
2nd, European Championship XC
2nd, World Cup, Plymouth, UK
3rd, World Cup, Budapest, Hungary
5th, World Cup, Conyers, Georgia, USA
7th, World Cup, Canmore, Alberta, USA
10th, World Cup, Silves, Algarve, Portugal
UCI MTB Rankings: 3 - 1023 points
1st, stage 12 Tour de France Feminin, 15th overall (road)
8th, World road Championship
1997
Nordic Champion
1st overall, Tour de France MTB
1st, Rock D'Azur, Marathon race
7th, World Championship, Switzerland
8th, World Cup, Napa, CA, USA
10th, World cup, Amnecy, France
1996
Norwegian Champion
Nordic Champion
1st overall Norvegian Cup
1st overall Tour de France MTB
1st, Rock D'Azur, Marathon race
1st, World Cup, Hawai, USA
1st, World Cup, Kristiansand, Norway
4th overall World Cup
4th, Olympics Games, Atlanta, USA
10th, World Championships
Gunn Rita Dahle is the reigning queen of cross-country mountain bike racing after a year in which she won almost every race she entered, including six of the seven World Cups, the world championships in both cross-country and marathon disciplines and the Olympic MTB race. She told John Stevenson about her 24/7/365 attitude to being the best mountain biker in the world.
Ripping to olympic gold
Photo ©: www.epicimages.us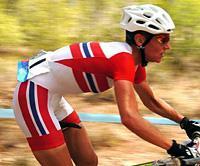 Every few years women's mountain biking seems to produce a rider who is so much better than everyone else that you wonder why they'd even bother to line up against her. Back in the eighties it was Sara Ballantyne and in the early nineties Juli Furtado was similarly unstoppable. In the last few years Gunn Rita Dahle has joined the ranks of mountain biking's superwomen and this year demonstrated her total superiority with a devastating series of victories.
But it hasn't been an effortless rise to the top for the 31-year-old from Stavanger, Norway. Her career almost ended in 2000 when overtraining from racing on the road the previous year and an excessive workload in preparation for the Sydney Olympics put her off the bike for months. Working with her coach and boyfriend Kenneth FlesjŚ, Dahle put her sporting life back together and achieved one of cycling's all-time comeback rides when she won her first world championships in 2002.
European champion, 2003
Photo ©: AFP

Since then, Dahle has won 11 World Cup races (five in 2003 and six in 2004) and the 2003 European championship, in addition to her 2004 victory collection. The only blip along the way was the 2003 world championships in which a disastrous double puncture early in the race put her out of contention. We kicked off with the obvious question: how does she do it?
Cyclingnews: It's been an amazing season for you. What's the secret?
Gunn Rita Dahle: First of all it is very important for my success to be a part of a big winning team like Multivan Merida Biking Team. There are really no secrets behind all the gold medals. First of all we changed a lot after Kenneth took over as my trainer and manager springtime 2001. (Kenneth is my fiancť and we have been living together since December 1998 - he used to be a road racer on the Norwegian National team.) We do everything that has to do with training and preparation together and that means that we do all trainings together, he does my massage and we are together more or less 24 hours a day, 360 days a year.
Cheers!
Photo ©: www.gunnrita.com

The little "secret" here is that we can make small adjustments every day to get the maximum out of everything we do. One perfect day after another leads up to a good week, that means after several weeks we can also get great results over a long period of time. We use the phrase very often that I'm the '24-hour athlete' but he is also the '24-hour coach'. Kenneth has had his salary and the travel expenses paid by the Norwegian Olympic Committee since 2001.
We are both very much perfectionists and look always for small adjustments, both in training, mental focus, nutrition and preparation to become even better every season. It is important for us both that we enjoy every day so it has become a lifestyle for us both (280 days out of Norway this year). On top of this I have become a winning junky and even after so many victories during the last seasons, I still love to cross the finish line first as much as I did the first time it happened.
Celebrating at Fort Bill
Photo ©: Chipps Chippendale

CN: Women's mountain biking seems to have a single dominant rider more often than men's. At the moment it's you, in the early 90s it was Juli Furtado and later Paola Pezzo. Why is that, do you think?
GRD: I think there might be several reasons for that.
1. It is easier for the men to get 100 percent support if they first show that they have the talent and the engine.
2. Important skills in MTB are especially strength and good technical skills. These are more typical men's skills but if you are a women with those benefits, you have a big advantage. Every race is different and needs different skills but if you are a strong rider and have good technical skills it is easier to fight to the top. I knew from a young age that I had the talents for all kinds of sport that had to do with strength and power.
3. Every sport has its periods with outstanding athletes and it might just be a coincidence for women's mountain biking. I know that there are a lot of women out there that really work very hard to reach the top level in mountain biking today.
On the way to her tenth World Cup win
Photo ©: Colin Meagher

CN: Your results dropped a few years ago when you tried to mix road and mountain biking. Do you still have ambitions to do well in road cycling as so many male mountain bikers have?
GRD: My absence from the World Cup circuit in 2000 and most of 2001 have different explanation but the main reason was overtraining in altitude chambers in January/February 2000. We wanted to do something extra to become better than ever in that Olympic season before the Sydney Games. It turned out to totally destroy my body. My immune system collapsed, my muscles did not respond on anything, they were just painful and my whole body was exhausted and I was really not able to train at all for almost half a year.
It all had to do with extremely hard intervals at altitudes up to 4000 meters, not having recovered from the 1999 season, not enough rest after this hard period in January and February which in the end also turned into big mental problems. I was not able to do anything to feel better and that was a very new situation for me. After the 2000 season was over I was so worn out that I wanted to quit cycling for ever and just wanted to live again.
Looking very serious
Photo ©: Rob Jones

Concerning the road racing I did my first race in 1998 joining the Tour Feminin where I won one stage and finished 10th overall. In 1999 I become a part of the national road team alongside my career as a mountain biker, and rode for the Norwegian pro team DBS, aiming to qualify for the road team for Sydney. Altogether I did about 75 races that season and I was totally exhausted in the end. I was ranked as number 1 in MTB and number 8 on the road for a short time that season. I still do racing on the road with my Italian team Safi - Pasta Zara Manhattan, but I have never trained and prepared for road like I would have done if that was my goal.
I started up again with training with low efforts the winter before 2001 and when Kenneth took over as my coach we built up, step by step again, and took the time we needed to feel comfortable again and get the good feeling back in my head and body. We will never ever overdo the training and the total working hours every day again. The good feeling is a very important ingredient in our daily work.
On the podium at the 2004 world's
Photo ©: Rob Jones

CN: Which riders past and present do you most respect? Is anyone your 'role model'?
GRD: Alison Sydor is in my opinion the biggest woman mountain biker today and has been since I started in 1995. She loves the sport in her heart and she shows that to everyone she meets. Alison is a great ambassador for the sport and she is still going strong.
CN: You list Mexican, Italian and Vegetarian as your favourite foods. Are you completely vegetarian? If so, do you have trouble eating well while traveling in Europe?
GRD: I do not eat any kind of meat but I do eat a lot of fish every day so I'm really not a vegetarian. I always bring with me what I eat for breakfast and lunch but it is really not a problem to travel around the world eating what I do today. Really Italian food is the best.
CN: Tell us about your cats.
Dahle's 2001 world's
Photo ©: Rob Karman

GRD: Our two kids have four legs and their names are Isak (an Abyssinian) and Petruss (a Russian Blue) and they are of course very special. Of course we miss them a lot when we are so often on the road but we know that they are in good hands at home with our parents taking care of them. It is very special to have cats that never go out (only when we take them outside with us like dogs) because you get much closer to them. They want to do everything we do and that is not always a good solution. Isak eats everything we do, he always greets visitors by washing their face and hair after they gotten comfortably seated. He is very good at 'catch and fetch' and his favourite place is sitting on the table when we eat. So they both have great personalities and they are easy to love and get attached to. I got my nickname 'Catwoman' first of all because I like telling funny stories about our kids and I have long nails, but also because cats have nine lives and I have kind of disappeared and come back several times since I started racing mountain bikes. (I was over trained and suffering from a virus in 1997 and did not do many races that season.)
Flying the flag
Photo ©: Rob Jones

CN: Which is your favourite country to race in?
GRD: I really do not have a favourite country to race in but I do have several places where it is very special to race. The world cup in Houffalize is very special because they always gather such a big and enthusiastic crowd. Racing in Italy is also very nice because most people there have one or another relation to cycling, and of course there's the big race in Norway "the Birebeiner race" where more than 11,000 MTB riders start in one day. On the other hand it is really a big part of being a mountain biker that you get to travel all over the world to race in very different countries.
CN: After your 2004 season, what challenges are left? How do you find the motivation to continue at the very top level?
GRD: I have never had a perfect race yet. It sounds very funny perhaps but that is how Kenneth and I work. We always see things to improve and that is motivation enough. But since mountain biking has also became a lifestyle for both of us and we both love it and can enjoy every day together, that gives more than enough motivation to go on for four more years.
CN: Your relationship with Kenneth must be closer than most couples'. Is it ever a strain for your working and personal relationship to be combined?
Here be vikings!
Photo ©: Kristy Scrymgeour

GRD: I have already kind of answered this question but the truth is that I would most likely not been on my bike without his support after what happened to me in 2000. I think we are also very privileged that can be so much together and still enjoy the relationship so much day and night. The way we work together and our way of working toward me being the world's best mountain biker today would probably not work for everyone else.