An interview with Geert Van Bondt
One More Mountain To Climb
Hugely experienced Belgian pro Geert Van Bondt is riding this year for the Landbouwkrediet-Colnago team. He spoke to Cyclingnews European editor Tim Maloney about his new squad and the trials of a long pro career.
Happy at his new team
Photo: © Tim Maloney/CN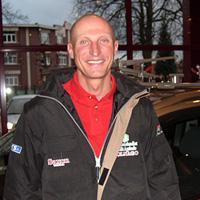 Now entering his 11th pro season, Geert Van Bondt has worked his way up the ladder in pro cycling from the tiny Trident team in 1993 to being one of the most valued team riders for the classics at CSC. But illness and bad luck bounced the man from Ninove to the up and coming Landbouwkrediet-Colnago team, where the experienced 33 year old Van Bondt hopes to recapture some of the classics magic this spring. We grabbed a few minutes with the articulate Belgian at the conclusion of his time at the team's training camp in Santa Severa, Italy.
Cyclingnews: Geert, tell us how you ended up here at Landbouwkrediet-Colnago.
Geert Van Bondt: I was at CSC last year and first of all, I crashed at Tour of Holland and broke my collarbone. After that, I had some conversations with Bjarne [Riis], who told me that there was still a chance that I could stay with (CSC), but every time it came down to the same thing. I phoned [Riis] who said 'I know you had a lot of problems this season but you have to wait one week longer' and this went on so finally I started to call some teams and spoke with Gerard Bulens [team manager at Landbouwkrediet-Colnago] and right away, he gave me positive input. That gave me a lot of confidence. Bulens is a soft and gentle guy so that's good for the confidence. We spoke and finally we agreed to terms. Of course, if I could have stayed with CSC... well you always want to race with one of the best teams in the world and CSC is one of them but for me personally, it's better to race [at Landbouwkrediet-Colnago] because I have more races that suit me than CSC.
CN: Do you expect to have more room for your own ambitions at at Landbouwkrediet-Colnago?
GvB: Yes. Like I said, there are more classics races for me here and we did the classics at CSC but for two years in a row, 2002 and 2003, I had helicobacter... like a stomach bug. So for two years I had to take antibiotics to treat it and when the spring season was over, there weren't many races to do with CSC.
CN: How did you contract helicobacter?
GvB: I don't know. In 2002, we went to Australia and when I came back, I was feeling very, very tired. It took a long time to diagnose and then I had to take the antibiotics. But if the second half of the [2002] season, I was strong and raced really well so CSC renewed my contract. Last year, I crashed in Het Volk and they gave me anti-inflammatories and this hurt my stomach and so the helicobacter came back again. So my spring season was over and after that, I crashed at Tour of Holland and broke my collarbone. Maybe Bjarne [Riis] was a little bit sorry, too. I think; I'm not sure.
CN: You've been a professional cyclist for ten seasons. How do you keep your morale going when all that stuff happens to you?
GvB: (laughs ironically) Ha... yeah... I think it's hard for a rider to go to work like that. When you're young, you think like 'it's life, not cycling' but then after seven, eight years you start to really like your profession as a cyclist. And then you don't want to quit when things go badly, it's like a fight. Every time you want to come back, to come back and you make it. You go into deep valleys and when you do, finally you want to climb the mountain again. Most of the riders are like this... you still want to try it one more time. So every time, I've been able to come back so this time, I hope I can climb [the mountain] again and this time, stay on top.
CN: So you're not being totally realistic; you don't get up in the morning and say 'okay I'll just quit'; the possibility of climbing the mountain again is what drives you?
GvB: Oh yeah; something like that. You wake up in the morning and I had so many physical problems and crashes in 2002, I also broke my wrist and I would wake up and say 'I'll get out there today' and you do your job. I would get depressed for two, three weeks and you can train hard again and the form comes back. But sometimes it's hard when you have all the shit I had happen in the last two years.
CN: The last time we talked was in Philadelphia in 2003 at the USPRO championships, and we discussed your efforts to recover the salary you were owed from Team Mercury. Has anything ever happened with that?
In 2000
Photo: © Mario Stiehl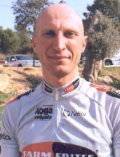 GvB: The bank guarantee for the three months back salary was released back then. I got paid for five months, so I am still owed one year and four months of salary from Team Mercury [GVB was contracted with Mercury for 2001-2, though the team didn't survive beyond 2001]. It worked out pretty bad since I had won Wevelgem [for farm Frites in 2000] and the contract was good with Mercury. But it didn't work out.
CN: But you and the team won races for Mercury, didn't you get paid prize money?
GvB: I never saw one dime of prize money... and you know what the worst thing is about the prize money situation? We went to the USPRO championships in Philadelphia for Mercury in 2001; it's a big company and there is a lot of stress since we had a lot of different things to do for the team. You do everything for the team and we won the race with good prize money and then we never see anything.
CN: Has any other team ever failed to pay you prize money?
GvB: No. We never got anything at Mercury that year, not one dollar. But as a rider, you know, it's tough. We have a lawyer here in Belgium and we wanted to sue [former Mercury team manager John] Wordin. The lawyer looked into it and said 'it will cost you so much money and we are not familiar with the laws in America. So we'll have to get another lawyer in America and the chance is really, really small that you can recover any money'. So we left it as it was. There are still a lot of (Mercury) riders like us who are owed a lot of money.
After our chat, Geert Van Bondt and the rest of the Landbouwkrediet-Colnago team departed for France and L'Etoile de Bessèges, where teammate Tom Steels decisively won the first stage. While at the French stage race, Van Bondt bumped his knee against a cupboard which caused some undue pain and concern after the bad luck of the last two seasons. "The knee pain is a little worrying, so I will have to keep an eye on it," he said. "It's a little disappointing because I am feeling in good form . So far at Landbouwkrediet-Colnago, team spirit is excellent and we'll certainly benefit from that in the near future. Also it is clear that the organisation and team support has taken a major step forward, so things are looking good."