An interview with Bobby Julich, November 10, 2004
Back in Business - Part II
Just over 12 months ago Bobby Julich was on the verge of retirement. The then 32 year-old was dropped by Team Telekom and with few offers on the table, things were looking bleak. Had he stopped, it would have been a regrettable fin de carrière for a rider whose palmares included a third place finish in the Tour de France, victories in the Criterium International, stages of the Route du Sud and the Tour de L'Ain plus a ninth place finish in the 1996 Tour of Spain. But then Bjarne Riis and Team CSC stepped forward, offering Julich a place on their roster for 2004 and the chance for a career renaissance. It paid off in spades, as Shane Stokes writes. (See also Part I)
With Tyler Hamilton
Photo ©: AFP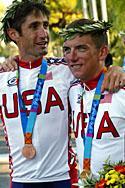 CN: Your first-ever Olympic appearance must have been great. You had missed out on the Olympics back in 1996 due to an irregular heartbeat?
BJ: Yeah. In 1992, I missed it as I crashed out. In 1996 I had that irregular heartbeat, the RSVT (re-entrant supra ventricular tachycardia) problem. I had that fixed straight away and it hasn't reoccurred, but missed the Games. Then, in 2000, it was my worst season ever as a pro, mentally, physically, emotionally, everything. So I missed three, and I figured, oh my gosh, I am never going to be an Olympian. And then I ended up qualifying for the Olympics in March, which is great, at Paris-Nice. I knew that there was a bunch more races and I knew that if it was left up to the powers that be, I always figured that they would select someone else over me. Then, race after race, I was still holding the third qualification spot because Tyler and Lance had pre-qualified.
When I had that big crash in the Tour I said, 'Man, I am going to keep my mouth shut about this.' Honest to God, I knew the second I crashed that I had broken my wrist. It swelled up and I couldn't brake and I couldn't shift - I knew it was broken. I went to the doctor immediately after race, when I finished 45 minutes down. He told me that he didn't see any fractures. But as an athlete, you know your body and I knew that it was broken.
But I thought if I could get through these next couple of stages, maybe it would get a little bit better and maybe I would be able to finish the race and do the Olympics. I knew that if I quit the Tour and went and got a second opinion and they saw the fracture, I knew that I would be removed from the Olympic team as well. So that was the main motivating factor from me.
I didn't accept that I was definitely going to the Olympics until the day that I got on the plane. When I took off, and especially when I landed in Athens, I said that I am an Olympian now. That was one of my major goals for ages...when I was 12 years old, I said I wanted to be an Olympian. Not just to go to Olympics but to get a medal...that would be a dream come true, for sure. And that is how it worked out.
CN: Were you confident of doing a good ride there?
Focusing
Photo ©: Elmar Krings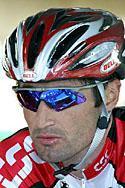 BJ: You know, honestly, when I was racing, I thought that I was winning. I didn't have a radio, I didn't look at any checks - I just did my race. I remember in the last 20 kilometres I just said to myself, 'Wow, Bobby, this is what it feels like to be an Olympic champion.' I sprinted all the way to the line but then when I crossed it, I realised that I didn't even have the best time. I started sixth from last and there were five guys behind me. I figured then that they would all beat me. I said, 'Oh my gosh, what did I do - there was I thinking I was Olympic champion, but I just didn't have it.' But pretty much immediately after that I realised I had the bronze medal, which was good enough.
It seems like I have been in the sport a long time and haven't won that many races, but I was looking up a my mantle the other day, and I have that third place in the Tour de France and third place in the Olympics. There are not many people in the world who can look up and see that, so it was a really good feeling. Everything happens for a reason, I am a firm believer in that and I always have been.
CSC gave me that chance, but was up to me to make changes in myself. Neither Bjarne nor anyone else could have done that for me. Obviously I have to take credit for myself, making the changes, but the whole team, the whole morale and the whole mentality was exactly what I needed.
"I feel that it's pertinent that the two years that they cracked down on doping...are to date my two best years as a cyclist."
- Bobby Julich on the doping blitzes in 1998 and 2004
CN: How is Tyler Hamilton holding up now, with the things that are going on?
BJ: That was the first time I ever raced with Tyler Hamilton, or spent any sort of real time with him. I don't know, I haven't really spoken with him. It is a crazy situation. I mean, as athletes our worst nightmare is being accused of something we know we didn't do. From that standpoint, I really have to feel for him. That is our worst nightmare - how can you defend yourself? You work so hard your whole career, and something like that happens. I don't know what is going to come out of that.
With regards the wider issue (of doping), there are still problems in our sport that need to be taken care of. It is up to the younger generation, because they are the guys that are the future. All the young guys that I come into contact with I tried to show them the right way - the commitment factor and making the sacrifices that we all make. But at the same time there are going to people who want to test the rules. I feel that it's pertinent that the two years that they cracked down on doping, the two years that people were scared of it, were 1998 and then this year. They are to date my two best years as a cyclist.
CN: You have had a really consistent season. Obviously there was a problem in the Tour with your wrist and that affected your race, but you had a strong end of season as well in races like the Tour of the Netherlands, the Grand Prix Eddy Merckx and the Luk Challenge with Jens Voigt, which you won. The whole season seems to be a continuation of good form; you must be very different mentally at this point than you were 12 months ago?
Riding hard
Photo ©: CN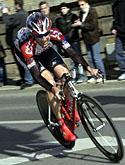 BJ: Absolutely. It's all been about morale, and keeping your focus for nine months of the season. To be honest, I was thinking about doing the Vuelta, but I had a cast on my arm and that was making training pretty difficult. I came back to America to do the Grand Prix of San Francisco and wound up getting sick. I was in bed for three days with the flu and then that turned into an ear infection, so basically, I was out of commission for two weeks. That kind of bummed me out, because I wanted to go back after the Grand Prix of San Francisco and then get ready for the World Championships Time Trial by racing all the way into the beginning of October.
That didn't work out so that was the main disappointment of the season for me. But at the same time, I really have to be happy with the way the season went, because from the first race until the last race I was always in the mix, except for a couple of days there in the Tour when because of my wrist, I was really suffering. I am proud of that...what else can I say? I have a lot to be thankful for and I have a lot to show, but obviously the most important thing was having that medal. Being an Olympian and Olympic medallist in the same year is fantastic. I think I went from 469th in the world last year to 30th in the world this year. I was pretty happy with that.
CN: Consequently your motivation now must be so much better than it was a year ago. That will help you in preparing for 2005. What are your goals for the season?
BJ: I haven't really spoken to Bjarne about my program for next year, yet. But I am hoping for some good rides. Obviously there will be times when one of my teammates will be a leader and I will have to work for him. But I would just like to, basically, do everything I did this year. Obviously, now that I have a little more confidence, I can think about being there for Basso in the Tour, but obviously in all the other races like Paris-Nice I can hope to do well myself. So next year is going to be much the same, just race in every race, try to get better and try to stay consistent. I would like to be little more specialist in the time trials and maybe even think about the world championships. But that is a long ways away, there is a lot of racing to do and with the whole ProTour thing I don't know how that is going to work out. In December, I will have a better idea of what exactly I want to focus on.
CN: What is your schedule like between now and the season?
BJ: First off, I'm going to head up to the mountains in the Reno/Tahoe area. It is where Greg LeMond was from and there is a big cycling community there. I will be there from the fifth of November until the first training camp in Denmark, which is from the third until the tenth of December. I will then go back to the US and stay there until probably sometime between Christmas and New Year's Eve. I will probably be heading back to Nice in the first week of January.
"We all suffer. That is the thing about this sport...it is so unrelenting. "
- Julich on comebacks
CN: Do CSC have another one of their special, gruelling training camps planned?
BJ: Yeah, I'm sure that is going to be in the repertoire when we go there from the third until the tenth of December. That is not on-the-bike training, that first one is all about team-building. On-bike training is two weeks in Lucca, Italy, normally in the middle of January. After that we go and do a race like Mallorca or the Tour of Qatar or something like that. Then we come back and do another training camp.
That was the big benefit from me, doing that sort of quality training together as a team in January. I think that really set the ground work for the whole season so I'm sure we will try and emulate that whole thing.
CN: Talking to you, you sound like a guy with enthusiasm of a rider many years younger. I guess part of that is down to finding form after a couple of difficult seasons. You sound psyched, you sound like you've a lot of energy left, you sound like you have another few seasons left if you want that...
Flying high
Photo ©: Caroline Yang

BJ: Absolutely. I am really looking forward to the season. It was really hard for five years there, mentally. Of course, I was getting paid really well but it goes to show you that money can't buy you happiness. You really have to make the effort to find those things that work for you.
This was, like I said, the team I have been looking for my whole career. Instead of looking back and saying, 'Oh man, why didn't I have a team like this for the last five years', I am looking forward to having this team for definitely the next two years, and maybe even two more after that. But in this sport, you are only as good as your last race, or possibly your last season, so we will see. We will see.
CN: Hopefully it will all work out well next season. This year was certainly a good one - it is always good to see somebody making a comeback after tough times.
BJ: We all have our own stories. I mean, from Greg LeMond getting shot to Tyler crashing all the time to Lance coming back from cancer. We all suffer. That is the thing about this sport...it is so unrelenting. Even if you're hurt, you have to keep training and sometimes it just doesn't click. So, I'm not the exception - there's plenty of people in a similar situation. I think every single cyclist has their trials and tribulations, but I'm just happy to be able to come back from this.
I think if I had had to stop last year I would have been pretty bitter. That's the one thing that I said to myself - I am going to retire when I am absolutely done, I want to leave everything out there. I don't want to have any second-guesses like, 'Oh, I could have done one more year or two more years'. When I am done, I want to be happy and want to just move on. I want to be in a position where I am able to realise I did everything that I could do. To this point it hasn't meant winning a load of races, but I'm pretty happy with the way things have worked out.
It is nice to have a season like this one and prove to people that you are one of the best cyclists in the world.
Click here for Part I of our interview with Bobby Julich, where he discusses his re-signing for CSC, and the path that led him there from Credit Agricole and Telekom.