Recently on Cyclingnews.com
An interview with Ben Day, February 24, 2004
New Day rising
Benjamin John Day
Age: 25
Born: December 12, 1978, Brisbane, Australia
Marital status: Girlfriend Tanya
Nicknames: kangaroo, dover
Height: 5'10" / 1.78 m
Weight: 141-147 lbs / 64-67 kg
VO2max: 80 ml/kg/min
Turned professional: 2002
Teams: Mr Bookmaker.com/Palmans-Collstrop (2004- ), Carvalhelhos-Boavista (2003), Matesica-Aboboda (2002)
Career highlights
2004 - Mr Bookmaker.com/Palmans-Collstrop
1st, Stage 5, Tour Down Under
5th, Australian Road Championships, Individual Time Trial
2003 - Carvalhelhos-Boavista
1st, Australian Road Championships, Individual Time Trial
2nd, Stage 3, Vuelta a la Rioja
11th, World Road Championships, Individual Time Trial
2002 - Matesica-Aboboda
1st, Stage 5, Volta ao Alentejo
Other Stuff
Attributes: Determination, dedication, time trialling, climbing, team work
Likes: Buying toys, watching movies
Dislikes: Cold weather, unreliability, being too busy
Food: Simple things, home cooking
Music: Depends on the mood
Languages Spoken: English, Portuguese, little Italian
A tough start in the amateur ranks in Italy followed by two seasons of fast and furious racing in Portugal has prepared 25 year-old Australian Ben Day well for his debut in Division I with Palmans-Collstrop. Fellow Aussie and Cyclingnews diarist Scott Sunderland finds out a little more about the 2003 national time trial champion.
Ben Day and Scott Sunderland
Photo ©: Sabine Sunderland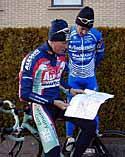 Cyclingnews: How did you get into cycling?
Ben Day: I always loved riding a bike, but my parents wouldn't let me have one until I was 13. Now I'm taking ultimate revenge! After high school I chose cycling as my number one sport and I turned pro in 2001!
CN: What type of rider is Ben Day?
BD: I'm a time trialist, a climber and I also like short stage races.
CN: How did you end up in Portugal?
BD: With a lot of luck, which is what is needed in this sport. After having two or three contracts offered to me at the end of the 2001 season, I was demoralised by having them torn apart due to financial troubles - better I didn't go to those teams now, I think - so I ended up desperately looking for something. Kristjan Snorrason had help from a Portuguese-Aussie by the name of Joao Serralheiro to find a Cat 2 team in Portugal. Unfortunately, Kristjan was unable to take his opportunity due to his injury, but fortunately for me, Kristjan arranged for me to take his spot on the team. I grabbed it with both hands.
CN: How did you experience the transfer to European pro racing?
BD: It is a lot harder - there's much more depth. But I love the culture of living in Europe. I spent six months racing in Italy in the incredibly difficult amateur ranks, which for all riders there, seems like a do-or-die affair. My team was crap; I never got paid as was promised, but was able to go to Poland to race in a professional tour where I won the first time trial stage and wore the yellow jersey.
Amateur racing in Italy is full on from the gun; they start hard and finish hard and these athletes in Italy are basically professional anyway - that is, it's their job - and it's a damn hard school. Professional racing in Portugal is similar to that style of racing, but they go harder - even the sprinter's stages are damn hilly and they like to race the riders over cobblestones and rough roads just to make sure you have a bit of everything.
CN: Why did you chose this Belgian team for 2004?
Feeling the heat in Langkawi
Photo: © Mark Gunter

BD: My wish was to get into mainstream Europe; to get full value for my results and to race on the main stage. I'm not sure yet about my program for this season but I would really like to ride Liège-Bastogne-Liège and Amstel Gold and a few short stage races. My role in the team hasn't really been defined, but it's mainly to capitalise on time-trials, I think.
If the opportunity arises, I would like to race the Olympics, win four or five UCI races this year and end the season with 300-400 points. In the longer term, my goal is to ride the Tour de France. I want to grow as a cyclist to achieve the best possible results.
CN: What achievements do you rate as your best in your still very young career?
BD: Being Australian time trial champion in 2003, finishing 11th in the individual time trial at the World's, and winning the fifth stage of the Tour Down Under this year.
More photos
Images by Sabine Sunderland