An interview with Andy and Ben Jacques-Maynes, December 4, 2004
Jacques-Mayneia!
Separated by one-and-a-half minutes and one-and-a-half inches, identical twins Andy and Ben Jacques-Maynes once again dominated the Cali 'cross scene in 2004. Ella Lawrence went to the source to discover what makes these metrosexuals tick.
Men and their machines
Photo ©: Russ & Nancy Wright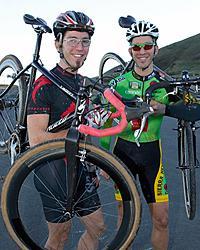 At Saturday's Sonoma Valley Cyclocross held at the Infineon Race Track in Sonoma, CA, the elite men look glumly around at the registration tent.
"Are they both here, or is it just one?"
"I saw one but I didn't know which one it was."
"I heard they were both here."
"I guess we're racing for third place this week, boys," a racer says matter-of-factly. "I heard they're both here today."
"They're fast."
"They're really fast."
"Ben and Andy? Yeah, those guys are fast."
Sean Walling, co-founder of Soulcraft Bicycles, agrees, although he can't tell the twins apart either. "They're really fast, that's all I know," he says.
"Whenever I see them, they're at the front. Last time I was at Infineon, one of them, I don't know which one, was up at the front of the short-track race at NORBA nationals not even on a mountain bike. On a road bike or a cross bike or something. Yeah, impressive."
The fact that Ben and Andy Jacques-Maynes are fast goes undisputed in the Northern California cyclocross scene. A crowd of helmeted heads turns as both twins roll by. They're easily told apart on the bike: Ben's clean-shaven face and lime green Sierra Nevada kit (complete with matching head-to-toe accessories) contrast brightly with Andy's stealthy black skinsuit (bare of sponsors except for the giant red 'S' for Specialized), hip prescription Oakley glasses, piercings, and trendy soul patch goatee. Each twin accuses the other of being a metrosexual (but only behind their brother's back).
"I contest! That guy looks way too much like me!"
"No way!" Andy jokes back, "I dress way better and you know it!"
- Typical post-race banter between the Jacques-Maynes brothers
The starter pistol cracks and the field takes off, the Jacques-Maynes, not surprisingly, at the front of the pack. The rest of the field is ten seconds behind, then twenty, then thirty, as the lap cards roll back.
The hour-long race speeds quickly by, as racers plunge through rim-sucking mud and run four hundred concrete steps over the course of ten laps. The final sprint for the finish is short, and Ben takes it. He throws his arms up at the finish line casually, Andy following a split second behind and managing to flash the camera a grin. They'd arranged the sprint finish because they wanted some good publicity shots this week.
Andy Jacques-Maynes
Photo ©: Russ & Nancy Wright

Ben cools off by riding circles in the parking lot while Andy sits down and pants. "This was a good little course, pretty fun," Andy says.
"My brother just got the jump on me at the end, though. Right before the last mud pit he attacked and it was too narrow to come by afterwards, so I knew that was the sprint for the win and he got the wheel on me. And that was it, you know."
"It was pretty muddy for California, I'm a little caked," he adds. "I have all these scrapes from last weekend and oh! Ow! (as he picks a chunk of dried mud and a scab off of his shin) I had a cone hit me in one of them and a glob of mud too... this is definitely the messiest course we've had out here this year. It's pretty bone-dry though, compared to back East."
"Last week it was a mud-fest. It had rained a lot the day before and so that had slopped it up a bit and several hundred racers going through it just churns it bad. Not quite as big a turnout at this race as last weekend and drier conditions made for better traction... a lot funner. This race had a good little feel to it. All of the people here are really into it, you can tell it's just the hard-core of the Nor-Cal 'cross scene who made it out here today. It's a great community here."
When asked if he prefers East coast or West coast racing, Andy replies, "The course is just the setup for the race, and the race is about the racers. It could have been me and my brother on a flat oval track today and it would have been a boring course, but the race would have been exciting because we would have done the exact same thing.
"It's not the course that makes the race, it's the riders. Like the Cranks Brothers series has been such good racing because everybody comes. That makes the races harder, a lot more exciting, a lot better."
Zoooom!
Photo ©: Russ & Nancy Wright

CN: What were your tactics for today's race?
AJ-M: We wanted to get off the front, the two of us, and then we wanted to get into a sprint so we were both killing it right at the end and maybe get a couple of good pictures of the two of us at the end there.
Ben is sitting on a tailgate as photographers Russ and Nancy Wright snap shots of his clean spare bike, a beautiful Serotta.
"At the end of the race [my brother and I] were cat-and-mousing," he offers. "I knew I had to be first around that last corner because the pavement straight was too short, so it was a matter of getting to the barrier first; then it was a matter of getting to the mud bog first - everything was just adding up and then you're sprinting for half a lap and it makes for a good effort, that's for sure."
CN: How was last weekend's race for you?
BJ-M: Hit or miss. I've had a couple really good races this year and sometimes I'm surprised, feeling good, I know my legs are good, but it really depends. I can't say I'm always up there, that I always have it, but I know it when I do and I'm confident when I do, and that makes a big difference.
My first race in California all year was today. I've been racing back East, all over Utah, Nevada, those have been the only states west of the Mississippi this year so far. I've raced more in Philadelphia, Massachussetts, Connecticut. In New Jersey last weekend, I was fifth on the second day, and I finished ninth overall at the US Grand Prix of Cyclocross, even though I missed the first two races because I was on my honeymoon.
Getting married was actually a good way to start off the season! It was something else to do for a while. Then I was able to come back strong - I've always thought that 'cross comes on too early, that people are too amped up at the beginning of the year. Right now I'm feeling better than I've ever felt in late November, and just getting ready to clean up the season at nationals.
Oww.
Photo ©: Russ & Nancy Wright

CN: Tell me a little bit more about the national 'cross scene.
BJ-M: All over the USA, it's either mountain bikers or roadies racing 'cross. Nobody does both and also races 'cross, that's just too much racing to do. So all the Kona, Maxxis guys straight off the NORBA scene were racing nationals in October and September. I came off a big crit season in August, September. The road racers like Mark McCormack, Jackson Stewart, and myself who are big power, race differently from the mountain bike guys. Once you get it into the biggest gear you can just ride it; mountain bikers don't really do that, they're more into punching it through the corners, coming out of tight twisties really fast.
Just about everyone [on the national scene] is good technically, everyone has strong and weak points. It makes for really good racing because no one's just going to run away and dominate. Even Ryan Trebon, one of the stronger guys with stronger legs, keeps on coming back to the group after punching it out for the first half of race... that happened with him at North Hampton.
Nothing's really a given in the American scene, everyone has a chance. I think that bodes well for me and for a lot of other guys who haven't really had a good chance to be up there consistently.
CN: Are you thinking about World's?
BJ-M: I'm not, no. I'm thinking about snowboarding!
Andy wanders over and cranes his neck to see my notepad. "Don't let that guy say anything bad about me!" he cracks.
I ask Andy how his 'retirement' is treating him - the older (by one-and-a-half minutes) and shorter (by one-and-a-half inches) Jacques-Maynes gave up professional cycling last year to take a position as a junior product manager for the research and development department at Specialized, putting his engineering degree from Cal Berkeley to good use.
"It used to be that cycling and racing was my job, and now I have another job," Andy says. "Now I do racing for fun. It's not like I need to make money at it. It's not my way of paying the bills and so it's a little more freedom for going and racing and stuff like that. I'm just out here for fun and I didn't slow down very much [since changing careers], so I can still race at the top level. I retired from my job as a bike racer but I still love it and I'm not going to be able to give it up at all."
Your intrepid reporter Ella Lawrence,
Photo ©: Russ & Nancy Wright

CN: What can you tell me about those prototypes you're riding this year?
AJ-M: I had two prototypes built up. They are the same frame, prototype '06 Specialized cyclocross bikes. They have cool shapes on them. Like the top tube, it's flattened out to help out the shouldering aspect. I lifted up a normal frame with a round top tube earlier today and I hated it! It felt so bad. I can't imagine going back to anything else. The rear end on the bike has tons of clearance, it's more like a mountain bike. I haven't been able to clog it up at all!
Both brothers are highly professional when the microphone is in front of them - they've been getting representing their sponsors well for more than a decade now. As soon as the microphone is tucked away, however, they resume their normal horsing around. Results are posted on the van next to us and Ben (the race winner) yells, "I contest! That guy looks way too much like me!"
"No way!" Andy jokes back, "I dress way better and you know it!"
Photography
Images by Russ & Nancy Wright/AbbiOrca.com