The Scott Sunderland Diary 2004
Missing something
Tour de Suisse Stage 5, June 16, 2004
Scott Sunderland (Alessio-Bianchi)
Photo ©: Franklin Tello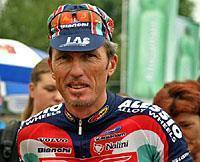 Every day I'm starting quite well. In the first hour, I've been jumping around in the breaks, getting a bit of a gap, trying to get one of our team in the break. But to be honest, 50 or 60 attacks go before finally one is let go by the classement riders. I'm enjoying the riding, doing it easy and the legs are feeling great. Yesterday I could do a good leadout for Baldato, so that means I ride fast enough in the last kilometre.
I'm just missing something on the hills. The other day I thought it was because it was such a short climb, so you do it on pure power. But even though today was longer, it was practically identical to the finish the other day. The climb was flat between km 2 and km 1, then the last km was uphill. That caught me a bit by surprise, it looked less difficult in the race book. But it made no difference to my position.
Change of tactics
Today, T-Mobile had changed their tactics. They were letting Wesemann and Botero get into the breaks. Then Saunier Duval were closing the gaps. When the three guys were away, Saunier Duval were on front for a long time with just two or three guys riding around, not super fast. Then Quick.Step started to ride, possibly setting it up for Bettini.
The last 10 km were done at a really high pace. Teammates were sacrificing themselves everywhere. We had attacks from Phonak and Saunier Duval, then Bettini went with 2 km to go when it was still flat, but he came back into the peloton. Then Jan had to go after a few attacks to close some gaps as well. I don't know how it was in the last kilometres because I was kinda busy. Guys were definitely trying to make a difference today.
Hats off to Robbie Hunter again for winning! He must have been putting in some really hard work for it. Also, he's been very lucky with his attacks because there have been so many possibilities. Robbie's had the lady luck on his side and has been able to finish it off. That shows the class of the guy: It's one thing to get in the right move, but another to win the stage from it. Rabobank might take him to the Tour after all because he's climbing so well!
The wind was favourable today and that always makes it harder for the peloton to chase. Too much time has been given away before the decision to chase is made. That's why T-Mobile was trying to put pressure on the other teams to do more work. It's quite normal by the way, otherwise they're going to waste their boys with four solid days in the hills coming up. They don't want to be cooked before the Tour.
More wet
Although it rained for pretty much the whole day today, it wasn't too cold. I had a rain jacket on at the start but I soon took it off cause I got too hot. With 20 km to go I had to roll my arm warmers down too. I had a Kraft undershirt on with normal sleeves, and I was pulling at that to get some air. We were going full gas again today!
Even though I would have preferred it to be pissing rain today and dry tomorrow, the weather forecast is for much the same as today. I can assure you, at 2200m altitude, even in the sunshine it's still very cool up there. So now I'll be putting all my warm clothes in the car, and somehow I'll have to manage to get back to the car on the climb and get a warm jacket, put it on while riding uphill, no hands. You know, the usual stuff and one of those fun sort of days. If you do without the jacket, you risk freezing your arse off flying down the descent. The descents will be 20 km long, which also will make it quite treacherous.
The big mountains tomorrow
Waiting...
Photo ©: Franklin Tello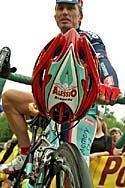 Everybody is quiet in anticipation, waiting to see what tomorrow will bring; whether the classement guys will start attacking early. For me it will be a much better gauge to tell how well, or how bad I'm climbing. We haven't done any serious work in the hills so far, just power at the end of the day. Tomorrow will be different, I think.
Nutella hunt
The mountains jersey is being sponsored by Nutella. So today in the village we tried to con the sponsors into giving us a 5 kg jar of Nutella. They wouldn't give us one, but we're working on it! That'd be nice to take home, my wife and sons are sort of addicted to it though and probably there'll be none left after a month. I might have to work on getting two jars, family deal!
Otherwise all's fine. The legs aren't sore, although I'm trying to smash them as much as possible. In one way I'm happy to be up there on GC, but on the other hand I'm not good enough yet to do something while I'm up there.
I realize I might have more of a chance for a stage win if I was 18 minutes down... they just won't let me get away in a break now. Tried it like mad the last couple of days. But what the heck, I might just have another go at it again tomorrow !
Until then,
Scott