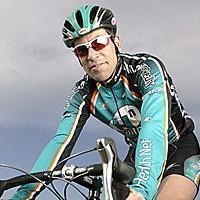 John Lieswyn
Photo: © Jeff Tse
The John Lieswyn Diary
A pro racer who now mostly concentrates on the US domestic scene, John Lieswyn is one of Cyclingnews' most popular and sometimes controversial diarists. He has been racing since 1985 and a Cyclingnews diarist since 1999. John likes both criteriums and longer road races, and seems to particularly like it when the going is hard. He has raced in the Regio Tour, Peace Race, Tour of Poland, Vuelta a Guatemala, Tooheys GP and Commonwealth Bank Classic with success, as well as winning stages in the Sun Tour, Killington and Superweek. In 2004, he moves from 7Up/Maxxis to Team Health Net presented by Maxxis.
Wet, wet, wet
Stage 2 - February 7: Ipoh - Tanah Rata, 151.6 km
Moninger crashed and badly bruised or fractured some ribs. Without our top climber we will likely be out of the top 10 GC running. I will do my best. I got to see a Lampre guy cheat like crazy by holding onto his team car. It's one thing if it's after a crash or flat, another again if it's for a top twenty on the final climb with 8km to go. Ah, this whole race will come down to the Stage 5 TT and the super climb up to Genting on Stage 9. Time yet to come around for me. Besides, I'm getting sick again and my team celebrated that fact. They know I ride better sick. I don't know about that...
Stage 3 - February 8: Tapah - Raub, 171.2 km
After arguing with the armed security guy who guards the entrance to the media center for ten minutes, despite being under the wing of kindly Amanda (VP of Media or something like that) I've gained entrance to the inner sanctum.
So after 110 miles, a nearly two hour post race transfer to the hotel halfway up Genting Highlands, quick shower, dinner, and the obligatory hand wash of the my cycling gear, here I am arguing with some security guy. I think my heart rate went higher and my face flushed more just now than during the race! (OK, that's an exaggeration) His argument was that if one rider is let in then there would be more riders wanting to come. Sort-of like the DiCaprio movie "The Beach".
Epic. We had a morning transfer of about 40 minutes to get to the start venue. Once there, throngs of camera toting, autograph-seeking Malaysians surrounded us. Did I say it was the hottest day yet? We tried fairly hard but couldn't maintain enough presence at the front to make the break. Lancaster and Guyton pulled away fairly quickly with the Selle Italia team setting tempo. We mopped up the remaining sprint points on the road for Gord and waited for the climb.
75km. We were the only team to get ice packs in our mussettes. No riders crashed in the feedzone today, but I did see a soigneur do a dive and roll.
100km. I got my frozen camelbak to tuck under my jersey. 10km later the climb started, but now clouds were rolling in and a light rain began. I passed the now unimportant block of frozen Cytomax to Danny Pate and steeled myself for the climb. I feel good today. As the rain intensified the group strung out single file and I found myself unable to see and losing spots rapidly. Glasses would fog too quickly to wear. Eyes filling up with water, having to press the excess out with fingers. Deep puddles, rivulets turning to streams across the road. Branches and huge palm leaves.
I gave up when someone opened a gap in front of me and I watched forty guys riding away. Gruppetto for me today. A minute later for reasons unknown I buckled down again and with a couple others including Wohlberg I got back on. Over the top I'd moved up to top twenty and could just see Gord Fraser a few guys ahead of me. Yes! Latch on his wheel and I'll be set. A huge thunderclap and bolt of lightning strikes so close that I feel my sodden hair stand on end.
The descent starts and this is harder than the climb. Guys in front of me can't corner, some guys behind me are far better than I and are passing, it's a free for all and I can't see a thing. Four km later we go over a metal bridge gingerly and I see the yellow jersey is down, a teammate helping him up. That is the last time I saw the group ahead, which ended up being about 19 guys. Bummer. The descent finally sorted everyone out, and I ended up being one of the fastest in my thirty strong group. Either that or I just forced myself to the front so I wouldn't have rear tire spray in my eyes. It didn't look like thirty guys but that's what it ended up being after the road flattened at the bottom.
Bruylandts and the entire Chocolade Jacques team didn't make it and they drove the second group HARD at 50-60kph for the last 15km, but it was to no avail. We finished nearly a minute behind the bunch that was sprinting for second. On the upside, Gord smoked everyone to take second. He posted it, thinking he'd won, but it was an easy mistake. There was absolutely no information as to who or how many were ahead, and what the time splits were. So he and his group didn't know that Lancaster had stayed away for the stage win.
OK, six minutes to massage time, 9pm. We are staying in a beautiful hotel halfway up Genting Highlands. Dinner was served in an open air 7th floor terrace, and we got to see the sun set over the golf course and clouds roll in through the steep mountains. The clouds actually came right into the restaurant!
Thanks for reading!
John
Email John at jlieswyn@cyclingnews.com