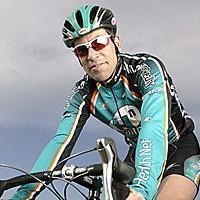 John Lieswyn
Photo: © Jeff Tse
The John Lieswyn Diary
A pro racer who now mostly concentrates on the US domestic scene, John Lieswyn is one of Cyclingnews' most popular and sometimes controversial diarists. He has been racing since 1985 and a Cyclingnews diarist since 1999. John likes both criteriums and longer road races, and seems to particularly like it when the going is hard. He has raced in the Regio Tour, Peace Race, Tour of Poland, Vuelta a Guatemala, Tooheys GP and Commonwealth Bank Classic with success, as well as winning stages in the Sun Tour, Killington and Superweek. In 2004, he moves from 7Up/Maxxis to Team Health Net presented by Maxxis.
Ready for the Tour de Langkawi
Malaysia, February 3, 2004
It's my first time racing in Malaysia, and my first time traveling in Asia since I left my childhood home of Jakarta Indonesia in 1984. I'd thought that an eight-day UCI stage race in Brazil would have acclimated me for this new challenge, (I'm sure it helped somewhat) but it was still a shock to the system going from a week in Iowa where the high temperatures were single digits (Fahrenheit!) to this steamy tropical environment. For today's second training ride I got the joys of sunburn and dehydration to add to jet lag. Nevertheless I'm totally stoked to be here. On one of today's winding descents with spectacular lush scenery all around, I said to Scott Moninger that nothing beats this for a job!
After at least 25 hours travel door to door, we've settled in to the Hotel Equatorial, a resort on the island of Penang. The Malaysian hospitality is amazing. Everyone seems to speak at least some English, even the farmer I had to ask directions of today in the middle of nowhere. Malay is similar to Bahasa Indonesia and some of it is flooding back after nearly two decades, not that I'll need it. The hotel is fantastic, with multi tiered open air lobby surrounded by waterfalls, coi fish ponds, geometric swimming pool, caves and trails and so on. Glass elevators serve the guest floors, all of which have balconies over the grand lobby. From several vantage points there is a view of the golf course, beautiful new homes, town below, and the straits across to the mainland.
All the foreign teams arrived over the last couple days for acclimatization, accreditation, and to get equipment and vehicles sorted out. Each team gets three cars, a minibus and two Protons. The directors have the flash model with a 2.0L (tiny by our standards!) V6 and leather (which I'm sure will be comfy with the windows down and the temps over 30C, yeah right). Everything is thought of, down to stickers with the team name for every piece of luggage.
Today's ride I was navigator but only got us about 25km before we had to make a map stop. The Belgian Chocolade Jacques team came by so I pocketed the map and we jumped on with them. Dave Bruylandts was their navigator so I ended up pairing up with him for a while. At one point I freaked a bit because his HR was about 40bpm lower than mine... my teammates are mercilessly making fun of me about it now. I know Dave's name from his strong recent palmares but like many euros I'd never gotten to meet him. Not so for others I've seen here for the first time in years like Jans Koerts.
Roland Green and Alex Lavallee rode with us today as well. Alex had one particularly nice save on one of the spectacular descents; perhaps he was sightseeing but suddenly found himself riding on a dropped off section of pavement with about 1cm between his bars a solid stone wall, at 45kph. Without missing a beat he hoisted himself with a smooth bunny hop and back onto the roadway - good thing too because Scott and I were next to go down if Alex hadn't saved it.
Ben Day said hi to me in the lobby this evening and I didn't quite recognize him straight away perhaps thanks to his variation on the mohawk hairstyle.
Okay, it's 9pm and I've pushed the jet lag as long as possible for tonight. 'Til the race start on Friday then!
Thanks for reading!
John
Email John at jlieswyn@cyclingnews.com