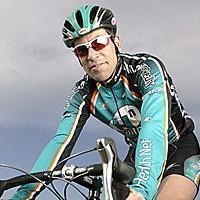 John Lieswyn
Photo: © Jeff Tse
The John Lieswyn Diary
A pro racer who now mostly concentrates on the US domestic scene, John Lieswyn is one of Cyclingnews' most popular and sometimes controversial diarists. He has been racing since 1985 and a Cyclingnews diarist since 1999. John likes both criteriums and longer road races, and seems to particularly like it when the going is hard. He has raced in the Regio Tour, Peace Race, Tour of Poland, Vuelta a Guatemala, Tooheys GP and Commonwealth Bank Classic with success, as well as winning stages in the Sun Tour, Killington and Superweek. In 2004, he moves from 7Up/Maxxis to Team Health Net presented by Maxxis.
3rd K2 Tour/Race
Not quite a race... Or is it?
Tour or race? No license needed, so it's a tour. Prizemoney, so it's a race. Eight hundred riders with any kind of equipment, so it's a tour. KOM and stage (sprint) competitions, so it's a race. Whichever it is, I'm told to expect a 191 km training ride and not to worry about having to go super hard on my first day after getting off the plane. Right…your nose is growing long, Glen. I wasn't required to finish and in fact our Southland Times teammate Scott Guyton had no intention of going beyond the first 100 km. Tough luck for Scott since he ended up being the strongest of the three of us. It was a three up time trial after 40km. We couldn't ride easy since a tough rider from Hastings, Jeremy Vennel, put on an Energizer Bunny performance. All on his own he swung between 26 seconds and 2 minutes behind us for nearly two hours. He's been racing in Europe and coached by former Navigators pro Brendan Vesty. We had to joke later that we're hoping Jeremy doesn't figure it all out before we retire, or else we're in big trouble. Fact is that were he on a good team he'd be nearly unstoppable. He only ended up fourth because three experienced pros were teamed up against him.
The brutally hilly 191 km windblown and rainy circuit around the Coromandel Peninsula takes in one forty km stretch of the western bay coastline. Last year Glen soloed most of the ride/race and sat on a tailwind driven 40 km/h through here, but this year three of us couldn't maintain 30 km/h. You'd round a curve and get hit by a wall of wind so powerful that it was like a natural fist hitting you in the face. It was 3:15 into the ride and I couldn't pull anymore, like a switch had been thrown. Glen and Scott had to do all the work until I finally found enough legs to take a couple turns in the final 20 kms.
We were on the final climb of the day when I couldn't bear holding my bladder any longer. Euro pros pee off the bike no problem, but I've never been adept at this. Early in my career it was suggested that I go drinking beer (releasing inhibitions I suppose) and then pedal around, pissing away. This advice was given in another era, when helmets and unscrupulous lawyers had not terraformed the American landscape. I never took the advice and never learned to pee off the bike. Glen and Scott waited while I relieved myself so long that I started thinking of Tom Hanks' drunken coach character in A League of their Own.
Meanwhile this guy who'd been running alongside us on the steepest pitches of the climb a minute earlier trying to video tape us (you'd need seasickness meds before trying to watch that tape I'll bet) had caught up. It seemed like he was getting ready to film me relieving myself, which is an unwritten no-no in cycling journalism. I interrupted my stream to yell at him, but he wouldn't go away. It didn't matter that I now had a weirdo audience, since I think I was beyond clear thinking anyway. That's the amazing thing about cycling; you can push yourself so hard that you can't stand up any longer, but you can still (sort of) balance a bike. It's one reason crashes happen at the end of a race.
I caught back up to my teammates and we started the descent. Glen was riding on deep dish carbon wheels and the strong buffeting winds meant that he rode very conservatively on every descent today, using a white knuckle death grip on his handlebars. I'm testing "mid deep dish" pre-production Reynolds carbon clinchers with some real durability enhancements, and they seem to be striking a good balance between windy weather control and aerodynamic speed. I can't quite keep up with Scott (who is on standard wheels) but I'm a few hundred meters in front of Glen. Looking over our shoulders to see where he's at, we see the enthusiastic videographer now has his camera strapped to his helmet and is following Glen down the mountain. His blue rainjacket is flapping wildly about his body, and his huge body reminds my glycogen deprived mind of Herman from the Munsters.
At the base of the descent I'm now taking pulls with Scott and Glen, thinking it can't be more than 3 km to the finish town. When Glen tells me it's still 20 km to go, all the wind goes out of my sails again. Thankfully he's wrong, it's 13 km. It's amazing how much your mind can control the body - again I'm able to take a few pulls.
At the finish, I'm so wrecked that for twenty minutes all I can do is slowly masticate energy mix. I know a number of people we will be working with for the Southland Tour were introduced to me, but I was nearly catatonic.
Photography
Images by John Lieswyn
John
Email John at jlieswyn@cyclingnews.com