Recently on Cyclingnews.com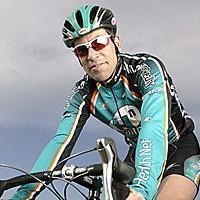 John Lieswyn
Photo: © Jeff Tse
The John Lieswyn Diary
A pro racer who now mostly concentrates on the US domestic scene, John Lieswyn is one of Cyclingnews' most popular and sometimes controversial diarists. He has been racing since 1985 and a Cyclingnews diarist since 1999. John likes both criteriums and longer road races, and seems to particularly like it when the going is hard. He has raced in the Regio Tour, Peace Race, Tour of Poland, Vuelta a Guatemala, Tooheys GP and Commonwealth Bank Classic with success, as well as winning stages in the Sun Tour, Killington and Superweek. In 2004, he moves from 7Up/Maxxis to Team Health Net presented by Maxxis.
Tobago International Cycling Classic, September 15-20, 2004
Traffic-jamming in the tropics
I'd met Emile through Gus Carillo, my good Guatemalan-American friend from Chicago who has invited me on many a South American racing trip. Emile put together a crack squad to go for his umpteenth consecutive victory in his home tour, the Tour of Tobago.
Again linking up with Eric Murphy and racing opposite Tim Larkin, it felt like a Brazil '04 reunion trip. The peloton was much smaller - getting a big field is always a challenge for a small island nation. Riders from French-speaking Martinique, Grenada, Canada, Germany, the USA and of course Trinidad & Tobago were among the field. As a veteran Tobago competitor, Eric told us to expect a car around every bend in the road. There were too few escorting motorcycles to wave drivers aside for the inevitable splintered groups on the challenging terrain we faced each day, and it was ironic & tragic that Eric was the one for whom luck ran out. I wrote a blurb for CN the day it happened, and have spoken to Eric recently about his recovery. His hematocrit is still hovering around 20 (normal range is about 35-45) and he still has headaches and back pain.
The stages were relatively short by international standards but overly long for the time of year and the depth of field. It's one thing to sit in a fast moving peloton for 100km and then hit out full gas for another 30km or many more, it's altogether another proposition to ride the entire distance solo. Essentially, the ten riders at the same elite level each had to ride flat out every kilometer every day. I was happy with it for the training value, knowing that in another three weeks' time I was due in New Zealand for a very hard 1000km six day tour.
On the penultimate stage, Murphy's crash caused mayhem in the peloton behind my breakaway. Understandably, after seeing that much blood on the road the groups behind us didn't have any stomach for racing and finished about 15 minutes behind. There was a lot of discrepancy amongst staff and officials as to what the time gaps were before the crash, and eventually the officials chose a gap that essentially put Scott Z and me just seconds apart, with the jersey changing hands to myself. It wasn't the way I'd like to win any race but we needed to carry on, and certainly the final day's race was an epic battle.
The day included stupendously beautiful but horrifically steep twenty minute climb. On the first big climb of the day, 19 year old Canadian sensation Christian Meier opened the race up with a strong tempo. In what would become a pattern today, Emile allowed the leaders to ride away and caught up on the descent to follow. Emile caught on and went right through the lead bunch as we began the second descent of the day, setting such a pace that only Jon Tarkington and I could stay close. We whipped around corners, more cautiously today but in this remote part of the island we saw few vehicles. Today's challenges came from cows on broken rope leashes, munching grass at the edge of the roadside on a curve so narrow that I felt I could rub shoulders with the massive beast. Another surprise around a bend was the sudden lack of pavement; this we are used to in any race but it lent more spice to the epic developing today. After the roadworks Emile pointed ahead at a wall of a road, warning us that this twenty minute spectacular and difficult climb was the main feature of the day. Emile let Jon and I go, and said he'd see us again soon. Nice to be so confident! Heart pounding, sweat running off my arms in rivulets in the typical Tobago heat, I kept hoping the next curve would reveal the summit. While 20 minutes is half that of the average first category climb in a major stage race, this one featured a gradient requiring a 39x25. When I started racing, a 42x23 was all anyone ever needed… did race organizers suddenly find a bunch of freshly paved steeps to put us on, or did we all get weaker?
Over the top the skies unleashed a thunderous tropical torrent. Visibility was nearly zero, and I struggled between clearing the fog off my eyewear and dodging road debris from the rivers of rainwater overflowing the ditches. A quick glance over my shoulder and Jon was gone, and I'm now alone with about 50km still remaining in the stage…that didn't last long as true to his word Emile closed what had to be nearly a two minute gap on the descent. The three of us regrouped and tackled an undulating coastal road. Tobago is thickly vegetated forest dotted with small villages and long stretches of undeveloped land, and this road snaked along a ruggedly hilly coastline for at least 20km before breaking out onto a wide two lane highway. We got just one time check on the unspecified chasers, so we had to assume that we were widening our lead with every kilometer covered. Emile was definitely on a mission, and his temperance on the climbs seemed to be paying dividends now. I plaintively asked him if we really needed to go 50km/h the entire way back, since I was hoping that for the first night this week I might be able to enjoy a few drinks out afterward! (Smashed legs usually don't encourage carousing.) It turned out he was right to keep up a strong pace, since we went from not being able to see anyone behind us on the longest stretch of open highway to getting caught in the last kilometers. After having gone about 52 km/h or more for the last hour to catch us, Tim Larkin and Scott Z swept Jon and me up and we ended up drafting traffic through the finish town. Emile had taken off solo and it looked like he might have the stage if not the overall, but the cars were not pulled out of the gap. Family, friends, fans, press and race officials all following Emile unwittingly caused his bid for the win to fail. Tim was doing huge turns and still had a fearsome top end in the last kilometer. I had to dig to get around him for the win. Later I found out that he was really motivated to win in his last career race.
The day after the tour ended, Emile took the Ofoto guys and us on a hiking trip to the north end of the island where the race hadn't passed. Steep paths and climbing boulders we made our way up past successive waterfalls. The topmost rainforest-fed falls featured a rock outcropping perfect for cannonball dives into a clear and cold pool below. On the way back it was realized that Tim had lost one of the rental car keys, so the rest of us sat around an outdoor table built of bamboo for the Jolly Green Giant while he went back up the trail looking for it. Eventually we had to pile 8 people into one midsize rental. After lobster at a treehouse restaurant the next stop was a dip in the ocean to watch the sunset over desolate Pirate's Cove. All in all it was a superb way to finish off what had been a very physically challenging week. Many thanks are due to the race organizers, sponsors, Emile, and his family for a putting on a hard race and a really good time.
Health care crisis hitting home
One lesson here for cyclists traveling overseas: make sure you have travel medical insurance. It was the generosity of the race organizer and the island itself that meant Eric has little to no bills due from the days in hospital after the incident, but that could easily be different. Like millions of other Americans, at home Eric has slipped through the gaps in the American health care system. Individual health insurance policies are ridiculously expensive for someone at a low income, and my experience trying to start a riders association revealed to me that over 50 percent of US pro cyclists don't have health insurance due to the simple economics that premiums are simply too high. It's a catch-22: as health costs increase, insurance companies increase the premiums, and more people drop off the rolls of the insured, thereby guaranteeing that fewer bills will be paid. Scandalously, hospitals illegally charge those least able to pay (the uninsured) higher prices for services than insured persons. At the going rate for an hour in the emergency room (I spent 45 minutes in one after a crash in Chicago in 2000, wherein the bill for the room alone, no services rendered, was $400) you could rent a room at the Waldorf Astoria hotel. I paid out of pocket (uninsured at the time) but how many people are going to swallow that kind of charge? Now I'm lucky enough to be covered by Health Net, and I hear that at least one other team will be providing its riders with insurance in 2005. Two teams covered is better than none, but there is still some way to go!
No down time
On return from Tobago I finally got an MRI imaging of my back to diagnose this fall's debilitating back pain. Thankfully the result was negative for any serious conditions. Core strengthening exercises should solve my problems before the '05 season. I don't think I'll ever get up to hard man Eric Wohlberg and his thousand per morning stomach crunches. Don't laugh now, because I'm at just twenty a morning right now on my way to a goal of a hundred.
I've kept up three hour tempo rides three days a week, included in a fourteen hour training week so that I won't end up getting dropped at the Southland Tour. On our return home at the end of November we'll have to buckle down and choose a new home. We're leaning towards going back to Asheville, NC. It's possible that another new Health Net pb Maxxis teammate is also moving there, so I'd have a regular training partner.
DD is traveling with me to New Zealand again this year. She'll be back at veterinary practice in the spring but for now it's really great to have her along on some of my cycling trips. DD will help out during the Southland Tour with cooking and some soigneur duties, but after the race we plan on two week's vacation. Lots of "tramping" (hiking) is on our very loose itinerary.
John
Photography
Images by John Lieswyn
Email John at jlieswyn@cyclingnews.com