Recently on Cyclingnews.com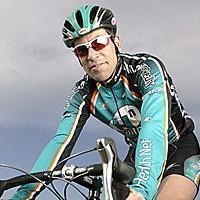 John Lieswyn
Photo: © Jeff Tse
The John Lieswyn Diary
A pro racer who now mostly concentrates on the US domestic scene, John Lieswyn is one of Cyclingnews' most popular and sometimes controversial diarists. He has been racing since 1985 and a Cyclingnews diarist since 1999. John likes both criteriums and longer road races, and seems to particularly like it when the going is hard. He has raced in the Regio Tour, Peace Race, Tour of Poland, Vuelta a Guatemala, Tooheys GP and Commonwealth Bank Classic with success, as well as winning stages in the Sun Tour, Killington and Superweek. In 2004, he moves from 7Up/Maxxis to Team Health Net presented by Maxxis.
Iowa City training, USA, August/September, 2004
Winding it up again for San Francisco and Verona
A fan asked me to autograph a recent cycling press article about my Tour de Toona overall win. It was the first I'd seen of the article, and it didn't take long to scan it and get the gist. Basically, I'm lucky I won because Horner wasn't on top form. Hmm. I guess Bettini is lucky he won the Olympics because if Lance had been there, and on form, then there would have been a different result. In fact, Horner is lucky he won Redlands because I didn't bring my July/August game there. Logic…
After a few 100 kilometer criteriums it's time to ramp it up for SF and the world championships, this year held in Verona, Italy. My first amateur worlds was the '91 Stuttgart. We had one leader, Armstrong, and he dropped out on a bad day. Only Darren Baker finished out of the entire team. My second try was also amateur, in the last year for such a category, at 1995's Paipa Colombia course. Along with Bobby Julich and a couple other Americans, I got a 12 hour food poisoning and again DNF'd the race. Last year I was a discretionary pick for Worlds (now it's just "elite" or "under 23") in Hamilton, Canada. Even though the UCI has been gradually reducing race distances, Worlds is still a 265km race of attrition. I lacked endurance and while I was proud to be there for Rodriguez et al during the first 200km, it was a real letdown to come up short and DNF again with a little over an hour left in the six hour race.
I'm again hoping for discretionary selection. Despite strong results domestically this year, I haven't raced in many UCI events and have lost my top 300 world ranking. It's interesting to note that over the past few years some countries like Brazil have figured out that in order to qualify riders for Olympics and Worlds they have to hold UCI sanctioned races at home. We still have few opportunities in North America to earn points. I am preparing for a 265km race now, putting in several endurance rides a week. If I get the chance I hope to be a factor or at least of assistance in the final hour of the race. A side benefit is that I'll hopefully be wound up in time to put in a good ride in San Francisco. It may be just 175km but Fillmore's ridiculous gradient is worth an extra 100km!
Not actually lost...
Photo: © Jason McCartney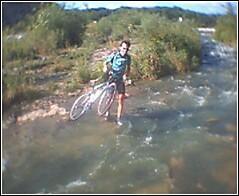 So I decided to join my teammate Jason McCartney (who is automatic to Verona thanks to his berth on the Olympic squad) for a couple days of endurance riding on his side of Iowa. He'd always told me how good the training is around Iowa City, and now I'd get a chance to see it. At home I train on gravel roads at least 30 percent of the time. I used to run 28mm bomber belted tires. Thanks to the Maxxis sponsorship I've been trying various "training" level tires and while the fattest one they've sent me is a 23mm race width, I've had good luck. Just one flat in over a year. So when Jason eyed my rig skeptically the first afternoon, I assured him I'd be fine. Jason: "want to pump 'em up a bit? I got a pump right here!". Lazily I replied "nah, let's go". 80psi turned out to be inadequate, especially since the gravel roads Jason rides are WAY faster (ie, smoother) than those around Ames. We were hitting 45kph regularly and it wasn't long before I double flatted. To J's credit he didn't whip out the "I told you so". I got a third flat before the day was over, but we still managed a haulin' average speed. He said he should have me around more often… I have trained in towns with great group rides like Asheville NC and Ventura California but there's nothing like riding with a fellow pro to whip you into shape.

Our first ride took in some rolling terrain including one farm road that dropped us into a picturesque grassy valley dotted with trees. Around Ames all land is used for soybeans or corn, so this looked oddly under utilized to me. J warned me that an upcoming "road" could be underwater, and I couldn't believe him. It hasn't rained much this summer and the Skunk River near my house is nearly dry. Sure enough J was right, and we were traversing mini rapids that were deep enough to run up to our shins. On this blazing summer day the cool stream water was a welcome relief. This ride was going down in my books as an epic right now. Little did I know what tomorrow held…

The next day I swapped out my lightweight tires for the fattest tires the Giant could hold, 26mm heavy duty monsters. We planned on three hours tempo by ourselves and then finish up with a two hour group hammer session. Again we attacked the gravel with gusto, rolling and winding through more scenic hills. About 40 minutes in we began passing signage that said something like "enter at your own risk: level B minimum maintenance roads". They aren't kidding! Their idea of maintenance is when a wooden bridge gets rickety they bulldoze a big pile of dirt up to it and block it off. The gravel gave way to dirt double-track and finally it just disappeared altogether. We pushed on, bikes slamming into grass hidden gopher holes and bars vibrating like we were on ancient worn cobbles.

Eventually we ended up in a park, flying along a pea gravel path bordering a huge reservoir lake. Sailboats flitted over the glassy smooth water and quarried stone walls rose up from the opposite shore. Jason pointed over at the rock escarpment and said we'd ride across the dam to get there, and then we'd have a short portage to get onto a winter cross country ski trail system he knows well. A short little walk, he said. We were wrapped up in discussions about the opportunities in our careers and his comment about walking our bikes barely registered with me.

Passing a couple hiking fishermen I suddenly drew up in shock. Jason hit out across a full on stretch of rapids, sending spray in both directions as he plowed into a water feature that wasn't navigable even by canoe. Click out and he was shouldering the bike and clambering over wet boulders. "Hello? Jeff? Uh, this is Jason. Umm… John won't be coming to San Fran, uh, search and rescue still hasn't found him…" The fishermen watched incredulously as these lycra clad nutcases lugged their $3000 bikes and $250 carbon soled shoes across to a trail that wasn't fit for a Nepalese mountain goat.

Jason: "you'll get up this next road no problem with your 27 cog". Okay! Next time I'll bring the mountain bike cleats! After washing the dirt out of our Speedplay cleats Jason confidently predicted we'd be right on time for the group ride: "we're forty minutes away, no more!" My watch showed 38 minutes to go. Soon we were swapping off at 50kph (30mph) on some of the toughest rolling farm roads I've seen since my recon mission to Dahlonega Georgia in April. We each had over 13 hours of training in the last 48 hours and fatigue was soon replaced by that high, the 'extra gear' that, when you reach deep into your body's reserves, allows you to push past your normal limits. I pounded up a steep hill at 40kph, heart rate at 170, and Jason was talking: "I think that river crossing made my hub bearings stop clicking!" Argh. I clicked up a gear and pushed harder. No talking when I'm giving it stick, man.

He said nothing else for the next half hour, as we pulled at 90 percent but neither of us conceding to the other. We rolled into town as the assembled local cyclists were milling about, nearly ready to depart. Covered in dirt, I barely acknowledged those I was introduced to as I greedily sucked down refilled bottles and used an old Kevin Monahan trick of mixing up more Cytomax rehydration drink out of a Ziploc baggie. I had to laugh as after all those high speed gravel roads poor J got his first flat in ages on the pavement just as the ride left. We changed the tube in about 90 seconds and sliced our way through campus traffic to catch back up with the group. The first hill the twenty or so strong group hit, Jason and I both nearly got dropped, but soon we were back in the groove and pulling in the rotating echelon on the smoothest concrete roads I've seen north of the Mason-Dixon line. Several of the people on the ride seemed to know who I was by name and it was nice to hear their stories of a young McCartney terrorizing local races. We rolled back into IC just as a blood red orb of a sun settled over a city lake, and again J and I agreed that we had the best job in the world today.

Next up we will be training through the Gateway Cup in St. Louis, predicted at the time of the 1904 Worlds Fair to become America's largest city by the end of the century, and still one of the most beautiful, historic places in the nation. By the way, what is up with the teams and media ignoring big NRC races in September and October? From a prize money point of view, Joe Martin Stage race in Arkansas, Altoona, Nature Valley in Minnesota, and the Atlanta 100K Labor Day weekend all have more cash than Redlands. There is $28,000 on the line over four days in Atlanta this weekend, NRC points and a metropolitan area of over 10 million people to draw media and cycling fans from. If you win Redlands you get the cover of the US cycling mag but win Atlanta and you could get a blurb under road ragin'? I'm calling on the teams, including my own, to sit down and figure out how we can all support all of the big races during the season. September/October is a great time weather-wise and there are a ton of good races. I even hear that Horner will be in peak fitness, so it's not time to dust off the cross bike yet. (That's tongue in cheek, folks).

John

Email John at jlieswyn@cyclingnews.com