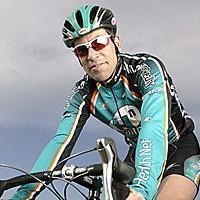 John Lieswyn
Photo: © Jeff Tse
The John Lieswyn Diary
A pro racer who now mostly concentrates on the US domestic scene, John Lieswyn is one of Cyclingnews' most popular and sometimes controversial diarists. He has been racing since 1985 and a Cyclingnews diarist since 1999. John likes both criteriums and longer road races, and seems to particularly like it when the going is hard. He has raced in the Regio Tour, Peace Race, Tour of Poland, Vuelta a Guatemala, Tooheys GP and Commonwealth Bank Classic with success, as well as winning stages in the Sun Tour, Killington and Superweek. In 2004, he moves from 7Up/Maxxis to Team Health Net presented by Maxxis.
Bank of America Invitational Criterium, Charlotte, USA, August 7, 2004
A little too early in Charlotte
After Altoona, my wife DD, Closer and I drove down to Asheville for a hard day's labor on our rental house, some Salsa's fusion Caribbean cuisine, and to hang with our friends Joe & Jen Summerell-Coddington. Sunday was drive day, so no ride. On Monday DD and I took the tandem and the dog into world famous Bent Creek forest for a 75 minute ride. On road tires and Speedplay road cleats it wasn't exactly the optimal equipment for the frequent mud bogs and log portages, so pretty soon I was having to pad around in my socks since the shoes wouldn't disengage. We wondered if Closer would recognize the trails he grew up on and last saw over five years ago. It may have just been coincidence but he seemed to know where the turns were.
On Tuesday we put in the big manual labor day, cutting down wild choke cherry trees and forcing a new low emissions Honda lawnmower through shin height grass. I'd planned on being done by 1pm but doesn't every project take twice as long as expected? We wrapped it up at 5 and I was on the bike in time for the Asheville Speedway "track" races. This is a major success story: when we lived here the Speedway was still a NASCAR oval and on Friday nights we could here the 10,000 RPM roar of racing engines even at our house, 2 miles distant. Just as we got ready to leave for DD's first internship in Ventura, CA, the Speedway was turned over to the city for redevelopment as a park. Today, the oval is a very shallow banked half mile bike racing track, the infield is filled with redwood children's play gyms and beach volleyball courts, and paved off street paths link the park to the river trail system.
On this night, guys practiced football in one field adjacent to the track while inline skaters bopped around to their tunes and buff volleyball players took headers into the sand. About sixty riders milled about, sporting everything from their regular derailleur equipped road machines to exotic single speed brakeless track bikes. The evening's slate included a 60 lap "A" points race for road bikes, which was my event. My obliques were completely wrecked from trying to spread 4 tons of gravel at the house, and the legs were already rubbery before the start. Those in the sport on the east coast a long time will remember names like Radisa Cubric, Ronnie Hinson, David LeDuc, and Randy Parker. Randy moved to the Asheville/Weaverville area a few years ago and has come out tonight to make it tough on my pal Joe (who is gunning for the local series win). Randy puts the wood to me in the warmup and I know that Joe is going to have his hands full.
Wednesday I have five hours training planned. Art Schuster (the first cyclist, actually the first person DD and I met in Asheville ten years ago) and Herb Young are leading the afternoon ride which is very well attended by twenty cyclists during work hours. We end up far north of Asheville on unfamiliar (to me) Madison county roads around Jupiter. It's completely devoid of traffic up here, and we can relax and enjoy the spectacular scenery of the Blue Ridge mountains. I have overenthusiastically attacked a 45 minute section of Reems Creek and Hamburg Mountain during the morning ride, so in the last hour former pro triathlete Jay Curwen has to pull me back into town for the last hour. Yes, even pro riders can overextend, bonk, and end up slobbering all over their stem while hanging onto the rear wheel of a local rider. I make it back into town thirty minutes before my scheduled massage with Rivkah, our tenant. She's in her sixties, Jewish, hip and fun. The massage is completely unlike the sports massage I'm used to but it's very relaxing and holistic.
Thursday
DD and I get chiropractic, massage and hi pressure jet waterbed treatments at her Dad's workplace, Industrial Health Services rehabilitation clinic. Japanese Hibachi lunch. Sleep most of the afternoon. Drive up to Winston Salem under threatening skies. During the races prior to the Pro main event, I watch with trepidation as first a rainshower dampens the dark, short 4 corner criterium course and then strong winds buffet the course riggings. It's only because a Masters racer, Chris, offers me his prepaid race number for the Pro event that I decide to race and I'm really glad I did. I've made a full recovery from Altoona and my yardwork, and feel great. My 8th place doesn't reflect it but I'm not much of a nighttime field sprinter.
Friday
Short tandem ride north of Huntersville. Every mile there is another rural field getting bulldozed for a new housing development. My father in law says that roads he used to ride just two years ago are completely unrideable now with the increase in traffic.
In the evening I meet with the team at a downtown former warehouse loft apartment for a reception. The cavernous loft has brick walls, steel beams, granite counters, and warm wood floors. A floor to ceiling dark tinted glass wall overlooks another downtown redevelopment project and a train line that connects the center city to the coliseum. The ubiquitous monster plasma TV is showing a local news program which just happens to be talking about the race, and they're not talking about how to avoid the event! There's a catered Mexican spread to boot. Spencer announces that the 24 hours of Booty ride has grown from 1 rider to 507 and raised over $101,000 for brain tumor research, and I meet a software designer who lost his wife to that disease. I'm reminded how lucky most of us are and can only imagine how hard his life has been, knowing that his loved one was terminally ill for so long and then the final parting.
Saturday: Race Day
Morning ride with the 24 hours of Booty crowd. Hang with Hendy for a while and get the whole scoop on his exciting last few weeks including the big NYC win. Don't bother returning to Huntersville, rather it's easier to just stay in Dan and Hendy's room at the plush Omni hotel which is at the start/finish line. Throughout the day which is punctuated only by eating and sleeping for us the race course slowly takes shape, thanks to the work of dozens of race staffers.
Rich Hincapie, if you or one of your friends is reading this; I need to get in touch with you. Please email or call!
I can't sleep so I read the latest Car and Driver cover to cover. I'm really nervous, and can't tell you why. Some people figure there will be collusion between teams tonight but if there is any I didn't hear about it or see it. On this course, with this field, with $11,000 in lap primes, there isn't going to be a breakaway. Much to my chagrin. I've only a few chances left to "up" my contract worth, and I know that tonight I'll be laying it down for the sprinters. Oh yeah, I've used my diary to ruminate on how much longer I'll race for. Since the Olympic trials, somewhat quixotically, I rediscovered major motivation (perhaps having stomping form helps!) and thanks to job uncertainty in the spousal sphere, I'm looking forward to another season of racing. Given sufficient compensation to be able to support our little family while DD looks for the perfect veterinary position!
Just as I'm readying myself to leave the hotel room DD calls and she's pissed. Why didn't I TELL HER that there were NO DOGS allowed? She's been accosted by police twice. No dogs? That's un-American! Dogs and bike racing are like apple pie and parades! How can you legally get away with banning dogs from public streets? Bob Mionske? I try to rush down with the car keys for her, but every elevator is jam packed. Hendy, Gord and I finally just take a service elevator. The dog brouhaha serves to keep my mind off the race for a while. Our mechanic Bob Nixon helps me with chain lube and timing sensor installation, and during a warmup lap I see many familiar faces from my years as a NC resident. Thank you all for cheering for me!
The race starts and it takes me half a lap to get to the front. Yeah, I'm just floating tonight. Other than a few unpleasant burps from having eaten too much too close to the race, I'm comfy and pleased to see that this mixed category (pro/am) field is pretty safe tonight. I witness some really good saves in the first few laps while everyone gets the corners dialed at race speed. I make a few forays off the front but it seems that Horner has me firmly in his cross hairs, and I guess that a Horner/Lieswyn break is a major red flag for the other hundred guys in the race. Due to a lack of serious hills we can't use strength to force a break either.
A broken spoke nets me a "free lap" and when the official finally lets Bob push me back in, I nearly can't get it up to 35mph soon enough to catch the tail of the field. With 12 laps to go the reduced peloton still hasn't seen a serious break. Coming out of the last corner somebody in front of me "blows" and I lean in deep to try and close the gap without having to pedal. In the falling light I don't see some road hazard and suddenly find my rear wheel skittering… thankfully the Maxxis tire hooks up just in time and I make it through. Uh-oh, the forces have pulled the tire bead partially off the rim and now it's going thump-thump-thump. Half a lap later the tire blows and with 10 to go I have to take another free lap.
While I'm dealing with this, a two man break escapes without Health Net representation. So as soon as I get back in, it's straight to the front to help Sayers chase it back. After going 1-2 in NYC last week I suppose nobody will help out now… Colavita has missed it too, but they are shirking their responsibility even with the Cuban Missile Crisis a heavy favorite tonight. It takes two or three laps to bring the duo back. The 25,000 people lining the 1.2 mile course are building their cheers into a crescendo now. Sayers is telling me we might as well go all the way to the line now, since our three sprinters have found our wheels and there must be all hell breaking loose in the jockeying for position behind them.
It doesn't work out for us even though I felt like I was floating on the pedals. I pulled for most of the last four laps with a few big turns from Schmatz thrown in, but we've unwittingly left the $2000 penultimate lap prime to Horner and more importantly we've blown up with an entire lap to go. Greg can't surf it like he did in the moray at NYC and is forced into a full lap lead-out for Gord. I think he probably preferred to do that rather than take chances with both Greg and Gord going to Athens tomorrow. If they'd just taken their chances like ping pong balls in a lottery drawing, the likelihood of an Olympics-ruining crash was too high.
I jumped back into the line around 30th and recovered enough to advance 8 positions in the final straight. With a grand on the line for 20th, it was worth a little extra suffering! As we wound down after the finish, I caught up to Gord. He looked pretty dejected explaining he just had to go from too far out, and lost to Ivan by less than a wheel length. I know so well how hard it is to lose by a small amount relative to losing by a lot. Like Seinfeld jokes about Olympians; sometimes the difference between gold and silver is so tiny it's like "now to now… now now"
Nevertheless we've all survived the night, our Olympians are safe, and we earned nearly 20 grand for Gord's podium finish and our incidental placings. I couldn't sleep after such a wound up late night race (we didn't get to the showers until 10pm).
Sunday DD and I drove back to Asheville to load up some more belongings in a trailer and finish the yardwork. We've got to boogie now so she can fulfill her civic responsibility (jury duty) on Tuesday, and I can get back into the training groove. Next up is the Kansas City weekend, followed by US Pro Criterium champs in Chicago.
Thanks for reading!
PS. Charlotte and the organizers really did a primo job with this first (hopefully annual) event. It was super pro and well attended, and undoubtedly it deserves its place as one of the jewels of American racing along with Philly, San Fran, and NYC.
Email John at jlieswyn@cyclingnews.com