Recently on Cyclingnews.com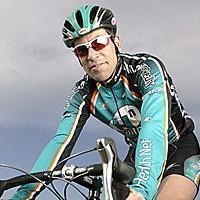 John Lieswyn
Photo: © Jeff Tse
The John Lieswyn Diary
A pro racer who now mostly concentrates on the US domestic scene, John Lieswyn is one of Cyclingnews' most popular and sometimes controversial diarists. He has been racing since 1985 and a Cyclingnews diarist since 1999. John likes both criteriums and longer road races, and seems to particularly like it when the going is hard. He has raced in the Regio Tour, Peace Race, Tour of Poland, Vuelta a Guatemala, Tooheys GP and Commonwealth Bank Classic with success, as well as winning stages in the Sun Tour, Killington and Superweek. In 2004, he moves from 7Up/Maxxis to Team Health Net presented by Maxxis.
The International-Tour De Toona - NE, Altoona, PA, USA, July 26-August 1, 2004
Toona Roll
The 81-mile drive from Pittsburgh to Altoona is characterized by the overwhelming sense of abandonment. Empty mobile homes, overgrown houses, closed gas stations, boarded up strip malls, green mildewed RV's and rusty cars for sale. So representative of the American disposable society, where buildings are made to last 25 years and tax revenue deprived shells of formerly vibrant communities can't even afford to demolish them when their last tenants move out.
Central Pennsylvania's major towns are State College (Penn State University), Johnstown (where iron and coal were dug out of the same mines) and Altoona. Altoona grew rapidly as a major stop on the railroad from Philadelphia to Pittsburgh. The bend in the tracks known as "Horseshoe Curve" became nationally famous when it was revealed that a plot by the Nazis to blow up the industrially vital railway at the curve had been foiled.
In the late 1960's downtown Altoona was still economically vibrant as a center of commerce despite the replacement of the railroad system with interstate highways. It's now recognized that the building of The Mall on the outskirts of town led to the gradual decline of retailing downtown through the early '70s, as department stores closed one by one and once grand row houses became decaying rental properties. Efforts to revitalize and showcase downtown (including holding the final day's criterium there) have largely failed to address the root problem: it's simply cheaper to build new than it is to rehab old. As long as suburban areas continue to offer tax abatements and free infrastructure, downtowns are at a major disadvantage. Perhaps the pendulum will swing back to the inner core's favor someday; we saw in a real estate magazine an offer for a 300,000 square foot five storey building in downtown for $1 a square foot.
Altoona has hosted the 1992 Olympic trials, the national championships (at least twice that I can remember) and the races here have always valued women's cycling equally to men's. Despite the negative impact that the concurrent NYC Grand Prix has had in the last couple years, Altoona race organizers have kept it up and the men's field has continued to attend. This year's field is lacking just three teams: Jittery Joes, Navigators and Sierra Nevada. The other teams that are attending (especially Webcor, Jelly Belly, Ofoto, and Colavita) have brought strong squads.
State representative Rick Geist is the major force behind the Tour de Toona, which has over the years included stages in nearby towns like State College, Martinsburg, Hollidaysburg, and most recently, Johnstown. State College didn't last long as a host city, perhaps due to the constant barrage of the media message: "road closures/ways to avoid the bike race/traffic congestion". That has still been the main focus of local TV news. We need to convert that message into "spectator parking is easy and available at" followed by "the bike race is bringing in thousands of people and tourism dollars" and "Olympians and world class athletes from around the world are coming to town". At every venue the race announcer kept repeating "thank you for allowing us to bring our traveling roadshow to your town" which is the opposite of the message we should be advocating.
DD and I are lucky enough to get set up with Frank and Michelle Hartye for the week. Frank is a lawyer and Michelle is a Montessori teacher, and they've got a large A-frame house in the woods
Stage 1 - July 26: Sheetz Time Trials, 3.5 miles
While I've managed top five in this time trial before, I seem to be slipping in events of this distance. I knew the driving rain wasn't going to favor me either, but still hoped to be top ten. DD and Closer sat in the car while I warmed up under the tent on a trainer. A couple minutes to go, Chad puts on the disc wheel and does a final shifting performance check. At the start ramp, Jeff holds a huge umbrella over my head and DD takes my jacket. I've done my race intensity warm up intervals but due to the relative cold and the rain I'm no longer sweating. The declining ramp looks like it might be slippery, but officials say it's fine. Indeed it is, and I'm off and quickly into a solid rhythm. There isn't time to admire the dam, lakes or forest setting of the famous railroad curve. I've got my focus on trying to catch my 30 second man. I narrowly fail, but feel strong especially in the last mile. I ride back down with the pre-race race favorite, Colavita's Australian champ Nathan O'Neill, who has smoked the course and caught four riders in the process. He's put 36 seconds into me already! I'm not too worried about this deficit, knowing much can happen on the two mountain days ahead. Nathan is really gunning for this race, since nearly losing his life in a crash here last year while wearing the yellow leader's jersey.
Stage 2 - July 27: Crown American/Cambria CVB Road Race, 72.9 miles
Another driving rainstorm greets us today. Straight away Colavita takes the bull by the horns and sets a strong tempo. I come up next to O'Neill and we agree that not only is it the right tactic with him in the yellow but also safer, what with potholes and ruts being obscured by deep puddles. Not two minutes later a series of attacks has disrupted the relative safety of the single file line behind Colavita, and the peloton is a swirling mass of riders both coming back and advancing position. I'm trying to clear my glasses and hanging back about thirty from the front when the scrape of metal on pavement and shouts erupt from the front of the bunch. Chris Horner (#1 in USA ranking, Webcor rider) and O'Neill have tangled and gone down. The unwritten rules specify that we wait en masse, and the bunch slows Sunday stroll pace for the fallen race leader. Five minutes later the word comes through: unlucky O'Neill has a severe laceration requiring stitches and is out of the race. This effectively puts my teammates Jason and Scott (2nd and 3rd in the time trial respectively) into 1st and 2nd overall. We thought we'd have today "off" but now our director Jeff Corbett has to call on Mike Sayers and Brice Jones to set tempo.
A break of two rolls away, but we have plenty of time to reel it back later. Doug Ollenrenshaw of Jelly Belly is up there and he's been riding great this year, so we can't give him much "rope". Despite Mike and Brice's tempo, the leaders build a two minute lead as we start the third and final lap. We're now feeding more riders into the chase... first Mike Jones and then Danny Pate and I join in too. Four of us are eventually riding flat out and the gap begins to fall but very slowly. Looking for something positive about this development, I tell myself that it is better to be on the front working than suffering in the road spray back in the bunch. We want to bring the gap down to 20 seconds, which will give away the jersey to one of the breakaway. It's a tactical move, since we are hoping that the new yellow jersey wearer will be both tired from the day's effort and will need to put his team instead of ours on the front tomorrow. It also takes the stage time bonuses away from riders we consider more dangerous (like Chris Horner). With 5km to go the break STILL has a minute and the four of us are "blowing up". Sprinters teams take over now, but the low visibility means that we still can't see the break. Through the last corner and with just 200m to go, I see three riders sliding out and hitting a curb. Oh oh, there's a Health Net jersey in there... and it's our Olympian, Jason McCartney. Just a few weeks before Athens, too... After the stage we find out that the break only stayed nine seconds clear so Jason will be the new yellow jersey, and we'll have to work for 100 miles tomorrow. Jason is bruised and sore, but he's very lucky not to have been seriously injured. Health Net has four Olympians for Athens (Greg Henderson and Hayden Godfrey for New Zealand, Gord Fraser for Canada, and the aforementioned Jason for the USA) and we'd like to keep it that way! Jason tells me with a laugh that he hopes one of us can take the jersey off his back in tomorrow's road race so he can spend the rest of the week riding tempo on the front (which is harder than wearing yellow and just waiting until the mountains) as preparation for the Olympics. Then he could sit up during the furious and dangerous field sprint finishes sure to come later this week, to stay out of trouble.
During the race DD meets Jack, the former '60s hippie and record collector proprietor of Jack's Hair Salon. The business is on the ground floor of the wedge shaped historic building opposite the recently erected financial edifice of a building designed by famous architect Michael Graves. I much prefer the stamped tin twenty foot ceilings, massive hardwood trimming, and white octagonal floor tile inside Jack's salon... it has a feeling of history and permanence. In a packed back room there are five jukeboxes from different eras and a late '80s Bang and Olufsen Beo wall-mount sound system (the only hi-fi system to have a place in NY's Museum of Modern Art.) Framed photos from 1950s beauty pageants share wall space with eclectic paintings and posters. A space themed 1960s black-and-white portable TV that looks like an Apollo moon mission helmet sits on a oriental table. While cutting my hair, Jack is thoroughly entertaining as he tells stories about all the rock and roll acts he has met. This is another advantage to traveling with our own car... when you are racing with a team the van is always on a tight getaway schedule so that the staff can do their post race things and everyone can shower, eat and start massage. We had a leisurely lunch at the Café on the Square and got to hang out with Jack.
Stage 3 - July 28: Team PA/Westsylvania Johnstown - Altoona Road Race, 98.7 miles
There was no epic rainstorm or much else to note today. Danny Pate and I were instructed to go in the early breaks and take pressure off the team to control the race. He and I both made it in the day's long bomb, which developed a maximum lead of nearly six minutes. With our teammate in yellow we had every right to "sit on" the back of the break but instead we helped pull through for the first 80km/50mi. About half an hour before the base of Blue Knob, Jeff had Danny and I pull the plug and stop pulling. The rest of the break basically sat up as well, and as we began the ascent we'd lost four minutes of our advantage. Chris Horner had his Webcor teammate Justin England in the break too, and Justin's instructions became immediately obvious. He set a fierce pace on the lower slopes. Most of the break was shed, but I hung on by a thread. An hour later the tables were turned somewhat as I attacked over the top of a dirt road climb... I didn't realize that Justin only didn't respond because he was waiting for a flying Horner, who was bridging across from a decimated peloton. For a few minutes I hammered along, back on typically smooth Pennsylvania blacktop through a dense forest and out of sight of any trailing riders. Hmm... maybe I can win this? Onto a descent (not my strong suit) and now I can see a couple green clad riders closing on me from behind, and it's not Health Net green...
Horner and England have reeled me in by the base of what seems like an interminable 10-minute descent. Ben Brooks (a tough Australian all rounder/sprinter for Jelly Belly) and a couple other remnants of the break also rejoin within a few minutes, but as we finally get on some tougher terrain, I mount another hard attack. I'm not even looking back to assess the damage, just gritting the teeth on this one. At the top of the hill, I hear the familiar voice of Horner... "Let's go, huh?" Tactically, this is a rock and a hard place for Health Net. Horner has enough of a cushion on me from the opening time trial that even if I beat him on the stage and take the 20 second bonus, his 15 second bonus for second place means he'll still be in yellow by eight seconds over me. This move will take the jersey off Jason's back and put it on Chris, but if we get caught by the group behind it'll be two Webcors on one Health Net - me. So I mostly sit on, knowing that will give me the punch to win the stage but with only 5km to the finish it won't be enough of an advantage to drop Chris by eight seconds or more. And that's how it ends... I take the stage win and Chris takes over the race lead. The stage race isn't over though!
Stage 4 - July 29: GM Hollidaysburg Race, 60 miles
Stage 5 - July 30: Hoss's Martinsburg Road Race, 76.8miles
Thursday and Friday are the Hollidaysburg and Martinsburg Circuit races, during which the general classification status quo remains unchanged and no breaks amass any significant time. Colavita wins both stages with Ivan Dominguez and then Aaron Olson.
Stage 6 - July 31: Verizon Blair Co. Road Race, 92.9 miles
This is the traditional "queen stage" of the tour and the day we're hoping our 2nd-3rd-4th GC position will give us a chance to upend the overall results. Our plan was to launch a guy in the early break and have him wait at the top of Blue Knob (which we ascend from a different direction on a much steeper road than Wednesday's race) for the three of us who are in top GC positions. It took over an hour to get a breakaway off, comprised of Scottie Weiss (again! This guy has been in just about every break this week!) Aaron Olson (also double duty as this guy was in the break at Martinsburg too) and our Mike Sayers. Webcor must have forseen our strategy because they had such a fierce tempo on that between their pace and Olson's unwillingness to help pull in the break, they were reeled in before the climb began.
I shook my head as Horner used his guys like the stages on a NASA rocket. One after another they pulled as hard as they could, swung off, and as we made the left turn onto the climb there was just Justin England left in front. It was textbook from the team Saturn playbook, but the Webcor guys had to be strong enough to do it. Today they proved they were up to the task. Wondering if I could hold this fierce pace, I kept hoping Justin would hit his redline so I could settle in. About 1km into the climb, I realized that we weren't going any faster and Horner wasn't going to attack solo with over 40mi remaining in the stage. I didn't dare look behind me but I knew that this pace would have shelled just about everyone. Moninger was pulling even with me, so that was reassuring to know that we had at least two hanging on to this murderous pace. It's a 7km ascent at a pitch varying between 6 and 18 percent (at the top). Former Canadian national champ, Dom Perras, was hanging in there and he went for the KOM points over the top. Somehow he blew himself up doing it and got dropped as we sweated and huffed our way through the thick mist shrouding the mountaintop. We were down to four guys, and England was gapped off the back momentarily. Scott was having trouble seeing the road through the dense fog and I screwed up a couple corners, so Horner and England came back to us pretty quickly on the 80 kmh/50mph descent.
For the next hour, the two Webcor riders kept the pressure on, rotating smoothly, while Scott and I had the luxury of not having to ride (9, and then later 22 riders were chasing us at between 0'45 and 1'50 behind, including three Health Net teammates!). This four-man group was good and bad for us, since it was potentially costing Jason his podium finish but also forcing Horner to do some work.
Over the dirt climb again. Jeff suggests we attack there, and I drifted off the back of the group to see if the Webcor manager might over excitedly suggest a preemptive attack from Horner over their radios. Nah. My play-acting needs some work, I guess.
Onto the final climb with 15km to go. Horner drops off England's wheel and gets on mine. Jeff says into my radio that I can't allow this, as it negates an attack from Moninger (Horner could jump onto Scott and potentially get rid of me simultaneously, should I not be able to respond immediately). I sit up and drift right, while Moninger immediately jumps left and gets a gap. Horner is now left to decide whether to keep using England or go after Moninger, and I see he chooses the former. For the next 2 or 3km, England uses the last energy in his tank, and I can hear Horner urging his teammate on, encouraging England to get his team leader to the steep part of the climb. Finally England blows up and it's too soon; there is still a lot of this climb left. Horner drills it in the gutter (leaving me precious little roadway, as in zero, to draft off him). He might be hoping that dragging me through the roadside gravel and debris will net me a flat tire too.
I'm right on the limit but I can't let go now, finding something extra inside as we hit the steeps. Chris has brought Moninger back from a 20 second lead to under 10 seconds, but he's struggling to close this last little bit. Over the top and onto the rolling ridge road. I know this section well, having won this stage in a prior year... I know that if I can just get a little bit of a draft off Chris, then I have a chance to jump him when I recover. OK, here goes; hit him once. My jump isn't hard enough and I see Moninger looking back as I have to sit up and coast - Chris has gotten into my slipstream.
Drop back onto Chris's wheel. He has to keep chasing; this is two on one and the situation we've been hoping for since we built this team last winter. Jump again, attack two fails. Chris is so bloody strong. A minute later, running out of flat road (a descent definitely wouldn't help me in attacking) I jump one last time. Third time is a charm; Chris cracks and I'm clear. For 20 seconds or so I give it everything to widen the gap, but Scott is going so well that I can't seem to catch my teammate! With what air is left in my lungs and numb, bloodless fingers, I press my mike button and beg Scott to look back... he's got to see that I've gotten rid of Chris and this is our best bet for victory for both of us... Chris is too good a descender and there is 10km of descent to the finish ahead of us. The skies open momentarily and drench us as one by one, each separated by about 100m, we make the right turn onto the narrow winding forest descent.
Finally Scott sees me coming and waits up. Over the next 10 minutes he and I railed it, with Scott doing at least two thirds of the work. I don't see Scott at full steam often, but this was amazing. Like the 2000 time trial national championships, I literally could feel the muscles micro-tearing. The only other time I felt this bad trying to hold someone's wheel was when I had to follow a fully aero kitted out Eric Wohlberg as he single handedly dragged our five man team to 2nd place in Australia's Herald Sun Tour team time trial a few years back.
When we got to the line, we had nearly 50 seconds on Chris and with the first place time bonus, Scott was assured of leaping from fourth to second place overall. I've won my first USA stage race since the 1989 Tour of the Gila, and it feels great. The long threatening rain finally dumped on us about five minutes after the race finish, as the local TV crews were trying to do their interviews.
The owner of the local drugstore chain Kopp Drugs, a super nice guy going by the name of Morley, took us out for a celebratory dinner afterwards. DD and I just drove down to Asheville, NC today (Sunday) and along the way we got the great news that (not to be outdone) our "crit squad" aced NYC, with Greg and Gord going 1-2! On a roll! 'Til the big Charlotte criterium next weekend then, thanks for reading!
Email John at jlieswyn@cyclingnews.com