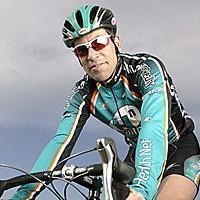 John Lieswyn
Photo: © Jeff Tse
The John Lieswyn Diary
A pro racer who now mostly concentrates on the US domestic scene, John Lieswyn is one of Cyclingnews' most popular and sometimes controversial diarists. He has been racing since 1985 and a Cyclingnews diarist since 1999. John likes both criteriums and longer road races, and seems to particularly like it when the going is hard. He has raced in the Regio Tour, Peace Race, Tour of Poland, Vuelta a Guatemala, Tooheys GP and Commonwealth Bank Classic with success, as well as winning stages in the Sun Tour, Killington and Superweek. In 2004, he moves from 7Up/Maxxis to Team Health Net presented by Maxxis.
Tour of Georgia Stage 1, April 20, 2004
Dream start
Yes Yes YES YES YES!!!!!!
OK, celebration over. WOOOHOOO! OK, it's really over. For now.
How did it go? Why didn't we throw men in earlier in the chase? What was Lance doing? Why did Cipo sit up on the last circuit climb? These questions and more will be answered...
Before the race we were sitting across the street from the hugely expensive loaner RV bus that LA is using this week. We laughed for a while at the thought of guys like Creed getting the boot from it... "Hey buddy, your RV is the Subaru. Later!" (turns out we weren't far off the mark; apparently just LA and GH are permitted to use it most of the time).
It was very warm out there and for much of the race the riders were happy to talk and just roll along. A breakaway of two in the strong winds was not going anywhere. Vogels, Julich, all the other former domestic scene racers now competing mainly on the continent had many old friends to catch up with. I sought out as many Euro's as possible, starting with a "Welcome back to America, Mario" and a much longer conversation with No. 65, Sergio of Domina Vacanze. I wanted to extend as much hospitality as possible. I know how unfriendly it can be racing in a new peloton halfway across the world.
While the leaders were eking out their seven minute lead, the peloton rode mostly two by two and at one point I took a long and easy pull with Tony Cruz. I told him that his performances in Europe are impressive and most people know how much he does for his team. He is away from family as much as career soldiers are and it must be very hard.
Mike and I led out Gord for the third place points at about the halfway mark of the race, just to test the legs a bit. We weren't going to kill the whole team in some huge lead-out, but if the remaining one second and one point was there for the taking, we'd do it.
Shortly thereafter, the Euro's started dialing it up and easy conversation was over. The over seven minute gap fell rapidly. All along the course, thousands of Georgians had come out of their homes and businesses to cheer and get a glimpse of the man who beat cancer to become one of the world's greatest ever athletes. It wasn't just the LA show either, since I saw a few people holding up VIVA MARIO signs. One sign read "T-Mobile Sucks", certainly showing the holder's preference for LA over Ullrich for the upcoming TdF.
Since we haven't won a major race since Gord's double at Merced and we're just a teeny little D3 team, we didn't feel the pressure to do a lot of work in the early stages of the chase. I took just one pull at the front before the team yelled at me not to set a precedent. Yet.
I never saw Lance until about 15km to go; I'm sure he was hanging at the back staying safe. Onto the circuit: OOF. This is hard. First time around and on our way to the "Three to go" sign, it was blistering and everyone seemed to want to be on the front. I blew up and was drifting back when I overheard a CSC guy say, "Everyone here is kamikaze. I never come back to America!" Next lap though it was much smoother.
Contrary to some reports, Cipo did not contest the sprint because of the crash - I was right next to the crash and it was 60 guys back! Cipo at that point was top 10! My room-mate Chris Wherry was lined up with Gord 20 guys from the front and watched Cipo just pull out of the line on the brick hill and sit up. He didn't have it! End of that story.
Also, regarding Horner, just because a man races in the USA doesn't mean he isn't just competitive - he's the undisputed favorite to win. Even with a weaker team, Horner IS the man to watch here.
OK, back to the circuits. Two laps to go and Gord is on my wheel 50 guys back. I take him up the bricks and past the entire bunch on the descent. Racing side by side with CSC past the finish line, one lap to go. Overtook them but Gord settled back a bit. I was done pulling at the bottom of the hill, and drifted back to around where the crash happened. Don't know how many went down, BUT WE WERE WAY THE HECK OUT OF IT. Nobody near there was going to get a stage placing. Jason pulled hard to get Scott Moninger back in contact after the crash, while I was far enough away from it that it didn't affect me at all.
Till tomorrow then. And no, I don't know if we will try to defend a sprinter's lead in a stage race that's certainly going to be decided on the climbs. Perhaps in order to go for another stage victory. But it will be tactical...
Yeah!
Email John at jlieswyn@cyclingnews.com