Recently on Cyclingnews.com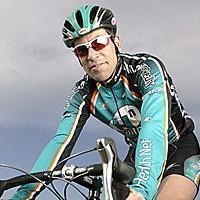 John Lieswyn
Photo: © Jeff Tse
The John Lieswyn Diary
A pro racer who now mostly concentrates on the US domestic scene, John Lieswyn is one of Cyclingnews' most popular and sometimes controversial diarists. He has been racing since 1985 and a Cyclingnews diarist since 1999. John likes both criteriums and longer road races, and seems to particularly like it when the going is hard. He has raced in the Regio Tour, Peace Race, Tour of Poland, Vuelta a Guatemala, Tooheys GP and Commonwealth Bank Classic with success, as well as winning stages in the Sun Tour, Killington and Superweek. In 2004, he moves from 7Up/Maxxis to Team Health Net presented by Maxxis.
Super Horner & duelling sprinters at Redlands
Stage 3 - March 26: The Sun Panorama Point Road Race, 67.6/97.6km
Last year I won Panorama Point. This year, even though I'm five minutes down on Horner, I had no leash. My teammates tried hard, with Danny and Mike in the break. With one lap (8mi) to go Danny was solo with about a minute thirty in hand. A word about Danny. He's hilarious, strong as an ox, former world U23 time trial champion, totally unassuming, and one of the nicest guys I've ever met. I've never seen him raise his voice in a bike race. He never even gets on the team race radio. Everyone likes him.
Horner didn't care, he can win anything, and when you are that good, why not? I was sitting on his wheel while he dialed his team up to full speed, knowing that should Horner fly up the last lap climb, Danny would be caught. So I rolled up next to Chris and asked; "hey Chris, Danny is like twelve minutes down on you! What's up?" His reply? "Can't let Danny have too much time. I'm not going to catch him." Yep. Allrighty then.
I resolved to stay on his wheel no matter what, thinking that if I could, then Horner might be less eager to tow me to the finish line in a furious chase after Danny. There's only one problem here. The final climb is STEEP. Bottom to top it's about four minutes of pain. The steep part is twenty seconds. Five seconds in, I couldn't hold Horner and Grajales. The Belgian on Postal came by me but he couldn't do it either. Horner looked back, saw he had Grajales and nobody else, and went to warp drive. VDB (the Postie), Bergman, myself, a dozen guys, we didn't let up. No time to let the HR come down after the climb, just kept it pegged, and even though a dozen guys were giving it their all, Horner towed Grajales away from us like a motorcycle.
I heard the call over the radio; Jeff was encouraging Danny with 8km to go "you've still got 40 seconds! You can do it!" then not a minute later "Horner is 5 seconds behind, rest up, it's going to be hard to hang on". Danny had dropped Ivan Dominguez (Colavita-Bolla) way earlier, but Ivan had the good fortune to not get caught by the Horner express on a hill. So Ivan and a couple other guys got to hitch on and get towed up to Danny. Sprinting against Ivan is a 99 percent losing proposition, so we knew that now our guy was more than likely racing for second. I had my own work to do back in the very small second group, like reeling in VDB and keeping the chase on, but it was all peripheral mechanical junk. I was bummed for Danny and the race wasn't over. We've tried so hard to win, day after day, and come up short. Danny managed the consolation prize of second.
Stage 4 - March 27: Salton Criterium, 60/90mins
Gordon McCauley spent more time on the front than anyone else by far. He went so hard, so long, that for a dozen laps nobody bothered to attack (except the irrepressible Erik Saunders of Ofoto). Gee, I wonder why he would drill it on the front, chasing all breaks and then leading out Horner and Dionne at the end?
I am a former teammate of Charles Dionne and consider him a friend. I'd developed a certain perspective on Gord after years of leading out Carney (1997 to 2000) and then Dionne/Henderson/Monahan (2001-2003). At first I thought working for Gord was just a job, but it didn't take long for respect to turn to friendship. Not only do I hold him in high regard for winning major European races as well as just about every race in America, I now see him as a great guy too.
Two laps to go my whole Health Net team was lined up behind me and I wound it out up the homestretch. Took it for a whole lap and a bit more. When Wherry came around me to put me out of my misery, I felt like a fish out of water gasping for respiration. Shoulda attached a sign to my back "slow vehicle… beep beep beep"… nobody rear-ended me. Had to recover quick so I wouldn't get gapped out and lose GC time (I'm still 4th on GC, and VDB is just a handful of seconds behind). Going into first corner, last lap, I could see Charles diving Gord's inside. Charles got Brice's wheel (this is a bit of a no-no, you don't take a sprinter off his leadout man's wheel and not expect to get slammed for it). From here on I didn't see any more since I was now too far back in the long, snaking line of riders who were all just trying to hold the wheel in front of them. I heard that Gord retook Brice's wheel and the windup continued until Brice was done at 2 turns to go. From there the reporters and the officials have already made their stories and calls, but the end result is one guy on the pavement and the other relegated from 3rd to 105th. Two sprinters did battle to be first to the last corner. Alex Candelario (Jelly Belly) skillfully swept by for the win.
I'm very glad Charles wasn't badly hurt, and sad that our hard work went to waste. You can't take away from Gord his decades of wins and professionalism, and I'm sure that we will give him a faster, more insulated leadout train in the future. We'll get that elusive win, and hopefully it will be in even bigger events to come.
There is still the queen stage, the Sunset Circuit Race. Horner has the overall race totally wrapped up, so we'll focus on the stage. Unfortunately for everyone not on planet Horner, tomorrow is yet another super hard climbing day. At least he isn't armed to the teeth with the likes of O'Neill and Danielson as teammates like 2003, when the triumvirate made us all look like we were on tricycles. He does have Grajales as an ally, but maybe there's a chink in the armor. There's a target on my back as far as Horner (although I AM 5 minutes down!) and Bergman (3rd GC) are concerned but I won't quit.
At the very least, it will be great training for the Dodge Tour of Georgia. If I lose fourth overall for trying to win the stage, so be it. I wouldn't put fourth at Redlands down on my resume anyway, and the prize for such a placing adds up to a couple Starbucks cappuccinos after it's split 17 ways. As far as how I plan to try and slay Goliath, you'll have to wait and see!
Til then,
John
Email John at jlieswyn@cyclingnews.com