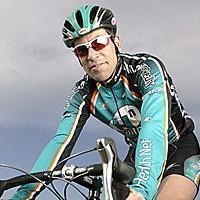 John Lieswyn
Photo: © Jeff Tse
The John Lieswyn Diary
A pro racer who now mostly concentrates on the US domestic scene, John Lieswyn is one of Cyclingnews' most popular and sometimes controversial diarists. He has been racing since 1985 and a Cyclingnews diarist since 1999. John likes both criteriums and longer road races, and seems to particularly like it when the going is hard. He has raced in the Regio Tour, Peace Race, Tour of Poland, Vuelta a Guatemala, Tooheys GP and Commonwealth Bank Classic with success, as well as winning stages in the Sun Tour, Killington and Superweek. In 2004, he moves from 7Up/Maxxis to Team Health Net presented by Maxxis.
Tactical analysis
Redlands Stage 2 - March 25: Redlands Ford Oak Glen Road Race, 129/171.7km
We hoped that Webcor would be forced to defend all day alone, and planned on again sending a couple Health Net riders up the road in an early break. Unfortunately for us, Jittery Joes duplicated their strategy from Pomona and helped Webcor chase all day long, in defense of Cesar's second GC position.
On one hand, you can't fault their thinking that taking 2nd at Redlands would be a real coup for the small budget, relatively unheralded Jittery Joe's squad. On the other hand, a strong argument can be made that helping Horner defend the yellow jersey is pointless. Why? Let's say that the 2 to 3 Jittery riders had not assisted Webcor at all. One: Webcor may have cracked 20 or 30km to go and Horner would have to call on his other friends (he has two team Monex guys to bail him out, as we saw in the final 5km before the climb today) sooner. Two: Horner is strong enough that he'd still be able to handle every attack, but at least we'd have an exciting race with lots of attacking and defending. Three: instead of 28 seconds (what the break actually had today at the base of the final climb) the break would have had perhaps 1:28 or even 2:00. Four: Horner would have still caught and passed all breakaway riders (see results). Cesar is showing himself capable of staying either on or very close to Horner. Ergo, without Jittery Joes doing any work to help Horner, Cesar would with very high probability still been in 2nd overall. By forcing Horner to do more work than just dancing up the final climb each day, Cesar would actually have a chance (albeit slim) to win the overall.
Why this extended analysis? Because in throwing in the towel and conceding the race win overall to Horner, Jittery Joes is essentially writing a check to Horner and decreasing competition. Now, if you disagree, that's your opinion and I'll accept that there are different ways of looking at it. Were I in Horner's position, like when I was defending the lead at the Tour de Beauce, I certainly wouldn't be complaining about receiving assistance from other teams. One thing we did do in Quebec was allow the breaks much larger time advantages, which in my opinion made the race quite a bit more interesting and tactical.
Kudos go to Sierra Nevada and Jelly Belly for really racing today. The Jelly Belly guy in the break had not much to gain but he didn't miss a pull. Wohlberg, Moninger, and Pate were all in the early break today and they each gave up their individual GC aspirations (nobody really thought that Horner would NOT be able to sweep up the entire break by himself) to try and have a real race here. Even with twelve men helping Horner defend the lead tomorrow you can count on at least three teams not being content to just fight it out between themselves for the scraps.
What about Postal? They've lost a main contender with Zabriskie out and they're continually missing the early break. Jurgen VDW (sp?) was far too late today, perhaps due to his unfamiliarity with the highly technical parcours, but tried repeatedly to go across to the break. Hopefully with the first circuit race tomorrow it will enable the Postal guys to join in the competition for real.
Today is the best I've ever done on Oak Glen and shows how much all this year's preseason racing and training has advanced my form beyond what's normal for me. One reason I wouldn't quit even when I was really hurting in the last 8km was how hard my teammates worked today and the expectations that everyone from sponsors to media to friends. In hindsight, yesterday's long, hard bridge up to the breakaway cost me some power today.
Gotta hand it to Bergman (Jelly Belly): he put in a convincing, powerful attack right after I'd tried an attack of my own. Good timing for a youngster. He got such a big gap that even when he blew up a bit, he had an insurmountable hold on third place. Someone I don't even know cranked by me at 400m to go and I had to dig deep to hang on and then re-overtake him for 4th.
Wherry and I rode back to the Robertson's together, about 40 minutes mostly downhill off the mountain and into a headwind.
Number of cars that flipped us off or buzzed us at 60mph with an inch to spare: 3
Number of spectator cyclists that blazed by us: 2
Number of new subdivision houses that have sprouted up at the base of the mountain just since last time we were here: at least 200
Thanks for reading. We'll be trying hard again tomorrow. Never say die.
Email John at jlieswyn@cyclingnews.com