Recently on Cyclingnews.com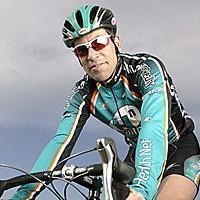 John Lieswyn
Photo: © Jeff Tse
The John Lieswyn Diary
A pro racer who now mostly concentrates on the US domestic scene, John Lieswyn is one of Cyclingnews' most popular and sometimes controversial diarists. He has been racing since 1985 and a Cyclingnews diarist since 1999. John likes both criteriums and longer road races, and seems to particularly like it when the going is hard. He has raced in the Regio Tour, Peace Race, Tour of Poland, Vuelta a Guatemala, Tooheys GP and Commonwealth Bank Classic with success, as well as winning stages in the Sun Tour, Killington and Superweek. In 2004, he moves from 7Up/Maxxis to Team Health Net presented by Maxxis.
Looking forward, and back
January 8, 2004
For six weeks now, various happenings and topics have floated around in my mind as sources for my next entry. Today something happened that finally got me to the keyboard. So bear with me as I set the stage for what will ultimately be just another cycling oriented entry…
When I woke up it was 5 degrees below zero Fahrenheit. I'd volunteered to go direct parking traffic at the Methodist Church on campus for the visit of Democratic Party presidential candidate Senator John Kerry, but when I considered the previous night's Weather Channel frostbite warning I elected to stay in bed buried under my 97lb. Doberman for a little while longer. Ah, the life of a professional cyclist, I thought: relatively little remuneration but the luxury of choosing how to spend one's training day.
After a bone chilling ten-minute cycle-sprint, I got to the church 30 minutes late but early enough to beat most of the car traffic and help out with parking. The first time I'd heard of Senator Kerry was through Al Franken's number 1 bestseller "Lies…" wherein Kerry was a featured character in a Franken comic strip chapter entitled "Operation Chickenhawk". On further investigation, (and without taking anything away from the life stories and qualifications of the other candidates and indeed people we identify with like Armstrong) I found Kerry's life quite inspiring. Today I had the chance to hear him in person, quite a luxury for us Midwestern Americans lucky enough to live in Iowa, where the first primaries of the election are held. He spoke powerfully for an hour, without notes, on what he'll do in his first 100 days in office, to an audience of 250 Ames residents.
When the subject of fingerprinting and photographing visitors to the USA (of which I have an interest since the next country I will go to (for a 8 day stage race) in three days time is Brazil, where they are instituting a 3 year old's response by doing the same to American visitors) came up, he immediately brought up the most important point: the US policy should be NON-DISCRIMINATORY. Left unsaid was basically that if we are going to fingerprint and photograph visitors (a 15 second electronic process) at all, we shouldn't exempt 27 countries because they are mostly European or rich. Brazil has a point in that they feel discriminated against, having been left off the list of 27 visa exempt countries. If everyone had to submit to the same requirement, Brazil would have no basis on which to complain.
After the meeting wrapped up, I waited as he signed the book "Tour of Duty" (about Kerry's Vietnam War service) for the Ames resident who was Kerry's rear gunner then. TV cameras were all about, cameras flashing, and I squeezed up next to the Senator. Suddenly I found myself face to face with the man who very well could become the most powerful leader on earth, and I tried to encourage him to address the immigration issue while it is still hot on world media. Senator Kerry was suddenly very interested when he learned that I was professional cyclist. After saying "I'm very jealous of your career" he then launched into telling me about a 112-mile ride he did, and of meeting Greg Lemond. He asked which team I rode for, and whether I'd be back from Brazil in time for the primary vote (I don't get to, since team camp starts the same day as the primaries). For our few minutes, face to face, surrounded by media and supporters, we chatted and I kept steering it back to the election.
As I rode home it began to sink in that the Senator didn't want to talk politics with me. After all, he won't see his wife until primary day, Jan 19th, as both of them are campaigning full out. He is investing 24 hours a day, mortgaging his house, and fighting for this nomination. And he wanted to talk cycling. I blew it. Several hours later I realized how much that moment means to me. Even if he isn't nominated to run against Bush, or he is and loses in this American culture of fear, Senator Kerry is a very powerful politician with 18 years in the Senate, advocating the best interests of humanity. There are several words, which have begun to be viewed as tainted: politician, lawyer, and liberal. Rather than tearing each other down, we should view everyone not as members of a particular group but as members of humanity.
"I envy you for your career". I smiled and dismissed his statement; it couldn't be true. But now I'm reminded how important it is to maximize my little remaining time as a professional athlete. So now I'm going to share with you some of the high and low points of this off season, and none of the vast majority daily grind since you already know all about riding a turbo trainer day in and day out.
San Francisco, early December
Dawn and I made the trip for a friend's wedding, and I took advantage of the fact there wasn't 6 inches of snow on the ground to get in some outdoor riding. To me it didn't matter that it had been 78 and sunny the week before our arrival and now the Bay Area was in the midst of a cold, wet winter storm.
I bumbled across the Golden Gate Bridge, looking for a cyclist going approximately my speed to talk to. The first such unlucky rider was a middle aged man on a mountain bike (don't laugh about the "my speed" bit, he was cruising!). We chatted for a while until a group of roadies sped past, and I latched on. One was attired in the uniform of local powerhouse team Ofoto, and I figured they were likely headed out for something approximating the 4 hours I was looking to do. One of them introduced himself simply as "John". It wasn't until an hour later that I realized he was Tour veteran John Brady, of the vaunted and historic 7-Eleven team. At one point the pace lit up and I found myself, completely out of shape and hitting HR's in the 180's, side by side with Brady. Neither of us half wheeled the other but we forced the pace together until we'd caught the group ahead (there are literally thousands of serious bike riders out riding on any given weekend in the Bay Area), and with a pained smile we settled into the draft content that we could still push ourselves pretty hard.
Two days later it was a weekday and a bleak one at that as I set out alone over the bridge, hoping to again hook up with some riders "going long". After a while I realized I must have been the only one to not check the weather forecast. A fine mist hung in the air and the wind off the coast was intensifying, but I was determined to get in a "good one". After a couple stops for coffee and a stop at a bike shop for a bike route map, I impulsively diverged from my planned route around the reservoir and took the hard left up to Mount Tamalpais (Generally known simply as "Tam"). Almost instantly the road began a steady climb and it narrowed as the houses became progressively further spaced apart. It was so refreshing to only be wearing two layers of clothing and no booties, I'll tell ya!
In a ravine to the right I caught sight of frozen-in-place buck sporting massive antlers. There was no sound other than the tires on the pavement and my measured breathing. After passing an empty golf course on the left, a short descent brought me to a winding lakeside road and then over a concrete dam. Not much of a mountain, I thought to myself. Continuing on, the road narrowed yet again and made a sudden switchback turn on itself into a steep climb. Ohhhhh…grunt. Twenty or so minutes later I finally reached the ridge road at the top, and stopped to consult the map. Yeah, I'd say that was the most beautiful, quietest wilderness climb I've done in recent memory. The weather and timing probably had something to do with not seeing another human being for the last hour.
With enthusiasm born of such euphoria I elected to continue north and west towards the coast. I zipped up my light vest and started down. The coarse pavement was broken at its edges and due to the technical descent I chose a conservative speed that would allow me to admire the breathtaking views. Rounding one bend I startled a large canine, whether it was wild or a stray domestic breed I didn't have time to contemplate. It didn't bark or pursue, rather it just stared at me as I passed, as if to question my right to be there.
Ten minutes after crossing the ridge road I was again back in reality, on coastal Highway 1, dotted by country homes and an occasional vehicle. The road pitched up again going north towards Stinson Beach. The air was heavy with the scent of the white birch forests all around, and huge piles of light birch bark looked just right for natural trampolines. My reverie came to a sour end when the mist in the air began to change into cold precipitation. I'd forced myself up to nearly time trial pace to try and outrun what I hoped was a short squall.
By the time I made the pub on the outskirts of Stinson Beach, the intensifying rain and the beginnings of hail drenched me. Laying my bike against the wooden rail, I scurried inside to the warmth of a gas fireplace and a dark wood panelled bar. With a hot chocolate in my hands, the bartender then asked what I was thinking, riding into a storm. I wonder, what WAS I thinking? Then a middle-aged woman, helmet in hand, trod in similarly sodden. Peeking outside I marvelled that she'd made it all the way out here on a heavy "comfort" bike. She lived on a houseboat 30 miles away in San Rafael, and had been picking up Christmas presents in little country stores until the storm rolled in.
Later, as I shivered down a long descent and wished I hadn't spaced out (leaving my rain jacket at the hotel), it was the thought of her plodding mostly uphill and headwind home on that 40lb bike (with no cold weather cycling gear either) that made me feel wimpy. Soon I was nearly as cold as I had been the day that I took seventh in the inaugural 240km Boulder to Breckenridge, near hypothermia and pretty much unable to support my own weight.
I hoped my nearly camouflage green 7up jersey wouldn't result in being rear ended by a car in the low visibility, again wishing for a bright yellow rain jacket. By the time I reached the suburbs I could barely manipulate the brake levers at stop signs. Surely, warm and dry drivers couldn't begin to imagine how difficult it is for a bicyclist to stop and wait at stop signs when he's well beyond the teeth chattering stage. The lesson here is: no matter how brave you think you are ("oh, I'm from Florida, this Texas heat isn't bad" or "I'm from Iowa, it can't get very cold in California") always be prepared for the worst! A month later the ride seems on balance to have been far more fun than discomfort. Isn't that the way of cycling; it hurts when you do it to extremes but those are the rides most memorable?
US National Development Camp, Chula Vista Olympic Training Centre San Diego
Southern California managed to give camp attendees a solid week of ten to fifteen degrees below normal temperatures, and again I had to forgo riding in shorts. But it was beautiful riding weather, sunny and calm. While I had done this same rider/coach gig last year, this time for some reason I was much more freaked out. The in-class stuff went great; I seemed to get through my Powerpoint presentation smoothly and the young riders had lots of great questions for the whole coaching panel on the last night, but it was the rides that worried me. I tried to remember how it was when I was 17, cocksure and in total control of my two wheels. I kept reiterating to everyone that we were here for pedalling practice, not braking practice, yet the following distances in the double pacelines were nerve-wrackingly short.
Despite my fears, I didn't have to explain to any parents that their son or daughter was in hospital on a ride I'd led. There was but one crash, and that happened during yet another "Jackass" imitation. I'm quite liberal and anti-censorship, but after this week I'm fully against that show, movie, and any like it. For some reason, boys think it's hilarious and they carry their $800 Sony videocams around like film directors, encouraging each other to progressively stupider stunts. It's not to say my generation was any more saintly, in fact I remember one National Team rider crashing a "borrowed" motorcycle and getting sent home (and never being heard from again).
On the morning of my departure I gave a three-minute speech that admonished everyone to keep their future open; don't burn any bridges. I don't believe anyone under the age of 60 has the luxury of saying or doing everything on their mind; diplomacy and restraint can pay great dividends down the road. The rider you argue with this year could be your teammate next year, and their opinions of you can affect your career options. At the same time, I wasn't thinking of that when I sincerely tried to work out differences with Gord Fraser and Scott Moninger at the start of the 2001 season. Now I'm looking forward to riding with both of them, relaxed that our working relationship shouldn't be hindered by the past. The Team Healthnet presented by Maxxis Camp starts January 18th, and I'll have an 8-day Brazilian stage race under my belt by then!
Email John at jlieswyn@cyclingnews.com