Recently on Cyclingnews.com
An interview with Thor Hushovd, December 18, 2003
A turbulent year
Something amiss in 2003, but planning on coming back stronger than ever
Photo: © Chris Henry/Cyclingnews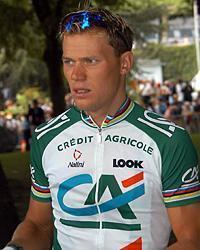 Named after the strongest God in the Nordic mythology, Thor Hushovd doesn't mind the odd reference to Vikings at all: "To be called a Viking sounds great to me," says the tall, blond Norwegian. "A Viking's big and strong, and it strengthens my mind to hear people call me that." And as Gabriella Ekström discovers, after a turbulent year, he'll need all the strength he can muster to achieve success in 2004.
So where does a Viking go on vacation, one might wonder...
"My partner Susanne and I decided we wanted a short but still very relaxing vacation, so we have been to Reykjavik in Iceland," says Hushovd in his big deep voice. "We stayed at an exclusive spa-hotel and had tons of good massages, and lots of nice dinners with even better wine."
After plenty of massages, food and wine, the mighty Thor's back home in Le Boulou, close to Perpignan, preparing for a team get-together in Normandie, but already looking forward to a Christmas at home. Unlike no other rider, Hushovd tells me about the importance of friends and family when you travel most days of the year. "After the season, I make an effort to be with my family and with my friends. I spend great amounts of time with my friends."
Originally from Grimstad in Norway, his early influences came from another great rider from Grimstad. "Dag-Otto Lauritzen has always been a great role model of mine. From the age of ten, I rode alongside him when he was at home during the winters. He has inspired me, and he has shown the world that you can become a star and win great races even though you come from tiny Grimstad. I always wanted to do the same thing!"
"After my Tour ride this year, my team has decided that I will play an even bigger role, and with O'Grady no longer in the team, my chances to be seen and appreciated are bigger of course. "
- Thor Hushovd on his new role as Credit Agricole's main sprinter
Nowadays, it's Thor who's a household name in Norway, and he is a popular name at seminars where he tries to increase the interest for his sport. "I get a copious amount of requests every year. I try to say yes to what I can fit into my schedule. For example, I have done quite a few talks about the Tour de France."
Winning form at the Dauphiné
Photo ©: Jeff Tse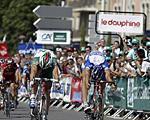 Bye bye O'Grady
Photo ©: Chris Henry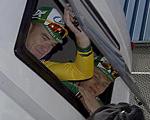 Kaggestad and Hushovd
Photo ©: AFP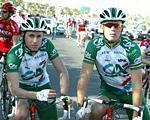 Building a bigger engine in 2004
Photo ©: Jeff Tse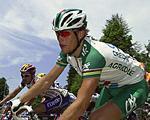 The Centenary Tour must be considered the highlight of the season for Hushovd, where he was often seen mixing it with sprinters like Cooke and Petacchi. "The past year has been turbulent to say the least. I suffered from over-training during the early season, and missed out on all the Classics because of that. I found my form in time for Tour de France, and I was very pleased with the way I raced there. In particular, I like the fact that I have developed into a better sprinter. The end of my season felt equally good, especially my win in the GP Jef Scherens Leuven in September."
However his late return to form was marred by a crash in the very next race: "I missed the last part of the season, including the World Championship because of that, and I'm not too happy about it, but I'm still content with my year in total. It was a simple crash - someone in front of me went down, and I couldn't avoid him. When I landed, I cut my left knee open on the spokes of someone's back wheel. I had to have five stitches, and couldn't get right back to training. After two of three weeks, I figure I was back at my normal level."
After his achievements in the Tour, and with the news that his co-sprinter at CA, Stuart O'Grady, has signed for Cofidis, Thor's role has changed slightly. "After my Tour ride this year, my team has decided that I will play an even bigger role next year, and with O'Grady no longer in the team, my chances to be seen and appreciated are bigger of course. Credit Agricole has hired some good riders that will be able to help me in the sprints. Now it's all up to me to show everyone in the team that I am the best sprinter!"
When asked about his interview with newspaper Nettavisen, where Hushovd requested Credit Agricole hire certain riders on his "wish list", the Norweigan denies asking for any one rider in particular: "I didn't wish for a special rider; what I wanted was talented lead-out riders in general. That is my dream, to get a team with the perfect ability to lead me out for a big sprint."
Though there's one rider that Thor appears to have had some influence: fellow Norwegian Mats Kaggestad, who joined Credit Agricole to the 2003 season. "It has been awesome to have another Norwegian at my side in the team. I hope I'll have him or another countryman with me as long as I ride!"
Always close to the front in the Tour de France sprints, Thor says that the 2004 route looks special, but nevertheless very appealing, and he has started to plan the coming season. "I like it very much. The first 10 days will be of great importance to us sprinters, and I also think this course will provide a much closer fight for the yellow jersey than what we are used to seeing. As for my early season, it has been planned up until Paris-Roubaix so far. There can always be chances of course, but it will resemble what I had planned to do this year. My first race will be GP Marseillaise on February 2nd, and after that we'll race mostly in France until the Classics begin in Belgium."
Until then, his preparation and winter training will be the same as usual, with a few minor changes. "Winter training to me is rather simple. It's important to keep training a little all the time. The biggest change I will do is that I'll try to control the harder parts of my training more. I will ride specially designed intervals, and I will start doing that earlier than what I would normally do, to try and build a bigger engine."
You wrote in your online diary that you yearn to be serious, eat real food and go to bed early after you've had some time off. How come? "I wrote that after a certain Christmas week with lots of food and as a professional athlete, that's not the life I want to live. Every now and then, I'll have to try and follow a more normal lifestyle and be a bit more like my friends. But I could feel my body decay, and I felt it was important for me to start over, rebuilding my body. This new start of mine occurs on January 1st, every year.
Being one of the heaviest riders in the peloton, it's not surprising Hushovd watches his weight: "I always think about my weight. That's one of the worst things with being a cyclist. I can't afford to gain too much weight, because I know it's going to be hard to get rid of it again. During the winter I will pay attention, but I try to be relaxed about it."