Recently on Cyclingnews.com
An interview with Susanne Ljungskog
Life's about taking risks
Susanne Ljungskog
DOB: March 16, 1976
Age: 26
2003 Team: Team Aliverti-Catalunya-Kookai
Selected palmarès (1998-2002)
2002
1st, UCI points
1st, World Championships, road race
1st, stage 14, Grande Boucle Féminine
1st, stage 3, points, Emakumeen Bira
1st, stage 1, Trophée Féminin Méditerranéen
1st, prologue, stage 1 & 5, & GC, Giro della Toscana
2nd, stage 9b, 12, points, combined & GC, Grande Boucle Féminine
2nd, stage 2, GC, Trophée Féminin Méditerranéen
3rd, mountains, Grande Boucle Féminine
3rd, GP de Plouay WC
3rd, GCTour de Snowy
4th, GC, Emakumeen Bira
5th, Tour de l'Aude Cycliste Feminin
6th, GP Suisse WC
6th, Thüringen-Rundfahrt
7th, Hamilton WC
10th, Primavera Rosa WC
13th, Sydney WC
19th, World Championships, time trial
2001
1st, GP Suisse Féminin WC
1st, Primavera Rosa WC
1st, stage 12, Grande Boucle Féminine
2nd, Montréal WC
3rd, stage 9, GC, Tour de l'Aude
6th, GC, Grande Boucle Féminine
7th, World Championships, road race
8th, UCI points
8th, GC, Tour de Suisse Féminin
10th, La Flèche Wallonne WC
16th, Trophée International WC
2000
1st stage 4, Vuelta International a Majorca
2nd stage 3, Vuelta International a Majorca
2nd, Luba Classic
3rd stage 6 & GC, Holland Ladies Tour
3rd stage 12, La Grande Boucle
3rd, GC, Vuelta International a Majorca
4th, World Championships, road race
4th, stage 3, Tour de Suisse Feminin
5th, Tjejtrampet
5th, Embrach WC
5th, Rotterdam Tour WC
6th, La Fleche Wallonne WC
6th, Greenery International Damesronde
7th, GC, Tour de Suisse Feminin
13th, Primavera Rosa WC
1999
2nd, stage 5, Holland Ladies Tour
2nd, stage 2, GP de la Mutualite de Haute Garonne
3rd, stage 6B & GC Holland Ladies Tour
3rd, stage 13, Hewlett Packard Women's Challenge
4th, prologue, Thuringen Rundfahrt
5th, GP Tell WC
10th, Beneden-Maas WC
17th, GC, Hewlett Packard Women's Challenge
1998
1st, European Espoirs (U23) Championships, road race
1st, stage 5, Thuringen Rundfahrt
1st, Swedish Championships, road race
1st, stage 2 & 4, Eurosport Tour of Poland
1st, Tjejtrampet
1st, stage 4, Tour de l'Aude
2nd, European Espoirs (U23) Championships, time trial
2nd, GC, Thuringen Rundfahrt
2nd, Swedish Championships, time trial
2nd, GC, Eurosport Tour of Poland
3rd, stage 8, Tour de l'Aude
3rd, stage 1 & 4, Thuringen Rundfahrt
5th, GC, Tour de l'Aude
6th, GP Tell WC
17th, World Championships, road race
Personal stuff
Reads: Everything. Especially Rosamund Pilcher.
Likes: To cook. pasta, and make her own bread and muffins*
Tries to: Learn Italian by looking up words and sentences when she come across them.
Thinks: No pain, no gain.
Susanne's magic muffin recipe
Ingredients:

5 eggs
400 dl of sugar
2 tablespoons of baking powder
2 tablespoons of vanilla sugar
40g of melted butter
175g kesella
6.5 dl flour
2 mashed bananas
1 dl of milk
note: 1 dl = 1 decilitre = 100ml
Whip eggs and sugar until puffy. Mix the other ingredients. Strain flour, baking powder and vanilla sugar. Pour into forms and place in the oven (240 C) for 8-10 minutes.
Months ahead of the tourists, the pros travel to the warmer islands of Spain to prepare for the season. Gabriella Ekström spoke to Susanne Ljungskog during a three week camp at Mallorca, where the weather helps thaw away the last of the Swedish winter.
"I normally go away for a training camp in February each year," says Susanne, just in after a five hour session on the roads. "This is the seventh year in a row that I go to Mallorca.
Wonderful World's
Photo: © Jeff Tse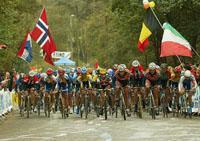 "Here I can form a good base and put in a lot of kilometres. Sweden's very cold and snowy at this time of the year, while it is spring here, so it's a better place to spend long hours on the bike. We rent a little flat in Portals Nous, Palma, and take care of all the shopping and cooking ourselves. There's not so many tourists on Mallorca yet, although you'll see some. I'll ride all over the island, except for the Alcudia area, because that's on the other side of the island."
She's a rider familiar with most since she won the World Championships in October. She has been a top rider for years with World Cup victories and high placings at the Tour, so it wasn't a big surprise when the powerful Swede threw in that late attack and went on to become world champion. Or was it?
"It was hard for me to take in at first. I couldn't believe I had won it the way I did. It's never fun to see people crash, but it is all part of the game where anything can happen.
"It was exciting; maybe a bit too exciting - after the race, I think I asked if I was really the world champion about five or six times. It was hectic during the last two kilometres, from where they crashed, to where I caught up with those in front, and to then win. I was a bit shocked, so I had to ask."
Susanne has been involved in sports since a very young age, and she knows the importance of having good backup, and she is grateful to the people who have supported her.
"I've done lots of sports. I've skied and I've also played soccer, handball and badminton as well. I started with soccer when I was seven or eight. My parents were always very interested, supporting me in any way and drove me to training sessions and matches. It would have been much harder without their support.
Is it really happening?
Photo: © Roberto Bettini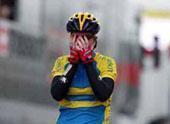 The idea with cycling came from a friend to my father. He had a son who was already riding and he asked my father if he thought I'd be interested in going for a ride, so I thought I could give it a try. I did my first race when I was twelve and it was a mixed race with both boys and girls. I finished second, and from there on I just kept on."
"After I graduated from high school in 1995 and could concentrate more on cycling, I also met Klas, my boyfriend and trainer. He saw early on that I had the capacity to become really good and he has put his soul into my development. He used to be a good rider himself - he was Swedish champion in '93 and he has participated in four World Championships. If there is something he does not know, he will figure it out in order to help me."
"There were no trade teams for women back then, but I rode in the national team from 1996-97. In '97 I started to have physical tests at Medisport in Germany. After the test, Siegfried Kettman, Klas and I sat down and discussed our goals and how to approach them during the next three month period or until the next test. We were there the day after the Worlds TT for example, and discussed the rest of my fall and my winter training.
In 1998 I got a foot into the team Greenery Hawk, where Hanka Kupfernagel was riding. With them, I got a chance to ride some international races and managed to win a stage in Tour de l'Aude. I also won the European Championships road race that year and made a decision to go even harder from thereon."
"1999 was not a good year for me. I was ill and I was injured and I didn't have any real success until I started riding with Vlaanderen in 2001, where I won Milano-San Remo and then the GP Suisse Feminine which was decisive moment in my career, of course."
She has stated that she knows she has what it takes to win the Tour. Which race would be the bigger feather in the hat then?
Grand Boucle: Goal #1
Photo: © Russell Standring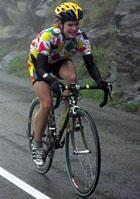 "There is a big difference between a one day race and a stage race. I think it is bigger to win the Tour, it really shows who is the best rider. You need endurance and tactics, and you need to control the whole range of racing: climbing, descending, time trialling and flat stages. On the other hand, it is something special when you win a one-day race like the World's, because there is very little time to repair mistakes there. It's there and then, and you only get one shot. To win the Tour is definitely my goal now, and after that the Olympics. Nowadays, victories are all that counts for me. It is hard, but I like that pressure."
"It is easy to say that you are going to be the best rider in the world, but it is how and if you get there that matters. I started with a training program in 97, and it has only started to pay off now. You have to have a long term goal and then try to achieve it in an honest way. I have been very lucky, because even though I know it exists, I have never had any encounters with drugs in this sport."
Cyclingnews: You have signed for a new team this year. Why do you think you get on so well with the people in Aliverti?
Susanne Ljungskog: They have a great respect for what I do and they believe in me and my goals. They don't step in and tell me that they want me to do this or to change that. Klas is also on the team's payroll and goes with me everywhere as a mechanic and as my personal trainer. I find this change inspiring and we will soon move into a little house in the outskirts of Pisa. It's good to have a change of location every now and then.
CN: I believe that was one of your demands, that Klas had to come with you to your new team?
SL: Absolutely. He is so very important for me and my career. I need him and couldn't do it without him and they seemed to understand and respect that. It is the first time that he is really employed by a team to help me. The SOK (Swedish Olympic Committee) has helped us a bit, but this makes our situation better, of course. I won't get rich doing what I do, but then again, if it was my goal to become rich, I would be doing something else.
CN: On a more personal level, have you experienced any jealousy or any changes in attitude towards you after the Worlds?
SL: I haven't been exposed to any jealous attitudes, really. Everything has just been tagging along. I don't know what people might be saying behind my back, but I haven't noticed any different attitudes towards me. No one has told me that I have become stuck-up since winning the title.
Winning ride to Paris
Photo: © AFP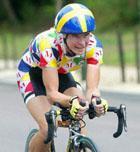 CN: You have a little habit of painting your finger nails pink for important races. Do you think it is important to be feminine as a professional athlete?
SL: I started with the pink nails in Giro della Toscana, since the maglia was indeed rosa. I thought, why not be pretty in pink? Then I painted them blue in time for the Worlds TT and it didn't quite bring the same luck, so I changed it back again!
I think everyone has to decide what suits them best. I don't care so much about how I look while I'm racing. I mean, I want make a good impression, but I don't put on a lot of makeup when I'm about to go riding. The thing with the nails is just a fun idea.
CN: Your diet before the Worlds was a little bit different from what most people would imagine.
SL: Yes. Because of the Tour, I was really thin this summer and early fall, where I wanted to keep my weight down because of the mountains. Then I started to eat a lot of things that you cannot normally allow yourself to eat during the season, but I needed to gain a couple of kilos. There was a big risk that the Worlds would be performed on a rainy and cold course, so I could happily tuck into pizza and cakes and a lot of good stuff just to put on some protection.
CN: You had planned to ride the Vuelta Feminina in Spain, but now it has been cancelled, you had to change your program. What is your opinion about the cancellation?
SL: That is a shame actually. I had planned to ride it, but now I changed my program and I'll do the Tour de l'Aude instead. I need a long race around that tim, and I'll be on a training camp during the Giro, so it will be Tour de l'Aude.
Early season preparation
Photo: © Cyclingnews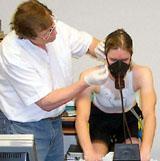 SL: Our sport needs more media coverage, and we need to show ourselves up more in order to get more sponsors. The men get a lot of time on Eurosport and we don't. I think that UCI should step in and help us out in this case. They are here for us. When we get TV time, we will also see more sponsors. If we show up on Eurosport, it will be easier for the races to find local sponsors and the teams will of course benefit from this as well.
CN: About women's cycling in general; what can your riders do to improve the recognition of your sport?
SL: We need to make our races very interesting to watch. We must take every chance to make an impression on those who watch our sport. The World's was a race like that, a fun race to watch. Again, I don't wish for anyone to crash or to get hurt, but it was a race with a lot of pulse.
SL: The men's side of the sport has a lot of important people behind them and a lot of the old profiles are still involved. Women's cycling is not there yet, but it is not as old as the men's sport either. When I started there wasn't even trade teams for women, but now I see a lot of change, just in the last five years. Maybe in another five years, big changes will take place.
CN: Do you have any plans to stay involved in the sport yourself in order to improve it after your racing career is over?
SL: I haven't given that any thought. I am just very concentrated on doing what I do right now. I will have to get back with an answer on that later on. I don't plan ahead too much; I'm just so involved in doing what I do now.
CN: Isn't there a great risk that you could end up very disappointed if something happens, when you put all your eggs in the one basket like that?
SL: I have to count on the fact that there's always a risk something happens. Shit happens, like the pleurisy I once came down with, for example. I see a meaning in everything. If I get ill now or if I get hurt, I believe something good will come from it and in the end, I will gain something from the experience. Should I get too concerned over something, I can always turn to Klas. I go to him when everything is against me, because he'll make sure to pick me up again. No man's an island.