Recently on Cyclingnews.com
Moving on up
Sara Carrigan
Very happy after her win at Geelong
Photo: © John Veage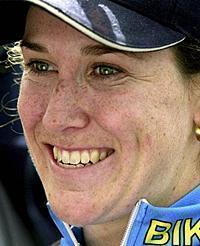 Date of birth: September 7 1980
Place of birth: Gunnedah, NSW, Australia
Lives: Nerang, Queensland & Amstelveen, Netherlands
Selected palmares
2003
1st Road World Cup, Geelong, Australia
1st Geelong Bellarine Tour
1st Stage 5, Tour de l'Aude
1st Stage 7b, Tour de l'Aude,
1st Time Trial, Australian Titles
2002
1st Time Trial, Australian Titles
2001
1st Sprint Classification, Giro della Toscana
1st U23, Trophee d'or Feminin
1st U23, Tour de Snowy
2000
1st Stage 8, Tour de Snowy
1999
1st Team TT Prologue, Trophee d'Or
1st U23 Thuringen Rundfahrt
Stuff
Eats: Yogurt, pasta, steak.
Drinks: Milo (but unfortunately it's not available in Europe)
Reads: Language books
Says: Things too loudly!
Does: What I enjoy
Thinks: Everyone is responsible for their own outcome
Wants: To be the best
Motto: Do what makes you happy
Goal: To be the best
Palmares courtesy www.cycling.org.au
An interview with Sara Carrigan
Australia's cycling program isn't just producing male stars such as Robbie McEwen, Baden Cooke and Sean Eadie. The women's squad is also turning out talented riders and one of the brightest young stars is Sara Carrigan. Currently ranked fifth in the world, Carrigan spoke to Gabriella Ekström about her start in cycling, her move from the Australian team to the pro ranks and more.
Although a member of the Australian national team for many years, Sara Carrigan only became a household name this year when she won the first round of the women's world cup in Geelong, Australia. The likeable 22 year old Australian spoke to Cyclingnews while she was in Livigno, near the Swiss-Italian border, for a month-long training camp with the Aussies as preparation for the rest of the season.
Carrigan left the Grand Boucle Feminine after the sixth stage, and her best result in the race was a second placing on the first stage. She will now focus on the three remaining World Cups, the GP de Plouay, Rund um die Nürnberger Alstadt and Rotterdam Tour, where she will try to gain enough points to secure the World Cup rainbow jersey at the end of the year.
Carrigan's first encounter with cycling came when her school, Somerset College ran a talent identification program in conjunction with the local cycling club, Gold Coast CATS.
"I had never ridden a road bike and had no knowledge of the world of cycling but having lived on a farm when I was younger, I always loved riding bikes," Carrigan says.
The testing involved the 'beep test', the 'vertical jump test' and an ergo test. Afterwards, a group of seven girls and eight boys was chosen and for ten weeks they were given bikes, shoes and all the necessary equipment. Carrigan loved it, and when the ten weeks were over, her grandpa helped her buy her first bike.
"I had always been a sporty person, competing in many different sports including horse riding, athletics, dancing, cross country running, basketball, water skiing, roller skating, go-carting - I loved speed!" she says. But speed was not the only thing that made cycling attractive.
At the Grand Boucle
Photo: © Russell Standring

"Cycling is a rather unique sport in that it is not always the strongest athlete who wins and therefore it has you coming back for more! It's also different in that it is an individual sport yet also very much team orientated."
Carrigan's first racing experience came at a local club race around an old speedway track at Carrara on the Gold Coast and she says that she loved the speed and the aggression, and since cycling was the first sport for which she received a structured training program, the race was an exciting event that helped her measure her new level of fitness.
Carrigan goes on to say that when she was younger she always held a desire to win at the Olympics, only then she wasn't sure how to, or even in which sport.
"In 1996, I competed in my first Queensland state championships and won all three disciplines, road race, time trial and criterium," Carrigan explains. "I was then selected to compete in the National Championships where I placed second in the road race. This further induced my hunger to race for Australia and to also become the best. In my final year of schooling, my school Somerset College was very understanding and helped me to successfully combine my studies with training. I also have a very supportive family, who has been the backbone of my success. My mum, dad and two younger brothers are all very special, and even after living overseas since 1999, I speak with them once or twice a week."
Moving away from Australia and her family wasn't easy at first, and Carrigan missed her loved ones a lot during the first years, but still claims that the life of a professional cyclist is a dream.
"We travel around Europe for seven months, riding our bikes in some of the most beautiful places and whilst racing, all we need think about is rest and recovery. However, as with everything, it is not always 'roses and sunshine', and getting back to Australia at the season's end in October is a real treat! I really love and enjoy what I am doing, which makes things easier."
After representing Australia as a junior at the world championships in 1998 and placing fourth in the road race, she received an Australian Institute of Sport (AIS) scholarship and lived overseas with the other Australian girls to train and race.
World Cup podium
Photo: © James Victor

After having adapted to the different lifestyle of being alone in Europe, Carrigan improved each year. She held the scholarship for four years, and turned professional with BIK-Powerplate this year, the team of world champion Susanne Ljungskog. She is grateful for the support and trust given to her by the AIS and says that Australians are fortunate to have an athlete support program like it.
"The institute provides sporting facilities, physiotherapy, and nutritional, medical and financial support. It is a developmental program and my four years in the squad provided a valuable learning block to comfortably step into a professional team this year. I now have my own apartment which is different to what I have been used to. It allows freedom for a more 'normal' and relaxed lifestyle and has helped ease the transition moving from the national program into the professional scene. Having my own place this year certainly feels a lot more like a home away from home, I am enjoying the differences in the Dutch lifestyle."
For this season, Carrigan decided to leave her long time base in Italy, signed with BIK-Powerplate and moved to Holland to live in Amstelveen outside Amsterdam. Early in the season, the team travelled to Australia to participate in the first round of the women's world cup in Geelong, a race in which Carrigan excelled.
"Right from the beginning we bonded well and we have great team atmosphere. Winning the World Cup in Geelong was a wonderful feeling and I gained much confidence. After my very disappointing sprint in the World Championships last year in Zolder where I placed fourth, I worked on improving my sprint in training, which made my win in Geelong all the more sweet."
A hot issue in women's cycling is the length of races. The World Cup courses are often very selective and sometimes include parts of the men's course when men's and women's events coincide, but the women's races are often shortened to a minimum. For an aggressive rider whose talent is one-day races, this is an issue for Carrigan.
"Yes, I agree that some of our races are too short and that they should be lengthened," Carrigan says. "I like a tough course that is raced hard and to ride a race of attrition, proving the winner is the strongest rider for the day."
Touching the subject of women's cycling versus the men's professional circus, I ask Carrigan what she thinks needs to be done in order to help the sport grow to a level closer to the men's.
"TV and media do attract sponsors and public interest. This year some of our World Cup races such as the Primavera Rosa, Amstel Gold and Fleche Wallonne, were combined with the men's and this certainly helps publicity. Men's cycling holds a strong history of over 100 years, of which it is great to be a part. However, sadly, some believe that women should not be racing bikes. Women only began racing and had their first World Championship in the late 60's/70's, so understandably, it has not yet developed the depth that is present in the men's peloton."