An interview with Samuel Dumoulin
I am Sam
By Melanie Leveau
Samuel Dumoulin one to watch
Photo: © Jean-Francois Quenet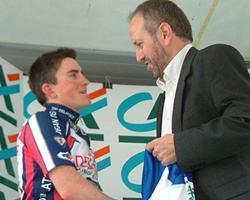 Winner of the Tour de Normandie and most recently the Tro Bro Léon, Samuel Dumoulin is one of a new generation of much needed French hopefuls that has started to come good. With his selection in the Tour de France dependent on his performance in the Dauphiné Libéré, Dumoulin has good reason to show his face at the head of the peloton, as he did on the final stage into Grenoble.
Cyclingnews: 2003 is your second season as a professional rider. It's been a great season for you with your victory in the Tour of Normandy and the Tro Bro Leon and your upcoming participation in your first Tour de France.
Samuel Dumoulin: Actually, my place is not yet assured. I am actually riding the Criterium du Dauphiné Libéré trying to earn my place on the team. I will experience high mountain competition this week. If my team manager is pleased with my performance, he might let me start the Tour de France.
CN: What does the Tour de France mean to you?
SD: It is true that when you are a road rider, everything is centred around the Tour. To take part in this race would finally be a childhood dream and I think it would be an exciting experience to compete in this race. It is the best race in the world and it is true that I really would be proud to take part in it.
CN: What will be your ambitions for the Tour?
The new generation
Photo: © Jean-Francois Quenet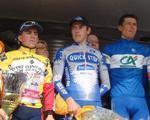 SD: First, I will have to look around and observe the competition. Then, I will have to learn to manage my form stage after stage and for the whole three weeks. And if possible, participate in a breakaway; it would be really a dream come true to win a stage but I would be quite happy if I could show the Jean Delatour jersey at the head of the peloton and have an active role in the race.
CN: What kind of rider are you? In what kind of race are you most able to perform?
SD: I think that I am able to ride best on one day races or on one or two stages in multi-stage race. I am not as good in time trial and mountains, so it is really on the one day races that I can show my best.
CN: I hear that you will be competing on the track one week before the national road championships. Why do you think it is useful for you?
SD: First, it allows me to have a better rhythm of pedalling - smoother and more efficient too. It also allows me to feel what it is like in the last kilometres of the race when we ride very fast. The endurance events on the track are long and fast, so it allows me as a sprinter to adapt to the bunch speed during final sprint where I need very good finishing speed.