An interview with Roland Green
Captain Canada gets on board the 'blue train' in '03
Champion MTBer flexes his road ambitions while re-signing with Trek-VW
By Gerard Knapp
Langkawi KOM
Photo: © Mark Sharon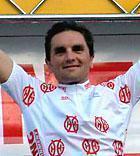 Reigning world mountain bike champion Roland Green is set to be riding for division 1 road team US Postal Service in a selection of North American races this year as he keeps one eye on the big MTB prizes, and another on the World Road Championships to be held in Hamilton, Canada, later this year.
The Canadian rider is highly motivated to ride at the Worlds in his home country this year and will be working with his fellow Canadian pros to acquire as many UCI points as possible to boost their numbers at this flagship event, which is certain to raise the profile of cycling in the country.
On the dirt, Green will be riding this year - once again - for the Trek-Volkswagen MTB team after a delay which did lead to some speculation about his future. "It's going to be Trek-Volkswagen for this year," he told Cyclingnews, as the delays in re-joining the team were due to he and his agent Clay Young "working the kinks out of the contract".
A previous stint in USPS blue, winning the TT at Redlands in 2001
Photo: © Rob Karman
In this case, the kinks were offers to join other teams - not on the dirt, but on the road. Green had discussions to ride selected road races in 2003 for teams such as Rabobank and CSC. "Lots of road teams were interested and I am in awe of the offers to ride for them," he told Cyclingnews.
"I've shown I can hang with these guys (road riders) in road races and especially after Cadel Evans and Miguel Martinez made the transition (from MTB to road racing), it shows that mountain bikers have good motors," he said.
"My agent, Clay Young, who's really from a road background, has some good connections in Europe and the offers were awesome."
One of the key points for the Trek-VW negotiations would be his choice of road bike should he appear in selected road races for European teams this year, as Trek would oppose their king of MTB riding a Colnago or Look for a road squad. Also, given that Green last appeared "officially on the roster" for USPS in 2001 and that Trek is also a sponsor of the division 1 squad, the fit was logical but by no means simple.
When asked what team he would be riding with, Green said "it looks like it could be the US Postal Service team", with the contract expected to be confirmed within a week. "Joining a division 1 team is not as easy as it seems," he said.
Climbing high on the road
When Green rides road events in his Canadian national team jersey - as he did with distinction in the Tour de Langkawi earlier this month where he claimed the King of the Mountains jersey - he was on a Trek OCLV. "When I ride for Canada there is no demand to ride a particular brand, so we can all use bikes with different wheels, pedals and stuff, which I found out when I flatted," he said. Green's impressive TdL was spoiled by an inopportune puncture in stage 6 which sent him spiralling down the GC from second overall to 53rd. The puncture came at 17km to go as the sprinters' teams went into hyper-drive and although his Canadian team dropped back to help him, it seems some gear incompatibilities prevented a quick return to the peloton.
Capt Canada, working with Chris Horner, Redlands 2002
Photo: © Rob Karman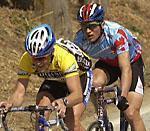 Nonetheless, Green recovered over the next few stages and eventually finished in fourth place overall after being the most aggressive rider in the all-important stage 9, which included the 25km-long climb into the Genting Highlands. "I would have been in the leader's jersey had I not flatted," he said, "but overall I'm really happy with how I went."
The Canadian's attacking style on the climbs and time trialling speed confirms his potential for stage races and this year North Americans will get to see Green at the Redlands Bicycle Classic, the Tour of Georgia, "hopefully" the San Francisco Grand Prix and "possibly" the Wachovia USPRO Championships in Philadelphia.
"The road racing has to fit in around the mountain biking," he said. Green's MTB schedule has the NORBA and World Cup series as priorities, as well as the World MTB Championships, to be held in Lugano, Switzerland.
Overall, the road racing does improve Green's fitness for the MTB races, which will remain his sole focus until the 2004 Olympic Games in Athens, where he is aiming at the gold medal in the MTB cross-country. Green has his eyes set on this prize, realising that an Olympic gold would create more recognition for himself and awareness of cycling in his country than any number of European classic or stage races, with the possible exception of the Tour de France.
Consequently, finding a road squad which can accommodate these dual aims is difficult. "That's been the problem," he said. "Finding a team that's willing to take me on for a limited number of races."
Green admitted there is intense competition for spots on pro road teams and as he couldn't commit for a whole road season, it made it difficult for him to secure a ride - and the compensation that would go with his ability. The Canadian continues to impress on the road with his fourth place in the Tour de Langkawi showing continuing improvement as a road rider.
TdL too short?
More of this, please - on the way to the Genting Highlands
Photo: © Mark Sharon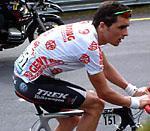 Significantly, he went from a Canadian winter to equatorial conditions in Malaysia of 40 degree Celsius temperatures and stifling humidity, but as the race came to a close "I felt like I could have kept going," he said. Before leaving Canada, he was out doing "long road miles, just base miles" but at a relatively low intensity, as well as much climbing as he could find around his home town of Victoria, British Columbia, on the west coast of Canada. "But not at race pace," he said of his training in the hills prior to Malaysia. "Once I started racing the intensity got me fitter."
"I didn't really expect to do as well as I did," he said of the Malaysian stage race, taken out by Saturn's brilliant young rider Tom Danielson. After arriving and settling in to the race, he realized he "had enough form to win that race and I had no problem with the heat. I stayed healthy and didn't have any problems", except for that puncture, which saw him lose 1.29 on stage 6. Green eventually finished 2.03 down on GC behind race winner Danielson. He told Cyclingnews he was particularly disappointed with the tactics of second-placed Hernan Dario Munoz (Colombia-Selle Italia) on the crucial stage 9. "I wasn't really impressed with Munoz's riding. I expected he would be really aggressive and instead he did absolutely nothing. He was just following wheels and he couldn't shake Tom."
The Colombian rider only really attacked in the final kilometre of the race and eventually finished one second in front of Danielson. Cyclingnews' Anthony Tan reported from Malaysia that Green was "without doubt" the most aggressive rider, who attacked incessantly on Genting's lower slopes. However, he paid the price with just two kilometres remaining, allowing Munoz and Danielson to go clear and finished 39 seconds behind the Colombian.
Mud is still on the menu till at least Athens 2004
Photo: © Tim Maloney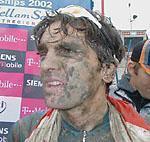 "Tom had the correct tactics and good on him to hang in there. My hat's off to him. I did everything in my power to make it exciting. Like, I'm going into the stage sitting in 40th place on GC so it was a matter of putting time into them."
Green said the penultimate stage of the Langkawi race - the 25km of stage 9 determines the outcome of the whole race - was taken more conservatively than he expected. The pace would pick up after Green attacked, then after the lead group had caught him, the pace would drop and Munoz's Colombian team-mates would make their way back.
"What I would have done - if my team had another really strong climber - would be to put a team-mate on the front at the bottom of the climb to set as a high a tempo as possible, as there is a draught factor on the climb. We were really motoring for some sections, in the big chainring for a fair bit of it."
As the gradient increased, the pace would drop off, prompting an attack from Green. In turn, this would shell rider after rider until there was a selection of five.
"The organisation of the race is amazing and they do so much work to ensure it runs smoothly, but it's an unbalanced race; it comes down to a 25 kilometre climb. Even on the other hilly days the climbs are in the early part of the stage and the sprinters' team can come back. They need to put more climbs in it, or put them at the end (of the stages)."
The Worlds are coming - and Canadians need to get going
Towards the end of this season Green's major priority on the road will be the 2003 World Road Championships, to be held in Hamilton from October 7 - 14. Green believes he has enough UCI points to enter the time trial and possibly the road race, although he is quite straightforward about his chances in a 260km road race. "Realistically, to be competitive at that distance and at that level it would compromise my mountain-biking," he said. "The endurance is a factor," he said. "I know can hang with those guys and I've got the motor, but go the distance? I think I could be in there for 200 to 220 kilometres, and after that my legs would start to throb. That last ten kays are so important... it's one of the epic efforts in one-day racing," he said.
The two major objectives of Green's foray into the road are to use the road races to assist his form for the big MTB races and to "collect as many UCI points as possible for my country." To that end, his appearances on the road will hardly be just intense training rides, given that he has to ride well to collect those all-important UCI points.
And in Canada's case, they are badly needed. As of November 2002, Canada was ranked 31st among all cycling nations, putting it in a spot of trouble as only the top 30 countries get automatic qualification into the world's road race (countries ranked from 21st to 30th can only enter two starters in the road race).
The feet that carry Canada's World's chances
Photo: © Tim Maloney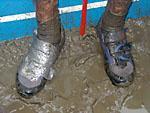 If Canada has one rider ranked in the first 500 of individual UCI rankings by August 15 this year, they can put one rider on the start line, up to a limit of two if another rider is also ranked in the top 500. Another saving grace for Canada will be the UCI rule that the organising country of the world championships is granted a higher ranking in the nations classification - but the regs don't actually say how much higher.
Still, the Canadian men have got some serious work to do in 2003 to capitalise on their home advantage, so one should expect to see full-time road riders Gord Fraser, Mike Barry, Mark Walters and Charles Dionne be very motivated this year.
"I think if we get a little bit of a break we can do it [move up the rankings], and we'll really look to those guys to contribute," he added. After 2004? Green said "who knows. I'm still young so it's possible," he replied when asked about turning to a fulltime career on the road.