An interview with Nicole Cooke
Another Cookie Monster?
Wonder Woman: Nicole Cooke
Photo: © Lucy Power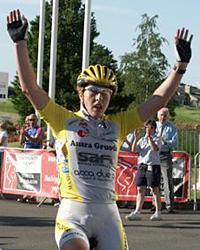 When she was just 16, Nicole Cooke won her first senior national title. Since then, she has won four world titles, a gold medal at the Commonwealth Games in Manchester (where she became Wales' sports personality of the year), and most recently, Cooke won her fourth road title at the British national championships. Just to add to that, she also leads the women's World Cup after her second classic win at Flèche Wallonne. Kristy Scrymgeour spoke to the woman from Wales who just can't stop winning.
Presently in her second year as a professional, Cooke rides for Ausra Gruodis-Safi, where she lives in Treviso Italy when in Europe. "I love living in Italy. It's great to be in a place where I can really concentrate on cycling. When I'm at home in Wales the phone is ringing all the time, but in Italy, I can just turn the phone off for a few days until I feel like dealing with the British press again," says Cooke.
"It's also great to live in a culture that is so centred on cycling. Italians are lucky in that cycling is so big there; they have the opportunity to race against a good field all year. Cycling in Britain, especially for women, is rarely publicised and not very big - although it is growing. It the past we have been lucky to get 35 starters on the line, but this year I think we'll get close to 60 which is great."
Born and bred in Swansea, Wales, Cooke has been living in Italy for over a year now and is now fluent in Italian and very comfortable living there. "I live with Rochelle [Gilmore - new to the team this year] which is fun. I am happy with my team. We all get on so well and race really well together. My Italian is good now and I am very comfortable having a conversation about anything in Italian," she says.
In the Flèche
Britain vs. Canada
Photo ©: Jon Kennedy

Puts down the power
Photo ©: Daniel Schamps

Mobbed
Photo ©: Jeff Jones

That hurt
Photo ©: Jeff Jones

A lot.
Photo ©: Jeff Jones

Ahh... that's better!
Photo ©: Jeff Tse

"There was a period last year where I didn't need to speak any English at all; I lived with a Spanish girl who spoke Spanish and Italian, so I was totally absorbed in it and I had to learn it. It think that was good for me. Now I think I am a hindrance to Rochelle's progress because she knows that when she gets stuck on a word she can just ask me in English. There are also a couple of other Australians and an American who live near us, so we get the opportunity to speak English a fair bit when we want to."
"I love to go hard and I love to train alone."
Nicole admits that there are some downfalls to living and racing in Italy though. "Sometimes in Italy there is concern that the foreigners are detrimental to Italian cycling. They believe it's too hard for their young riders to make it in the sport because all the teams are full of foreign riders. But I think they have the wrong attitude. I think they have the advantage that they have such strong fields to race against and learn from. If they work hard, bit by bit they will be at the level of the big teams and soon enough they will be winning races. I remember when I went from junior to senior, I was so excited to get out there and kick some of the older girls' butts, I won the first two senior races that I was in! It's all about your attitude."
A good attitude is one thing that stands out when you sit down and talk with Cooke. She is so young and yet mature and very down to earth. It seems that she knows what she wants and gives everything to get it without letting fame get to her.
Cooke's plans suddenly changed this year when she won both the Amstel Gold and Flèche Wallonne, taking the lead in the women's World Cup series. "When I sat down with my team to plan the year we thought we would aim for me to be in form in the early part of the year up until the end of the spring classics. We were going to concentrate on maybe Amstel or Fleche Wallone, but we didn't really consider the whole World Cup. In Italy, in the second round, I was happy to lead Rochelle out for the sprint. Then after Fleche, I took the lead and I have really good form now, so it will be our goal to defend that." [Cooke now leads the WC series by 41 points from Sara Carrigan (Powerplate-Bik) with three rounds remaining].
Cooke's other goal this year is the Under 23 European Championships. "They are very important to me, mainly because it will be invaluable to race on the Olympics course in Athens a year before the Games and learn from whatever mistakes I make. I'm really glad I get that opportunity," she says.
Then of course there is the World Championships in Hamilton, Canada. "World Champs are important for me too as always, but it all depends on how my preparation goes and how I am going at that time of year. I would hope that I can be there in the last couple of laps when it gets down to the last five or so riders though.
"I think Jeanson will be there and so will Pucinskaite," predicts Cooke when asked who will be there in those final laps. "I'd like to think I will be there myself; probably Starhuskaia and maybe Brandli will be there too," she adds.
As for the future? "I hope to be involved in the sport until I'm 29 or 30 so I have quite a few years left and at least two more Olympics. My goal is to try everything in cycling by the time I finish. My plan for the next couple of years, however, is to concentrate on one day races and then move on to trying Tour de France and the Giro a bit later."
I asked Nicole what her favourite race had been this year. "I think my favourite race this year in terms of winning has to be Flèche Wallonne. It was one of those races where we were in the break and we had to make sure we did enough to stay away and get the timing just right for the finish. I love that type of racing."
When I spoke to her about her horrific crash with a motorbike on the third stage of the Tour du Grand Montreal, she suddenly became very eager to show off her war wounds. "We were riding along in the gutter in single file chasing the break and everyone swerved in front of me to miss the motorcycle that was stopped on the side of the road. Everybody just missed it, but I hit it pretty hard and my bike totally cracked in half. Anyway, I'm fine and I'm just lucky I didn't break anything."
Being a tough rider is not a new thing for Cooke. At the age of seven she fell of her bike and fractured her skull. Without vision, she got up and pedaled home on her own. This toughness shows in her riding where anyone can see she gives 110 percent and is definitely a rider known in the peloton for being able to put herself through pain.
Her roommate Rochelle Gilmore claims training with her is almost impossible: "She trains harder than anyone I've met," says Gilmore. "I go with her sometimes on her easy days and even then she is hard to keep up with." No surprise then the Cooke prefers to train alone. "I am a bit of a loner like that. I love to go hard and I love to train alone."
In terms of a man in her life, Cooke smiles. "There is nobody on the scene at the moment, but I'm not really looking. I'm pretty happy just concentrating on my cycling and having fun. I'm just really happy to be involved in such a great sport."