An interview with Nathan O'Neill, December 18, 2003
A new neck, new team and new fiancée for O'Neill
By Karen Forman
Nathan O'Neill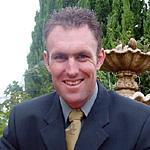 The professionalism and security offered by US-based category III team Colavita Bolla were the carrots that successfully enticed former Saturn rider Nathan O'Neill to join his former team-mates Mark McCormack, Tim Johnson and Ivan Dominguez on the Colavita Bolla roster for 2004, though Johnson subsequently departed for Spanish team Saunier Duval.
Other members of the team, which goes into its second year in 2004, are three US riders Todd Herriot, Tyler Wren and Thad Dulan and three Argentineans Gustarvo Artacho, Juan Jose Haedo and Sebastion Alexandre. Negotiations are continuing for the final rider, who is likely to be an American, possibly from the now-defunct Saturn team. Operations director is Chad Davis and John Profaci is the manager.
Queenslander O'Neill, 29, told Cyclingnews he had chosen the US-owned team sponsored by Italian food and wine importers Colavita and Bolla over another pro team, which he declined to name, because he felt professionalism and stability were the key. As well, with the likelihood he will share team leadership with McCormack, he considers the signing a good career move. And, to top it off, it's based in America, where he now has a fiancée and plans to live indefinitely.
"Colavita Bolla have shown a lot of faith in me and made me feel warm and welcome and are ready to go out of their way for me," he said. "One other team was pursuing me but all things being equal, I felt Colavita Bolla was the team for me." He said he had been impressed with the fact that, not including the first approach to him by team manager John Profaci in early November, the whole deal had been stitched up in 10 days.
Nathan O'Neill & fiancee Karen Ewing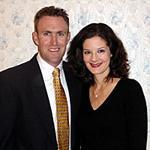 In fact the deal was signed on Sunday, with O'Neill and his American fiancée Karen Ewing on holiday with his family in Australia but sending off his signature by overnight courier. The signing is a superb Christmas gift for the rider, whose dazzling 2003 season was cut short when he broke his neck (fracturing two cervical vertebrae) on July 31 in the International/Tour de 'Toona, while riding in the Saturn colours.
Saturn and O'Neill had "hit the ground running" in 2003. He won the team's first race - the the prologue time trial in the Tour de Langkawi - and held the yellow jersey for six days. He also took the yellow jersey at Redlands, the prologue at the Tour de Georgia, won the Canadian national road race, a stage of Cascade and was looking good in the Altoona race when he crashed.
He spent three weeks in a head "halo" before undergoing surgery in New York to insert a two-inch single titanium fixation screw into his neck and was back on the wind trainer after three weeks and the bike after eight weeks - on the day he was told Saturn had decided not to continue to sponsor the team after 13 years of support.
"I felt very helpless," he said. "I wasn't actively racing or even training and felt very separated from the riding side of things. The team was very supportive, though. Tom Danielson was calling, Will Frischkorn came to see me … but then we heard that the team no longer had a sponsor, so that meant looking for an employer." He said he was relieved and excited when negotiations with Colavita Volla had resulted in a 12-month contract and was looking forward to seeing the race program.
A last outing in Saturn strip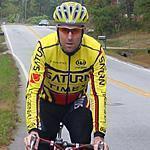 "I believe it will be similar to the Saturn program, but without the Peace Race in Europe. That means we will race solely in the US. Given my results last year they will build me as the leader for stage races and one-day events. Between Mark and myself there is a lot of experience. Mark will be instrumental in leading the team as well."
Based in Gwinnett County, Georgia with Ewing, O'Neill is being guided in training by German Heiko Salzwedel who approached him after his accident to offer to help him back onto the bike. He has his sights set on the Australian national road championships and the Olympics, depending on how his new team feels about it, but will be back in America well in time for the Colavita Bolla training camp February 7-22.
There's also his wedding to Ewing, whom he met at the 2003 Tour de Georgia, to look forward to in the northern spring and the new house they are searching for in the mountains near Gainesville "for training, of course".