Recently on Cyclingnews.com
An interview with Scott Moninger, November 12, 2003
Setting the Record Straight
By Rod Morris
Scott Moninger
Born: October 20, 1966
Place of Birth: Wichita, Kansas
Lives: Boulder, Colorado
2004 Team: Health Net/Maxxis
Height: 175 cm (5ft 9in)
Weight: 59 kg (130 lbs)

Results
2003
Stage 11, Herald Sun Tour (2.3)
2002
3rd GC, Valley of the Sun stage race
2001
Stage 6a and 2nd GC, Grand Prix Cycliste De Beauce (2.4)
2000
Stage 4a, Grand Prix Cycliste De Beauce (2.4)
2nd GC, Herald Sun Tour (2.4)
1st, Celestial seasonings Red Zinger Cycling Challenge (Breckenridge, Co)
1999
3rd GC, Grand Prix Cycliste De Beauce (2.4)
1998
Stage 11, 12 & Mountain Competition, Herald Sun Tour (2.4)
1996
Stage 5 & GC, Herald Sun Tour (2.4)
1995
2nd GC, Killington Stage Race (2.5)
1994
Stage 6, West Virginia Classic (2.5)
1993
Stage 12, Herald Sun Tour (2.4)
Stage 2 & 5, Mazda Great Australian Wineries Tour (2.4)
Stage 2 & 4, Killington Stage Race (2.5)
1992
West-Virginia Mountain Classic (2.5)
Stage 2 & 4, Killington Stage Race (2.5)
Stage 3, Casper Classic (2.5)
After spending a year serving a drug suspension, American cyclist Scott Moninger made his return to racing this October in Australia, riding the Melbourne to Warrnambool, Herald Sun Tour and Tour of Queensland in succession. It was somewhat of a late start to the season, but Moninger still managed to win a stage of the Sun Tour, and now hopes to resurrect his cycling career. However he first wants to set a few things straight, as Rod Morris found out.
Scott Moninger is confident of winning a court case against a supplement company to clear his name as a "drug cheat" but he maintains hollow feelings over events of the last 12 months. Moninger (37) was suspended for two years for testing positive to the drug, 19-Norandrosterone, which is an anabolic steroid metabolite. This was later reduced to 12 months on appeal, pending the outcome of Moninger's defence case. However Moninger's defence will claim the drug was bought "over the counter" as part of a sports supplement, and therefore available to anyone.
Determination
Photo ©: Shane Goss

Moninger's team in 2002, Steel Wheels-Mercury Cycling, took a strict zero tolerance policy in regard to the positive test and - although supporting Moninger - suspended him from the team. He was subsequently suspended for a period of one year and fined 700 Swiss Francs ($500 US) by USA Cycling. His suspension was to begin on April 3, 2003, but given that Moninger had already voluntarily served six months suspension since October 6, 2002, his suspension concluded on October 5, 2003.
The Manager of Steel Wheels, Thurlow Rogers said at the time, "Scott has proven to us that he did not intend to cheat and in fact was a victim of a poor choice. Scott has such a good case, that in fairness, it does not warrant a full penalty. Cycling does not have a consistent record of handing out penalties that fit the crime. We hope that in this case, they [USA Cycling] will find the wisdom to do so."
"This is not a case of malicious intent and the fact that Scott has proven that the supplement is to blame should mandate a light sanction from the governing body," he added.
Feeling the financial pinch
The suspension has also cost Moninger in the back pocket. "Financially I have probably lost double what I could have made in the last 12 months, as my form was good leading up to the suspension," Moninger told Cyclingnews. "Not being able to race at all and having people label me as a "drug cheat" really hurt."
Moninger is convinced that he can prove to the court that the supplements he took in 2002 were contaminated. "I know I didn't cheat and am currently fighting a court case to clear my name," he said. "I know I will win, I am innocent of what I have been charged and I will prove it."
Same offence, different sanctions
Signing on again
Photo ©: Shane Goss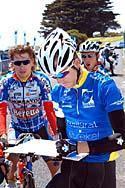 The problem of so-called tainted supplements is not solved yet however. The lack of regulation in the U.S. supplement industry is a real problem when it comes to the possible contamination of sports supplements with illegal substances. A study carried out by a laboratory in Cologne in 2000/2001 revealed that 18.8 percent of food supplements purchased in the U.S. could result in a positive test. The figure was even worse in other countries such as The Netherlands (25.8 percent), Austria (22.7 percent) and the U.K. (18.9 percent).
In October 2003, another U.S. cyclist, Amber Neben, was suspended for testing positive to the same drug as Moninger - 19-Norandrosterone. Neben also claimed that the drug was taken unintentionally, perhaps in the form of a contaminated supplement. However the arbitration panel of the US Anti-Doping Agency (USADA) gave her a suspension of just six months, combined with an 18 month probationary period in which she is subject to monthly doping control tests, at her own expense, and a requirement to educate cyclists about the dangers of dietary supplements.
Despite the different length of the two sanctions, given that they appeared to be for very similar offences, Scott Moninger would not be drawn into expressing an opinion about this issue. "Obviously they (USADA officials) saw the situation differently to mine," was his only comment.
Comeback time
Winning in Sun Tour
Photo ©: Shane Goss

Originally from Kansas, Moninger now resides in Colorado and has been a professional cyclist for 11 years. He is also one of America's most successful riders, having won over 200 races around the globe.
Moninger's first races back after suspension were the time honoured Melbourne to Warrnambool one day race followed by the prestigious Herald Sun Tour, an event he had ridden in four times previously and had built an envious record. On his first trip Down Under in 1993, he finished 5th, returning in 1996 to win the Herald Sun Tour overall. He followed that up with a 15th place in 1998 and was 2nd to Eugen Wacker (Kyrgyzstan) in 2000.
His record was added to by a creditable 10th, 3'42 behind winner Tim Johnson in this year's Herald Sun Tour. Moninger also claimed a stage win and was a key player on the final day, finishing third in the last stage which saw Johnson overcome a 39 second deficit to Luke Roberts to win by 33 seconds.
Moninger has just left Australia, where he also competed in the inaugural Jayco Tour of Queensland.
"It's nice to re-start my career with a good result," Moninger said. "But the last 12 months has been mentally draining and obviously hurtful financially."
"I had to work harder on maintaining my fitness than I originally thought, because the best form of training is actual races. I did a lot of motor-pacing and I think it has paid off, but time will tell."
Other Talking Cycling Interviews