An interview with Laurent Brochard
The world according to Laurent
Time trialing to victory in the Critérium
Photo: © AFP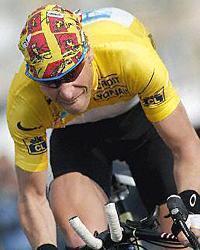 At 35, Laurent Brochard is enjoying one of his best seasons ever, with a strong early season victory in the Critérium International that propelled him to 15th on the UCI world rankings. In doing so, Brochard also became the best-ranked French rider, and is clearly revelling in his renewed status as one of the leaders on the AG2r Prévoyance squad, Melanie Leveau discovers.
Cyclingnews:The first half of the 2003 season is now over. How do you feel you have fared?
Laurent Brochard: Personally I started very well. I had some good results with four victories. It is a good thing for me and for the team too. In fact, these victories helped Ag2r-Prévoyance to be selected for the Tour de France, which is one of our main goals. So a very good result.
CN: Did your transfer from Jean Delatour to Ag2r last winter add to your motivation?
LB: No I don't think so. I am as motivated as each year. I am always motivated.
CN: How do you feel in this new team?
LB: I feel good. The atmosphere is pretty good and there are no problems.
CN: Was your Criterium du Dauphiné Libéré as you expected?
Relaxed, but in want of better form
Photo: © Russell Standring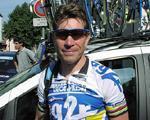 LB: Not really. I did not place well on general classification, so I am still looking for better physical condition. I have been concentrating on my climbing to reach peak condition (for the Tour), so and I played more of a team role at the Dauphiné, waiting for better days.
CN: What happened during the final sprint of the first stage, when you were involved in a fall that also brought down Baden Cooke?
LB: This fall has really been handicapping me this week. Concerning the reasons of this fall, I really don't understand Baden Cooke's behaviour because there wasn't enough place for him to slip into the bunch. He was very keen to get into position and preferred to push other riders. That behaviour is not fair.
CN: What is your program before the Tour?
LB: I will compete in the Route du Sud and then the French road championship. I won't take part in the time trial championship.
CN: The French championships are in Brittany, on a circuit which generally favours "punchers" as you are. So is this championship one of your goals?
LB: No, it is a race like all others. Every rider would like to wear the French champion jersey because you keep it for one year. My present goal is to reach my peak condition. In regards to the national championship, I will see as the race progresses.
CN: Then you will compete in the Tour. What are your main goals for this competition?
LB: I want to take part in breakaways to win a stage. Other things are not important for me including the general classification.
CN: Do you think Lance Armstrong will win again?
LB: I don't know if he will win next month. The only thing I know is that he has an excellent physical condition. I think he will have no problem to be on the podium… but we have to wait and see the way the Tour will be raced.
CN: What do you think about the selection of French teams and consequently the eviction of world champion Mario Cipollini?
Prefers his bandanna over the helmet
Photo: © Chris Henry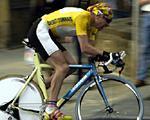 LB: It is true that it is always important for a race organiser to have the world champion for the Centenary Tour, but Mario Cipollini has never finished the Tour. He gives up after one or two victories and this is not fair to the other riders and to the organiser.
CN: So ASO (organising company) made a good choice?
LB: Exactly. French teams are strong and it is really important for French riders and sponsors to take part in the Tour. In other grand tours, Vuelta and Giro, national riders and teams have the privilege to be selected first. So why wouldn't it be the same in France, particularly if we have good teams?
CN: What do you think about the UCI's decision about wearing helmets?
LB: I really would like to give my point of view. My team, Ag2r-Prévoyance, is a French insurance company, so we have been ordered to stay quiet about this. However, I think helmets are not really suitable, especially with the heat. I think an agreement needs to be made to make it more acceptable. We are professionals. We are aware that cycling is a dangerous sport but such things shouldn't be imposed on us.
CN: When did you start cycling and why did you choose this sport?
LB: I started cycling very late. I started competing at the age of 19 in the first elite year. Before I used to compete in other sports, particularly in running. I was pretty good at it, but my family and friends encouraged me to start cycling.
CN: What do you like to do once off of your bike?
LB: First I like to spend time with my family because we are apart very often. So I try to make the most with my wife and our two children whenever I can. I also like other sports, the countryside and the mountains. And I like some R&R from time to time.
CN: What is the best souvenir of your cycling career?
LB: My best souvenir? I have many.
CN: But if you had to remember only one?
LB: It is not easy to choose. A lot of people think it is my victory in the 1997 World Road Championship, but that is one of many. My first victory as a professional has a special place. It was a symbol and it was my wife's birthday. It is engraved. Then I have the World Championship, as I mentioned before, and my victory in Loudenville (his mountain stage win victory the 1997 Tour de France).
CN: What is the origin of your passion for Marsupilami, the French comic book character, which you often wear on you?
LB: I am a comic book fan. When I first saw this character I was excited because it has some aspects of my character. It was also original. It is true that it is now more famous than few years ago. But for me, it is a kind of lucky charm.