Recently on Cyclingnews.com
An interview with Judith Arndt, November 20, 2003
Arndt I having fun
German cyclist Judith Arndt had another great season in 2003, winning the Tour de L'Aude for the second time in her career along with numerous other races. She finished off with a silver medal at the World Championships Time Trial in Hamilton and an eighth place in the Road Race, but was disappointed with the latter: "I was not able to give 100 percent in the decisive moment the last time up the climb." She spoke to Kristy Scrymgeour about how it all began for her.
Judith Arndt
Born: July 23, 1976
Place of birth: Königs Wusterhausen, Germany
Lives: Leipzig, Germany
Height: 173cm
Teams: 59kg
Marital status: Single
Professional Teams: Equipe Nürnberger (2003-), Saturn (2002)
Career highlights
2003
1st Tour de l'Aude
2nd World TT Championships
3rd GC La Grande Boucle Féminine
2002
1st German Road Championships
5th UCI rankings
1st Stage 3 & 7th GC, La Grande Boucle Féminine
1st GC & 2 stages, HP Women's Challenge
1st GC & stage win, Tour de l'Aude
1st Solano Bicycle Classic
1st Redlands Bicycle Classic
1st Tour de Snowy
2nd Vuelta Castilla y Leon
3rd Rund um die Nürnberger Altstadt
2001
1st German TT Championships
1st Rotterdam Tour World Cup
1st Rund in Kreuzberg
2nd HP Women's Challenge
2nd Tour de l'Aude
3rd GC La Grande Boucle Féminine
2000
1st Individual Pursuit, German Championships
4th points race, Olympic Games
6th Individual Pursuit, Olympic Games
1999
1st German Road & TT Championships
1st overall Bundesliga
1st Tour de Bretagne
1st Individual Pursuit, German Championships
1998
1st German TT Championships
1st Tour de Garonne
1st Individual Pursuit, German Championships
1997
1st Individual Pursuit, German Championships
1996
Bronze Individual Pursuit, Olympic Games
1st Individual Pursuit, German Championships
Judith Arndt decided to give up track racing a few years ago and focus purely on road cycling. Since then she has become one of the leading riders in the peloton, having won many of the big women's tours and one day races. "I cannot say I like road more than track," Arndt explained to Cyclingnews, "Track racing is also very fascinating for me, but after I did it for many years I wanted to change something, wanted new goals and new experiences. I am glad that it's worked out so well for me on the road."
One of Arndt's strengths on the road is the time trial, a strength that also made her a great pursuit rider. This year, Arndt won the German National Time Trial Championships and many other time trials as part of stage races or individual events. She believes that to be good at a the time trial, you need to have the feel for it.
"I would love to win the Grande Boucle one time!"
- Arndt has a few ambitions for the future
"Both the pursuit and the time trials ask for a very good feeling for the speed, that you don't overcook but still be as fast as possible. Either you have the feeling for this or you don't have it, you can hardly learn it. Fortunately I have this ability, although I don't like time trials because it hurts like nothing else does, and also it is very stressful for your head when you need to concentrate so much and make yourself suffer from the first until the last meter."
One race Arndt has come very close to winning, but has not yet won, is La Grande Boucle Feminine (the women's version of the Tour de France). Tour de Snowy, Tour de L'Aude and Hewlett Packard are on her list of big race wins and Arndt has worn the yellow jersey at the Grande Boucle many times, but winning it is something that has been beyond her reach.
Racing to silver at World's
Photo: © J.Devich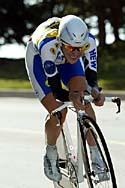 "I would love to win the Grande Boucle one time!," she exclaims. "Although it is not one of the best organized races, it is still a challenge for me to win or to be a part of the winning team. To win this tour, first of all you need to be a top climber, because disproportionately many stages are mountain stages. Then you need do be in a world class team, where all riders fight for the same goal. Of course then you need to be smart, lucky, stable and a good time trial rider. If I want to win the Grande Boucle myself one day I need to improve my climbing abilities."
In the peloton and especially within her team Arndt is known as a very selfless rider, always wanting to help somebody else win rather than focus on herself. When I asked her about this trait, she was very modest and explained her philosophy on racing very poetically.
"Hmmm...I don't know if I would say it like this. I like to win, but I don't like to be in the spot light after...I like the team aspect about cycling. To win as a team is much more satisfying. Shared joy is double joy and shared sorrow is half sorrow. This is just one of the greatest experiences I've had in my life because of cycling. I have won a lot of races not because I was the best rider in the whole bunch, but because we were the best and smartest team. I like this. As one of my greatest successes for instance I also count Petra Rossner's World Cup overall victory in 2002. We were fighting the whole year so much for this victory, the whole team together, and then she won. That was just a fantastic feeling."
Her selfless attitude was accentuated when asked about her personal goals for the future, when in addition to wanting to take part in the Olympic Games next year she said, "My goals for the future are first of all, always to be a useful team member and of course to win as many races as we can."
Shared joy is double joy
Photo: © Tom Balks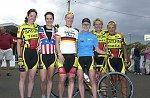 The reason Arndt has succeeded in winning so many big tours is her all round ability as a cyclist. "That means I can do nothing really good, but I am not really bad either? [Again a little modesty]. Since I started cycling I had coaches or more experienced friends who took care that I developed slowly, and step by step. They taught me a lot about training methods and they taught me to watch my body carefully. It is so important what kind of people you meet when you are inexperienced and young. So I was lucky. I think what makes me also the cyclist I am now is that I try to have a good balance between cycling and normal life, the seriousness of the job and the fun of the spare time. I am not too focused on the sport."
Arndt also had the support of her family to participate in sports from a young age. "When I was a child my parents took me for a lot of long bike tours through the Czech Republic for instance. I always used to like it - my little sister hated it, she was crying on her bike - and when I grew older I wanted to be in a sports club and so I ended up in a cycling club. When I was a young cyclist I was always sure I would do this until the age of 30. Now I am 27 (almost 30!) and I have definitely changed my mind...I will continue as long as I have fun and can get money out of it. I don't know yet what I will do after I finished my cycling career but I have a lot of interests. For sure I want to have children."
Winning in LGBF
Photo: © AFP

Judith Arndt left Saturn last year to join a home based team, Nürnberger. A move that you would expect would give her more time to spend at home. "I definitely don't have more time to spend at home now," she admits. "We do pretty much the same race program as I did with Saturn. I am glad to race for the Equipe Nürnberger though. I appreciate that this big insurance company puts their money into women's cycling. It helps to push our sports."
Arndt's plans for next year in terms of which race the team will do are as of yet undecided. "We are not done yet to discuss our race schedule for next season. But I hope the interests of the sponsor will allow me to focus more on one ore two events, the Olympics would be one of them then."
But the team will most likely begin their season in Australia for the first World Cup and the Geelong Tour. "I hope we go there," said Arndt, "I like Australia, especially Sydney."
Other Talking Cycling Interviews