An interview with Haimar Zubeldia
The quiet achiever
By Hernán Alvarez Macías
Got the motor and now, the self confidence
Photo: © Jeff Tse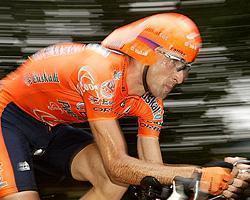 If you were watching the prologue in the last Tour of France, you may have been surprised by the guy who came third. Haimar Zubeldia was the name of the rider who dared to challenge specialist time trial riders like Jan Ullrich or Santiago Botero. It was a prominent start for the cyclist who rides for the Basque team Euskaltel-Euskadi. He started on the podium of the general classification and finished the Grande Boucle with an impressive fifth place overall.
The 2003 Tour edition has been historic for the Euskaltel team as they had not only the fifth but also the sixth best rider in Iban Mayo. While Mayo delighted fans with his climbing prowess in the Alps and in the Pyrenees, Zubeldia demonstrated his consistency and showed he is prepared to become one of the new stars on the international scene.
Cyclingnews: Let's go back in time to the Tour of France. What your evaluation about your performance?
Haimar Zubeldia: Well, if somebody told me before the start I would finish the race in fifth position, I would have taken it. I knew I was getting in a very good shape, but on the other hand I needed more self-confidence. But I encouraged myself after a very good prologue, and that's why I think I rode a good Tour and my outlook is very positive.
Haimar Zubeldia Agirre
Born: April 1, 1977
UCI ranking: 89
Turned pro: 1998
Teams: Euskaltel-Euskadi (1999- ), Euskadi (1998)
Career highlights
2003 - Euskaltel - Euskadi
2nd, Stage 5, Euskal Bizikleta
2nd, Stage 2, Vuelta a Murcia
3rd, Subida Urkiola
3rd, Vuelta a Murcia
3rd, Prologue, Tour de France
3rd, Stage 13, Tour de France
3rd, Stage 4b, Euskal Bizikleta
5th GC, Tour de France
2002 - Euskaltel - Euskadi
1st, Young Rider Competition, Dauphine Libere
2nd, Stage 11, Vuelta a España
3rd, Stage 5, Vuelta a España
3rd, Stage 3, Dauphine Libere
4th, GC, Dauphine Libere
2000 - Euskaltel - Euskadi
1st, Stage 4b and GC, Bicicleta Vasca
2nd, GC, Dauphine Libere
2nd, Stage 3 ITT, Dauphine Libere
3rd, Trofeo Luis Ocana
3rd, Stage 5, Bicicleta Vasca
4th, Classique des Alpes
10th, Vuelta a España
CN: Your team Euskaltel-Euskadi has been performing great in the Tours de France in recent years, especially in the mountain stages with Iban Mayo, Roberto Laiseka and you as the riders on the spotlight. Why do you think this is happening?
HZ: Our team is growing up little by little. Three years ago it was a very young roster and we have been maturing since then. We are growing up as riders and I think that's being shown. I actually don't know what the average of age in our squad is, but I guess we are a very young team. We are reaching the good age for cyclists [between 28 and 32 years of age-Ed] and I guess that's the reason we are showing such progress.
"I'm 26 and when I become 28 I will be in the best age for our sport. I think I can improve much more and we will see how far I can go."
CN: How far off do you think you are before you can compare yourself with remarkable riders like Lance Armstrong and Jan Ullrich?
HZ: I don't compare myself with other riders. I don't watch what other riders do and I don't worry about what I need to do to reach their level. I consider that every cyclist must build his own way, and I think I've made big steps, but I must keep on working hard. I'm 26 and when I become 28 I will be in the best age for our sport. I think I can improve myself much more and we will see how far I can go.
CN: Euskaltel-Euskadi has in its roster some great climbers like Iban Mayo. When do you think we are going to see some pure climbers winning the Tour of France again like Marco Pantani did in 1998?
Surprise packet in the chrono
Photo: © Jeff Tse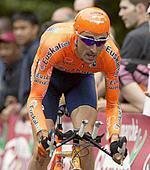 HZ: I don't know. If you want to win the Tour you have to be a very complete rider. One should ride very well not only in the time trials but also in the mountains. This race had very similar characteristics the last few years and the route didn't vary too much. It is clear that a really complete rider has won the competition in its last editions.
CN: Do you consider this is your best professional year?
HZ: I don't know, because in 2000 I also had a very good year. I didn't obtain any wins in 2003, but I rode a great Tour of France. This is probably my best year because I reached a very good level even though, as I said, I didn't win in any race.
CN: How do you imagine the Tour of France 2004? Will Lance Armstrong's reign be over?
HZ: Well, he will prepare himself to win once again and will be the favourite for sure. Indurain failed when trying to achieve the sixth consecutive victory in France. We won't know if Armstrong can get another triumph until next year. This year he had some trouble even though he wore the final maillot jaune in Paris. The cyclists who were fighting for the very first places will have more possibilities because it will be a more open competition. They will see they can reach the first place even if Armstrong will be there.
CN: What races will be you be doing for the rest of the year?
HZ: I won't be riding the Vuelta a España. I competed in Llodio last weekend and I will race some criteriums; after that, I will then finish my season. I actually want to rest; I really hope that our team takes a rest so we can start the 2004 season in good condition.
CN: What's your opinion about the retirement of the big sponsors ONCE and iBanesto from the professional world?
In good company
Photo: © Olympia Photo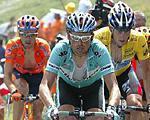 HZ: It is certainly no good at all for cycling. We are hoping that both teams find other sponsors and can keep competing. That will be good for all who are part of professional cycling.
CN: How do you think this could be solved? How do you think these problems could be prevented before they happen?
HZ: It's not easy. Should I have known about it, maybe I could have done something about it. The stem of this problem is that there are some teams that have been participating in the sport for too many years. I'm not sure how big companies [in Spain] can be attracted to sponsoring cycling again.
CN: Which race would you most like to win: the Vuelta al País Vasco, the Vuelta a España or the Tour de France?
HZ: Undoubtedly I would choose the Tour de France. It's the greatest race in the world and I guess not a single rider would argue about it.
CN: In your childhood years, who did you like the most, Pedro Delgado or Miguel Indurain?
HZ: I must say that because of my age I looked up to Indurain when he was winning his Tours. So I have always been an Indurain fan.