An interview with Graeme Brown, December 29, 2003
'Whack, recover, whack, recover'
Australian sprinter Graeme Brown is planning a packed year in 2004, with Giro stage wins, Olympic gold and "As many race wins as possible," his targets for the next twelve months as he tells John Stevenson.
Burning up the boards
Photo: © Shane Goss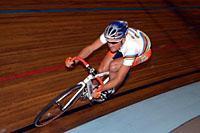 Graeme Brown is, in his own words, "buggered." It's almost 11 pm when Cyclingnews snatches a few words with the sprinter and team pursuit specialist at the Launceston leg of the Tasmanian track carnivals series and Brown has been on and off the track continually since early afternoon. He's just been rolled by Darren Young in the day's final event, a 17,000m scratch race, but he seems generally upbeat about the way the series is going. He has, after all, been almost unbeatable in the scratch races so far, in a devastating combination with team-mate and lead-out man Brett Lancaster.
But while Brown is clearly enjoying himself immensely in Tasmania, he's already thinking about the year to come, the two long-term goals of the Giro and the Olympics and the short-term task of a very full January.
"I'm going home [to Sydney] from here for a couple of days and that'll be my last few days at home before October next year," he says. "Then there's the Bay Series, Tour Down Under and through to Malaysia [for the Tour of Langkawi]." He forgets the national championships, sandwiched between the Bay Series and the Tour Down Under - and when Cyclingnews mentions it he laughs and says, "Oh yeah, national championships as well. There's too many races!"
From Langkawi it's back to Europe to join his Italian-based Panaria team, and a simple goal, "to try to win as many races as I can.
Winning form
Photo: © Shane Goss

"The main focus will be the Tour of Italy. For my team it is, for me personally it's the Olympic games. Those are the main goals of the year. I want to win a stage or two [at the Giro] and etch my name in with the sprinters."
Unlike some sprinters who shine in the early days of three-week tours then drop out once the race hits the mountains, Brown intends to finish the Giro. "I [intended to finish] last year and I just prepared for it wrong. If all goes to plan, hopefully I can win stages and finish the Giro. This year I had a few injuries. I hit a pothole at 50km/h and that put me back a month. If I can not do that, hopefully everything goes according to plan. I just seemed to have a bad luck filled year."
Juggling the twin demands of trade team and national squad doesn't seem to be a problem for Brown - a balance that it's vital to get right in an Olympic year. "[Ceramiche Panaria] is generally quite happy with me doing it because it's also good publicity for the team. As long as it doesn't clash with any of the main races, they don't have any problems. It's the Olympic Games and [the Australian pursuit squad] is probably classed as the favourites to win Olympic gold. That's gotta be good for the team, so I think they'd be silly not to let myself and Brett go."
Might the effort of finishing the Giro have a detrimental effect on his subsequent performance on the track though?
"No. It'd actually probably make me stronger. Most of what the team does for the year is road tours, road racing, road training - everything is road orientated and for me to finish the Giro would probably benefit the track. We're doing a tour that finishes three weeks before the Olympic Games because it's good preparation."
Brown's comments echo sentiments expressed by Bradley McGee that finishing the Tour de France helps him in the individual pursuit. You might feel tired but a couple of weeks after the Tour you're flying because you've effectively just done three weeks of incredibly hard training.
Working hard
Photo: © Shane Goss

Brown has had a similar experience. "In 2001 I did the Baby Giro and went straight to a World Cup. I felt really tired, but on the other hand I was really strong and performed well. You feel really tired, you feel like you can't do it, but you do it and it's quite surprising.
"You probably would lose some of your sprint, but you're still sprinting during the tour and for the target, the teams pursuit, I don't need to sprint, I need to go 'whack, recover, whack, recover' and for that endurance is more important; to be able to push a big gear and keep it going for 4km."
One vital factor for a pursuit team - especially one that wants not only to win, but perhaps to lop some more time off its world record time - is the quality of the venue. Brown is looking forward to checking out the Athens velodrome, but not without some trepidation. "I heard the velodrome's really fast and that was when it was outdoor. If they put a roof on it - oooh, it's going to be extremely fast apparently. But if they put a tin shed roof on it, it's going to be 50 degrees in there. We'll have to wait and see!"
See also: 2003 Giro d'Italia interview with Graeme Brown and Happy to be home, but hungry for more
Other Talking Cycling Interviews