An interview with Genevieve Jeanson
Killing them softly
Jeanson: One of the greatest
Photo: © Rob Karman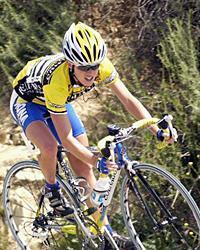 At the ripe old age of 22, Genevieve Jeanson has a list of results a mile long and has been named by some as one of the greatest cyclists in the world. But why won't she race the Grand Boucle? Cyclingnews correspondent Kristy Scrymgeour sat down with Jeanson over dinner to find out.
Talking with Jeanson after the Grand Prix du Montreal was a pleasant experience. Despite the common belief that she is very shy and introverted, it seemed that this particular evening she was in a very talkative mood indeed. After winning the World cup just days before and recently finishing a three day UCI tour, Jeanson was tired and looking forward to a rest.
"We can talk about anything else except cycling," says Jeanson with a grin. Of course, she knew I wasn't going to let her get away with that, however, I found this comment totally understandable after witnessing the Quebecois press that the young superstar had to deal with during the week. It was almost impossible for her to walk anywhere without a hoard of journalists and fans swarming her.
Jeanson became involved with cycling at an early age. "I wanted to get in shape." She said. "I was 11 or 12 and I was seeing my friends get fat and going to McDonalds all the time. I was bored with that so I got a bike and started riding.
"I am not ready tactically to do the tour yet."
"I chose cycling because it was the easiest thing," says Jeanson. "It's hard on your body to run a long distance when you are young, so riding was better. There was a bike path in Lachine so I would ride there."
Ten years later and here she is, riding for Rona-Esker and happy with the way things are heading. "The team this year has been great. We have a great time and I feel lucky to be around such great people.
In her short career, Jeanson has some great victories to her name. In 1999 she won both the road race and the time trial at Junior World Championships in Italy. She also has won the Tour de Snowy, the Tour of Gila multiple times, Fleche Wallone and the Tour de Toona. She is now a two-time winner of the Montreal World Cup and has won multiple National Championships medals. Why then won't she race the Tour de France?
"I am not ready tactically to do the tour yet. It is a hard race and I need more experience first. Slowly I am getting there and one day I will race it, but not yet. The other reason is that we need more money to do it properly. I read about some of the tours in Europe in Kimberly Bruckner's diary on Cyclingnews and it sounds like it's tough to race over there. With the all the bad hotels and long transfers, I think I will wait till we can afford to do it properly.
Mobbed in Montreal
Photo: © Kristy Scrymgeour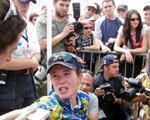 This year one of her biggest goals was the Montreal World Cup which she won in style. "Montreal was a big one for me. I'm really excited about winning it and about the way we won it. I couldn't have done it without my team. They took my objective seriously and did everything to get me to the line first. We followed our plan and it all worked out perfectly."
Traditionally Jeanson's tactic has been to attack early and ride away, but this time she let her team do the work and waited until just the right moment on the last climb to make her move. "I was getting impatient", she admitted, "but I waited and I'm glad I did."
Her self-confessed tactical inexperience is the main reason Jeanson has not yet tackled some of the big races in Europe. Many people have criticized her for this with the attitude that if she can win races by such a big margin in North America, why doesn't she race in Europe. Others are simply looking forward to seeing what she is capable of.
One race in Europe Jeanson does want to compete in this year in the French World Cup. "I would really love to do that race in a support role. Two of my teammates, Cathy Marsal and Magalie Le Floch, are from France and I want do everything I can to help them win that race."
The other big race coming up for Jeanson is the World Championships in Hamilton, Canada and the Olympics in Athens next year. "I really like the World Championships course; I have driven over it in a car and it suits me, but it is a one day race and anything can happen. We will race our National Championships on the same course so that will help. As for next year, Athens is a big goal for me, just like it is for every athlete I suppose."
Shadow warrior
Photo: © Rob Karman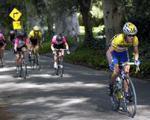 When she is not racing, Jeanson leads the life of a typical cyclist who likes to do nothing with her time. "I am very boring," she explained. "I sit on my butt and do nothing. I read a lot. I like good books that are easy to read so you can read at night."
In the off season and in between races, Jeanson lives in Arizona. "I keep in touch with some of my friends from home but it's hard as we have such different lifestyles. I really enjoy Arizona. I have met some great people and I have a great time with my friends there. I really feel at home. The only thing is that it is very dry and I miss my family, which is why when I am home in Lachine, I stay with them."
As for her love life? "Non existent," she laughs. "I don't want to spend the energy for it. Of course there are times that I wish I had a boyfriend, but most of the time I am glad that I don't have to worry about it."
I then asked her what she wanted to do after cycling. "I would like to own a pub. I really like good beer and I want to own a pub where people can order all types of beer and get nice fresh food from the market to go with it. For example, when someone orders dark beer I would serve it with nice cheese, when someone wants wheat beer they will get crackers, and of course I would serve coffee with chocolate."
However, Jeanson has a long time to wait before she needs to think about life after cycling. "I want to ride until I'm 30 I think. I will leave cycling when I feel satisfied with myself, but there is no one race in particular that I want to win before I retire."
In closing, Jeanson wanted to say one last thing: "I want to thank Andre (Jeanson's director and coach). We are a team inside the team and I would really like to thank him for that."
After two weeks rest, Jeanson will race the National Titles in Hamilton before possibly heading to France for the World Cup.