An interview with Ciarán Power
A Navigator finds his way
After a year on the US-based Navigators team that saw him win Ireland's prestigious FBD Milk Rás, Ciarán Power has a renewed enthusiasm for racing, as Gerry McManus discovered.
Irish nationals
Photo: © Gerry McManus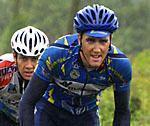 Ciarán Power's early professional career was disappointing for him, but he bounced back in 2002 and the 26-year-old rider who took on some of the world's best in the First Union Series last June was remarkably different from the one who competed in the Sydney Olympics in 2000. He'd nearly pulled it off in the First Union Classic event in Trenton N.J. but was caught in almost touching distance of the line in the 31 mph event.
So what's made the difference?
Ciarán explains: "I know my form was really good last year and I was getting plenty of rest between the big races. There are a lot of guys in the team that are able to win races and we each get a turn. In Trenton I was just unlucky that the guy I got away with didn't work."
Last season was his first Stateside and the team culture is certainly different from the one he experienced with the French Saint Quentin-Oktos squad.
"I hadn't even been to the States before. It's brilliant, I absolutely love it. In Europe it's cycling, cycling, cycling and they treat you like a child. Here they expect you to be professional and do your job but you can make more of your own decisions. We have the best equipment and everything is organised, all the travel arrangements are made for you and people ready to pick you up from the airport."
Sight-seeing
Photo: © Gerry McManus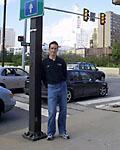 He has been a full time cyclist almost straight from school, going from his Waterford home to France as an amateur and then two years traveling with the Irish team before returning to France. Then followed time with the Linda McCartney squad and St Quentin - Oktos before the Navigators snatched him from disillusionment with the sport.
His new one-year contract with the New Jersey-based Navigators team came after a good first season under director sportif Ed Beamon where he amassed 109 UCI points.
"It's the most UCI points that I have ever had, even with the Linda McCartney. We don't do an awful lot of UCI races but we are going back to Europe in February and there's also the National Championships in June as well."
Power was second in the 2002 championships won by new AG2r professional Mark Scanlon. "Mark deserved to win," he said: "We were away almost from the start and both of us worked hard all day and I didn't give it up easily to him. At the end Mark wasn't working and Tommy Evans got up to us and they just kept taking turns attacking."
Ciarán is not daunted by the 2003 championships being on Scanlon's home turf in Sligo. "I would like to wear the Irish champion's jersey." He said: "The team will have to be going well for the USPRO champs in Philadelphia early in June and the home championships are only three weeks later so I should be in top form."
Grabbing second
Photo: © Gerry McManus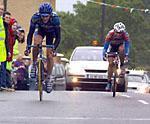 His professional career has been dogged with misfortunes that included breaking his collarbone in the Four Days of Dunkirk in 2001, wrecking his season. The Linda McCartney team is a ghost that he shares with a number of others, but he reflects more kindly on the experience then perhaps they do.
"The sour point about the McCartney situation is that we were left without contracts in January when it's almost impossible to find a team. My girlfriend Lisa and I thought we were good friends with Julian Clarke and his wife. We spent the whole winter in Toulouse going over for dinner with them and we even went to get a mortgage on a house just down the road from them. Even a month before the collapse they were encouraging us to do it."
"Having said that, if it wasn't for the team, maybe I wouldn't have signed a pro contract. So I have the team to thank for that and it was a very enjoyable first year. It's a pity it ended because my next team in France was so badly organised that it just made me hate cycling. At the first meeting with St Quentin - Oktos we were told we had to make all our own travel arrangements ourselves and it just got worse from there. The whole year was a mess really but it's great to get my motivation back now."
A baby Power arrived in October last year and Keegan will be moving to the USA with his proud parents sometime in May.
"Long term I would like to stay in the States. I used to think Europe was everything even up to last year. I've raced on both continents now and if I could do that every year, two months of Europe would satisfy my appetite. Every one has got excited about the European results we got last year and it's opened some doors for us."
There are close ties within the family where Ciarán is one of six, three girls and three boys.
"My younger brother cycles a bit but he's doing his exams at the moment, and dad cycles sometimes when his knees aren't killing him," he chuckled. "I love being home in Ireland. The team is very understanding with family stuff."
Winning the FBD Milk Rás on home soil was a proud moment for the family too.
"Ed (Beamon) had said I could ride the Rás but that I had to watch myself and not come out of it too tired. My form was so good that I didn't have to go into overdrive and I was pretty comfortable most days. Britain's Chris Newton was fantastic all week and very deserving of his results. I think the Compensation Group boys contributed a lot to the race too. They were not afraid to attack and weren't that far from podium spots really."
The Irish squad will be focused on achieving results in the 'B' world championships in Switzerland in July to gain places for the 2004 Olympics. "Mark (Scanlon) and I will not be eligible for the 'B' worlds so its up to the Irish team to get some good results. I would love to be selected for the Olympics again in Athens. I may be in with a chance on my own if I can gain enough UCI points."
"I can't see too many more opportunities coming up for me to race for the Irish team this year. Navigators provide Lisa and I with a living and my priority is there first. However if there is room on the schedule I would love to go away with the Irish team. They rode well in the Rás and it was just great to be around the lads."
"I have been working hard to be fit for the early season events in Italy and Belgium, training 30 hours a week and putting in some high intensity work. Unfortunately I have picked up tendonitis but I expect it to be gone in about a week and we have a little time before our first Italian race."
The stronger 2003 second division team travels to Italy for early season racing on February 6th with new recruits Henk Vogels and Chris Wherry. The two ex-Mercury riders are expected to add more experience of European racing to the squad.
This may just be the year that Power sees the rewards for his perseverance.