An interview with Charles Dionne
Can't keep a good man down
Happy to have this year's crash collection behind him
Photo: © Ray Easterling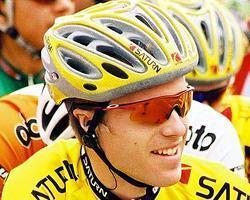 After finishing last season on a high with his victory at the San Francisco GP, Charles Dionne had a disastrous start to 2003. But with his win at Captech Classic the Canadian sprinter is back on track, as he tells Ray Easterling.
At the end of last season, Charles Dionne was on top. He'd just issued a declaration in the San Francisco Grand Prix, announcing his arrival on the international scene by beating to the line no less than three of the biggest names on the mighty U.S. Postal squad, besting a two-time Olympic gold medalist, the then-reigning champion of the Grand Prix and, oh yeah, some guy named Lance.
Dionne would finish out his season at the world championships in Zolder, Belgium, and acquit himself nicely there, staying near the front until getting tied up in a crash during the final kilometers. Perhaps that wreck in the worlds should have been a portent for the young Canadian rider.
Fast forward to February 1: Dionne is riding in Malaysia for a strong Saturn team. It is the second stage of the Tour de Langkawi and with a few hundred meters to go, Dionne is looking for the win against some of cycling's best once again. Then the rug gets yanked from beneath him. Well, literally the bike, but you get the idea.
"You don't want to have that kind of crash too often in your life," the Quebec native told Cyclingnews, displaying the six-inch semi-circular scar on his thigh to emphasise his point. "With 200 meters to go, I was on my butt and still leading the race. With 200 meters to go, I'm sure I could have won that thing. I hit the side of the barricade. There was a plastic sign that just cut my legs and tore apart. . ." Dionne stops mid-sentence.
Game on
Photo: © Ray Easterling

"Basically, the skin was peeled like a banana so I had to put it back together," Dionne says, then pauses again. "I was able to see my muscle. I went to the hospital, and they opened it again 'cause I had put it back myself the first time. They opened it again and tried to clean it again without giving me any pain killer on my muscle."
Dionne says he felt pretty calm, sitting on the road after the crash in Butterworth, Malaysia. The thought going through his mind as he looked at his leg was, "Oh no. How many days am I going to be off the bike?"
It took 47 stitches and six weeks before Dionne was able to race again.
Of course, ride long enough, hard enough and every racer is certain to meet the stretch of asphalt with his name on it. And, sure, some unlucky pros will even have a couple of major crashes in a season. Dionne, on the other hand, has had three serious crashes in just the first half of this season alone. After a successful return to racing and a stage win at Redlands, Dionne was involved in a seven-man tangle halfway through the final stage of the Tour of Georgia which sent him, Roland Green and Roman Peter to the hospital.
"The last thing I remember is the Ofoto guy [Peter] just laying in front of me and I try to [avoid] him on the left and I wake up in the ambulance," Dionne says. A concussion, not a stage win, would be his souvenir from Georgia. Tack on another crash at the Peace race in the Czech Republic and the man has his hat trick. But for Dionne, these incidents are now just bad memories, put behind him. His smile lights up as the conversation changes from the past to the future.
"I've got three and I'm done, so all clear," Dionne says, his desire to be through with crashes evident. "More victories, that's what I'm looking for."
When Cyclingnews talks to Dionne, he is sitting in a press conference in Richmond, Va., having just won the inaugural CapTech Classic. More victories, indeed.
"It's a test, just a little test and I think I passed the first half," he says of the 45-mile criterium. "The bigger test will come later in the week, so hopefully I will pass the other test, too… I'll be there and ready to battle for first position."
Winning at Redlands
Photo: © Rob Karman

It is obvious that Dionne and his Saturn brethren are eyeing the imminent Wachovia USPRO championships, as are all the teams participating.
"I've got a couple goals and dreams. I've got more dreams than goals, but I don't want to talk too much about that," Dionne adds, sidestepping all questions about his targets for the year. "I'll just let you know this week is a big week for me."
Regardless of the goals for him and the team, it seems that Dionne has found a home with Saturn. "I think [winning the San Francisco Grand Prix] helped a lot because I signed with Saturn which is the best team in US. We're like a big family."
Dionne will need his newfound family when he returns to San Francisco to defend his title. Unlike last year, everyone will know who he is and what to expect.
"The first year I did San Fran, nobody noticed. I was in the breakaway for one lap and got dropped after that, so last year they thought I was a shocker," Dionne says. "But I won it last year, so now, I'm sure, the team, my teammates, and [everyone will have] expectations for me for San Fran. We'll see how it goes. I'm sure I'm going to be ready at that point if everything goes well and I stay straight on my bike. I should be all right, but it's a long way, long, long way to go."
Whether he will openly admit it or not, Dionne has another goal a few weeks after the Grand Prix: the World Championships will be held in his home country of Canada.
"It's like having the Olympics in your backyard. That's basically how I feel about that," Dionne says. "Last year, I was the only man representing Canada in Belgium and I thought I did pretty well even with a little crash with a couple [kilometers] to go, so I really want to be there this year and I'm going to do everything I can to be there and hopefully I will be there, ready to race and do well for Canada."
"[Racing is] like playing blackjack," Dionne said. "You've got some good cards sometimes, but you don't always win. But you need to play the best and hope for the best."