An interview with Bjarne Riis - Coach to coach
By Russell Williams
Bjarne Riis victorious on the climb of Sestrieres in the 1996 TdF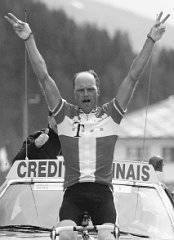 I am totally knackered. I'm standing up to my thighs in cold water in an outdoor swimming pool in Club La Santa, Lanzarote, trying to convince myself that I am younger than I presently feel. Standing next to me is a collection of cyclists: to my right is Tony Doyle, two times world champion and Nike Cycling Operations Manager, on the phone talking to Lance Armstrong. To my left is Bjarne Riis, winner of the 1996 Tour de France and CSC Director Sportive.
I'm here as a coach on the Tony Doyle Cycling Training Camp where cyclists of all levels come to try and get their first leg on the new season's training ladder. I've just taken out a group of 20 cyclists and triathletes up Fire Mountain. The weather is around 80 degrees with plenty of wind just to add to the thrill and the suntan. Most of the riders are here for two weeks and expect to go home resembling the man I am stood next to - Bjarne.
Known for my incessant chat, I thought why not ask my fellow coach Bjarne a few well chosen questions while I wait for my legs to stop screaming.
Cyclingnews: Did you enjoy cycling as a child?
Bjarne Riis: I started cycling at seven. Between seven and 12, I won 25 races. I knew I had a talent for the sport but I packed up at 13 and played football for a while. I was a winger; I could run like a horse.
CN: What success did you have as a junior?
BR: I was one of the top five in Denmark and was eleventh in the 1981 Junior World Road Race.
CN: If you had your time again, what would you do differently?
BR: I wouldn't change a thing - it took a long time to develop to become the rider I became and to learn what I needed to become a world class athlete.
CN: Where are your good memories when you look back?
BR: The best team I rode with was Ariostea from 1992-93 - with Feretti as the Director I learnt a lot. Telekom was another, because I won the Tour with them and the friendship with my teammates was a crucial factor in my winning. Castorama was another rewarding experience, riding alongside Laurent Fignon as captain.
CN: What is the best bike you've ridden?
BR: I don't think I can say - hopefully the best is still to come.
CN: What was the main thing that helped you win the 1996 Tour?
BR: The one factor that most helped was the improvement to my pedalling action. Using video and computer equipment I worked to improve the point at which I started to put force onto the rotating crank arm. I was able to start putting force onto the pedal almost 20 degrees earlier than the previous year. This improvement in power, along with a smoother action gave me the significant increase in power, which in turn gave me the Tour.
CN: If you had the power, what one thing would you change to improve professional cycling?
BR: Innovation - the rules are too strict. It should be like formula one racing cars. As long as it doesn't compromise the riders safety, technology should be used to its fullest to provide the cyclist with the best tools to do the job.
CN: What riders in CSC should we look for in the Classics?
BR: Tafi, Van Hyfte and Van Bondt.
CN: What advice would you give a top under 23 who wishes to turn pro?
BR: Hard work - do something first before you want something. Put the training in if you expect to get anything out.
CN: Who is the better Tour winner - Mig or Lance?
BR: I admire them both. They both gave 100 per cent and were very focused as professionals - very much like me.
CN: Can Jan Ullrich beat Lance Armstrong in this year's Tour?
BR: Jan is a very good friend of mine but I think not. Jan does not train for the Tour; he lacks awareness. Lance has this awareness. Many pros do not possess this special understanding that takes time to acquire.
CN: Finally, how much time do you spend on your bike now?
BR: It is very important as the director of a major team to be seen riding your bike. You always need to remember what it feels like to have bad legs. This keeps you in tune with the riders on your team.
And with that he got out of the pool, towelled-down his legs and walked off in the direction of his apartment. I could only drag my weary bones back up the stairs, into my bed and wish for the days when I was Rob Knight in "The Escape Artist: Life from the saddle" by Matt Seaton.
Tip of the week: In preparation for the season read or re-read Lance Armstrong's book "It's not about the bike: My journey back to life".