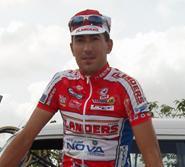 Photo: © Anthony Tan
Moving on up: The Trent Wilson Journal 2003
Welcome to the Trent Wilson Journal for 2003. The young iTeamNova rider was one of the six who made the cut when the Australian Div III team merged with RDM-Flanders to form Flanders-iTeamNova, and move into Division II.
Chewing the fat before my big Christmas bash
Sydney, Australia, December 17, 2003
G'day,
Last time I wrote I was hanging the bike up for a few weeks and heading to the beach. My three weeks went all too quickly and before I knew it I'm looking at the new season ahead. Also, as I sit here, its only four and a half weeks till the first big one of the 2004 season, the National Championships.
These months go way too quickly and I have replaced nervousness with confidence. With my season finishing up on the second week in November, it was hard to kick back and fully enjoy the off season when you know your peers are out doing huge miles, getting that advantage over you for the first few races of the season. I admit I was nervous, but after getting back on the bike and putting a few big rides together, I am starting to feel like a bike rider again!
Third time lucky in Langkawi?
Photo ©: Anthony Tan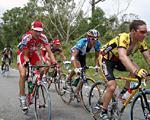 As I do every year, I started my pre season in the gym, virtually straight after coming back from my holiday on the Gold Coast. Three weeks off the bike and back into training to get going for January, with my main goal being the Tour de Langkawi in the second week of February. I have done this race twice before and everything about it is great.
The last few days of my off-season were spent at Brad and Rod McGee's FDJeux.com training camp. The only thing was, that I wasn't training. The boys were going out doing five hour rides as I sat on the river sun-baking. I had to keep reminding myself that I need this rest...
The camp was great and it was great to catch up with all the boys. I did drag a bike out one day and go for a mountain bike ride with Rocket Rod and Cookie. Now that was a fun day. Cookie was being conservative as Rod and I tried to take each other out at a bad attempt of 'MTB-Keiren'. This was followed by a great display of descending by Rocket Rod. The camp for me finished on a downer as I tried to break the mountain bike course record on a bike I had not even looked at till I sent myself over the hangers, realising after I had crashed that the brakes were opposite to the way I have mine set! I started my pre-season two days later with a basketball-size knee and a limp. Apart from my stupidity, it was a great few days and nice to have another shot at the water ski.
The first week back on the bike was as it always is: very difficult. I hate that feeling of being uncomfortable on the bike. You know the one... where your seat feels low, brakes seem to be rubbing and tyres flat. Not to mention the quads from all the gym work.
Second week back was perfect for me. After a rough first week, I sat down and got some structure in my training, set all the way till the Tour de Langkawi. I needed to get back out and do some slow long miles and the man to help me do it was my good mate David Harrigan. The only way to catch up with a mate is to yarn over off-season tales over a five hour ride. He was down from Coffs Harbour for the week and we spent a few hours chewing the fat on the Sydney roads.
Week three now and I'm starting to feel like a bike rider again. Everything is going to plan and I am feeling fresh and comfortable on the bike. It was time to change training partners, as Harro left, Al Iacuone arrived up from Melbourne for a week. So it was time for another few five hour rides before we scraped the surface on all the gossip.
Beginning the new year with Colombia Selle Italia and returning to Italy leaves me wondering what lies ahead. I think it's the best move for me to go back to Italy and hopefully my good climbing form will return upon arrival... it'll be an interesting year and hopefully a turning point in my career. It's sad to leave iteamnova.com and a shame it couldn't go on. We were a great bunch of mates on that team and I'll remember the good times we had forever. I must once again thank Susan Stewart for the great two years and Jerry Ryan from Jayco for his support this year. The next few weeks will be spent clocking up the miles before I head to the Bay crits. I have my seventh annual Christmas party this Saturday night which will be a good one. I also have probably my last golf day for a long time, on tomorrow. After a few hard days, I think its time for one last hit.
Till next time,
Cheers Willo