Recently on Cyclingnews.com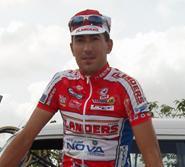 Photo: © Anthony Tan
Moving on up: The Trent Wilson Journal 2003
Welcome to the Trent Wilson Journal for 2003. The young iTeamNova rider was one of the six who made the cut when the Australian Div III team merged with RDM-Flanders to form Flanders-iTeamNova, and move into Division II.
Going out on a high
A beach in Queensland, November 13, 2003
G'day,
Well, the 2003 road season is officially over. After 115 days of racing this year, I must say I was looking forward to a rest. The bike will been hung on the rack for a few weeks now and the board shorts have been pulled out.
I am currently up on the Gold Coast having a holiday with my mates, Tomas Buchacek, Brendan Murphy and David Harrigan. We're staying in a hotel facing the main beach in Surfers Paradise on the 13th floor. We are definitely doing it tough this week! Days have been spent laying on the beach, body surfing, improving my very average golf game and sitting at coffee shops on Caville Ave. The nights have been jam packed with Aussie barbie fests and a couple of coldies.
The last race of the year finished well for us as a team. The six day Tour of Queensland was a well run race and I think I will definitely go back next year. At first I wasn't too impressed about racing in November and preferred a break but in the end I enjoyed it and wouldn't hesitate to go back. It was a casual, relaxed week, but we also raced hard. John Craven did a good job by making the stages short, realising that most Europeans won't be too keen on doing 200km stages, and he was rewarded with some good hard racing. I have to also say that the hospitality we received from the Bundaberg Jayco manager, Denis, was fantastic.
Dave Macca won the tour for our Jayco team. He came out of the Sun Tour with some good form and made the most of it. Jamie Drew also held his Sun Tour form to finish 8th. I spent most of the tour on the front defending Macca's lead. So it wasn't bad for a team that got the wise words from our team director Dave Sanders on the first night which were: "keep motivated and try and do something, it's late in the season, but keep it together". So he was stoked when we won.
It was a pretty emotional finish when Macca won, as it was our last race as a team. After two years we have all become closely knit and to all be going our separate ways next year there were a few hugs getting around. I have made some good friends and will be sure to always have them as good mates. To finish the good end of year run, Scotty Guyton won the Tour Southland to make it an iteamnova double win. Nice way to finish two years together!
Well, I'm off to the beach to enjoy my break.
Cheers,
Willo