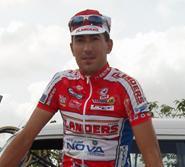 Photo: © Anthony Tan
Moving on up: The Trent Wilson Journal 2003
Welcome to the Trent Wilson Journal for 2003. The young iTeamNova rider was one of the six who made the cut when the Australian Div III team merged with RDM-Flanders to form Flanders-iTeamNova, and move into Division II.
Hectic end of season and back to Oz
G'day,
The last six weeks have been busy, between traveling, a heavy racing program, moving out of my apartment in Gent and settling back into the Australian lifestyle.
When I last wrote I had just arrived back from China after doing the Tour of Qinghai Lake at a minimum of 2500m altitude. When we arrived back in Belgium, we had a few days off and we were back into it. First on the agenda was Druivenkoers Overijse, in Belgium. It's a hard race which I remember from last year and after a few local laps the race is generally decided. This year, after doing a few big circuits, we hit the local laps and the race was quickly decided on the two steep climbs each lap. I made the race-winning split but the legs weren't good, eventually getting dropped and going back to the main group. We were eventually pulled out after being too far down with a few laps remaining.
Next we were off to Trofeo Melinda and Giro del Friuli, a couple of big ones in Italy. The form was good and I was climbing better but just couldn't climb at Mach 10. The Italians were at full strength and obviously all gee'd to try and make selection for the World's. Both races I made the last 45-rider selection but just couldn't go with the big guns when crunch time came.
After Giro del Friuli I stayed at my old team house near Treviso for a few days, and caught up with a few old mates again before having to head back to Belgium. My Belgian team mates could see why I loved training there, with the serenity and the awesome mountains to ride in.
Back to Belge for a week, and one room mate moved out and another moved in. Jez Hunt timed it well, with a busy Belgium race program, was looking for somewhere to stay, just as Kate Bates was heading back to Oz.
We headed back to Italy again, this time it was to the Romagna region. Coppa Placci was first up, and it is as hard as they say it is. The race stared flat-out with the first attack coming from the freshly crowned team pursuit world champs Brown and Lancaster. Luckily that was shut down and we settled into a nice piano session. When we did eventually start racing I made the break and so did my team mate Dom Perras, so I mainly drove the break as I had bad legs and he was traveling okay. We hit the major climb of the day and then the brutal circuits that everybody was talking about. The race blew to bits and a handful of riders finished within a few minutes of each other.
Giro di Romagna was the very next day and I decided that I was getting in the early break at all costs. It was flat out from the gun for about 10km, and as soon as it slowed I went. Three of us got away, gaining a maximum of 12 minutes. Roger Beuchat, the Phonak rider in our breakaway then proceeded to rip my legs off over the brutal course. At the 100km mark I went back to the main group as it split up. Roger did a sensational ride to finish fifth, in the front group of 10 riders. I eventually stopped with serious back pain from going 110 percent for 130km up and down mountains.
My last European tour for the year was Ster Elektrotoer in the hilly part of Holland. It was a hard tour but every day I was feeling better and better. The first day was a short time trial held in the pouring rain but fortunately that was all the rain we got all week. The second stage saw a group of five jump clear near the finish and I lost a bit of time on GC. The next day was when all the bergs started appearing. Jamie Drew was riding well and was jumping across to any break at any time at will. I was starting to feel stronger and helping Drewy out on the climbs.
The fourth day was the one that sticks in mine and everyone else's memory. It was a 210km stage that was like a mini Liege-Bastogne-Liege. We were down to 40 riders with 40km to go and I was sure the worst had been done, but I was wrong. This was were the race really split up. It split up into little group and then it was either a time trial or a fight to get to the finish. The tour finished with a nice flat day.
The last day of Ster Electro I hurt an old Achilles injury. This along with fatigue hindered my last two one-dayers in Europe, GP Wallonie and the Kampioenschap Van Vlaanderen at Koolskamp. Both races I couldn't put pressure on the pedals and didn't do my head any favours. You always remember your last race in Europe for the year, and that's not how I would've liked to remember my season.
Back to Sydney
After packing up my things and moving out of my apartment, I had the joy of a 24 hour flight to Sydney. It felt weird being back after eight months and I took a while to settle back in - and I had to settle in as quickly as possible because three days later I had the Sydney to Lake Macquarie/NSW Champs (formerly Hornsby-Warners Bay) on, which I won last year and wanted to repeat the same performance.
Saturday night I didn't think I would start, I was so down and couldn't eat my dinner. I went to bed super-early and woke up all right. Ten kilometres after the start I got in the early break which is not where I wanted to be but I did it anyway. Chris Sutton, Troy Glennan and I worked well together and picked up the KOM on the way. We were away for 90km and never got more than a minute. From what I hear it was just an attack fest back in the bunch. I just kept driving, thinking a group of five or six riders would come across but it never happened. When we were caught I thought my race was well and truly over but 10km later I went across to a break and that was the winning break. I was a shattered man and was just hanging on, but drunk and ate a lot and eventually, with 20km to go, I came good. The group of myself, Brendan Cato, Dunston, Glennan and the Uraguyan rider again worked well together to keep the chasing group at 40-50 seconds for 50km. I attacked up a climb with 10km to go and rode away to win solo. It was great to win back to back tittles and It's always good to win in your home city. It was good for the moral and motivation with the Herald-Sun Tour coming up.
Since being back in Sydney I have been training well and catching up with mates. It's what I need this time of year to keep motivated after 97 days racing so far this year. It hurts to get up that little bit earlier every morning but it's all worthwhile when you're sipping on a cappuccino on the beach at Manly at 9am in the sun. A mate of mine, Pate Ryan has timed his work leave to perfection and has become my daily training partner, among others.
Another returnee to Sydney is my former team mate from Italy, Czech rider Tomas Buchacek. He's out in Australia for his fourth appearance in as many years and is riding his third Herald-Sun Tour. He loves Sydney and loves our life style. Good to have him back staying at Hotel Willo.
I am off to Melbourne tomorrow for the Melbourne to Warnambool and the Herald-Sun Tour. Then back to Sydney for a few days before going to Noosa, then Bundaberg for the Tour of Queensland. Then, finally, a holiday on the Gold Coast - a well deserved holiday, I reckon!
Cheers
Willo