The Scott Sunderland Diary 2003
Kudos to Dodger and Ben
October 10, 2003
Silver for Dodger
Photo: © Sirotti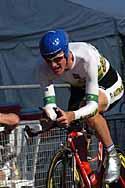 Dodger (Michael Rogers) came in second in the Elite Men's time trial yesterday - fantastic ride! Mick has had a great year and I'm stoked for him. This is a great guy heading for a great future in cycling. And the fact that he is still the down-to-earth Aussie bloke that he was before this successful season is something people appreciate greatly. We get along well and I am really very happy to see him take silver today.
It would have been unbelievably big if he took gold but David Millar was unbeatable. Just like David would have been in the prologue in the Tour de France if it wasn't for the bike letting him down. He had a lot of technical problems which made him lose that one, but he has put things straight here at the World Championships.
I also have to mention Ben Day's ride. It was a very solid performance finishing eleventh, great for Ben, who has been riding for a small team and did not have the ideal preparation leading up to the World's TT. He went over to Hamilton and tried to train as well as possible in the previous few days.
We rode on the circuit today. This parcours suits Mick, Matt (Hayman) and myself really well. Actually, this parcours is one that suits me better than the 2000 Plouay one, where I finished 7th.
But I feel that the food poisoning I suffered from the week before coming out here has taken a lot out of me. I was planning to prepare in the same way I did for the 2000 World's but I knew right away that wouldn't be possible after falling ill during the Franco-Belge stage race where I got served bad fish.
I still don't feel 100%. I seem to be very hungry and actually had to return to the hotel earlier than the others because I was famished. I suppose it's pretty normal after still not being able to eat properly last week. The ambition to do as well or even better than I did three years ago has unfortunately melted as snow before this fine Canadian sun.
I've got rather modest goals right now, and will be working my arse off for Dodger and Matt. That for sure should be possible, at least in the first 200 km of the race. I'm also convinced it will be a great experience for Allan and Scott Davis, who are both very promising young riders.
It's a really tough parcours. There has been little talk about tactics between us. But as my Belgian mate Serge Baguet and top favourite Peter Van Petegem said: "There's little use in making a plan, as that plan will be outdated before the race is halfway!". There is just no telling in how this race is going to go.
The atmosphere in the hotel is great. The guys are all in good spirits - for sure now after Dodger's ride! - and we all enjoy the good weather, which wasn't predicted. I also am enjoying all the Canadian and American people recognising me while training, it's a nice feeling. Scott Davis told me it's amazing how many people are yelling my name and asking for autographs and photo's. Most of them tell me they're big cyclingnews.com fans!
Well, I guess being the oldest Australian pro in the peloton has got its charm some days!
cheers,
Scott